Why The Dow Jones Industrial Average Is Unmoved By Greek Referendum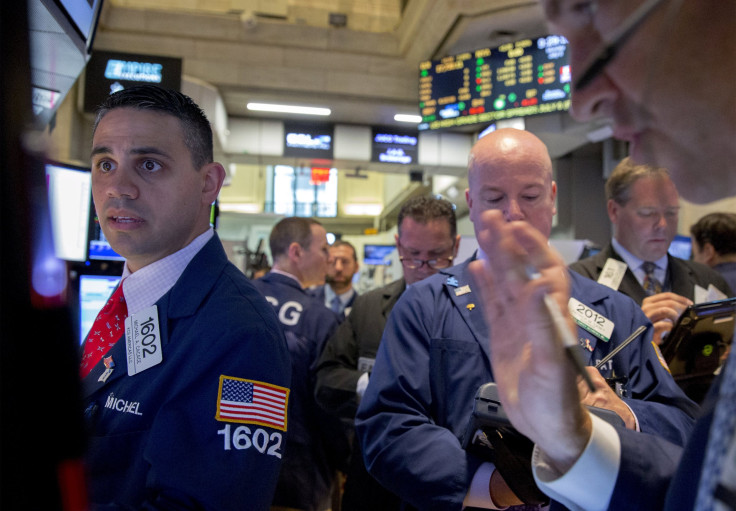 UPDATE: 4:30 p.m. EDT
U.S. stocks ended trading Monday largely where they began, unaffected by the Greek referendum that rejected austerity and ushered Greece closer to a eurozone exit. Stocks rebounded somewhat from losses in morning trading as contagion fears about Greece's debt crisis eased.
The Dow (INDEXDJX:.DJI) fell 46.60 points, or 0.26 percent, to close at 17,683.51. The Standard & Poor's 500 index (INDEXSP:.INX) dipped 8.02 points, or 0.39 percent, to end at 2,068.76. The Nasdaq Composite (INDEXNASDAQ:.IXIC) lost 17.27 points, or 0.34 percent, to finish at 4,991.94.
U.S. conglomerate General Electric Company (NYSE:GE) and chipmaker Intel Corporation (NASDAQ:INTC) led the blue-chip Dow lower, both losing nearly 2 percent. Retail giant Wal-Mart Stores Inc. (NYSE:WMT) was the largest gainer, adding 1 percent.
Original post: U.S. stocks remained largely unchanged Monday after Greeks overwhelmingly rejected austerity measures in a pivotal referendum that could determine the country's future within the eurozone. All 10 sectors in the S&P 500 traded slightly lower, led by declines in the materials, energy and telecommunications sectors.
The Dow (INDEXDJX:.DJI) dropped 52.64 points, or 0.3 percent, to 17,677.47. The Standard & Poor's 500 index (INDEXSP:.INX) fell 6.74 points, or 0.32 percent, to 2,069.91. The Nasdaq Composite (INDEXNASDAQ:.IXIC) lost 17.27 points, or 0.34 percent, to 4,991.27.
The stunning "No" vote in the Greek referendum is expected to produce significant uncertainty over the next 48 hours, weighing on global financial markets. Yet although stocks across the U.S., Asia and Europe traded lower Monday, it wasn't the heavy selloff predicted by many analysts.
U.S. stocks initially opened sharply lower, with the Dow Jones Industrial Average losing more than 100 points, led by a 1 percent decline from Intel Corporation (NASDAQ:INTC). But stocks surprisingly reversed most of their losses in midday trading.
"The markets will be tentative until a concrete solution is put in place" in Europe, said Keith Bliss, senior vice president and director of sales and marketing at Cuttone & Co. Inc.
Some of the volatility in the financial markets was offset when Greek Finance Minister Yanis Varoufakis announced a surprise resignation Monday, coupled with the Eurogroup's willingness to keep working on a solution, Bliss said.
"After walking up to the brink, hopefully both sides will be more realistic and actually work toward a solution," Bliss said. "The deal was punitive, and the Greeks could have never satisfied the terms. The level of human suffering would have been immense."
The vote shows that the Greek people are finally fed up with more than five years of depression and they want to change their trajectory, said Adam Sarhan, CEO of Sarhan Capital. "If our stock market ends higher on Monday that would be a very strong sign of strength. Remember what they say: It is very healthy to see a market rally on bearish news," Sarhan said.
The reaction in the U.S. financial markets signals that investors haven't totally given up on a negotiated solution in Europe. "The markets have had time to adjust since its been more than five months since Greece's new government was elected," said Clem Miller, portfolio manager at Wilmington Trust. "They've seen the Greek government's negotiating style and the emotional tirade, and the markets have already priced a lot of the risk in."
Meanwhile, investors are also looking ahead to Alcoa Inc. (NYSE:AA), the world's third-largest producer of aluminum, as it is set to kick off second-quarter earnings season Wednesday.
Here are the major events on the U.S. economic calendar for the week of July 6. All listed times are EDT.
Monday
10 a.m. -- ISM nonmanufacturing (June)
Tuesday
8:30 a.m. -- Trade deficit (May)
10 a.m. -- JOLTS Job openings report (May)
3 p.m. -- Consumer credit (May)
Wednesday
Thursday
8:30 a.m. -- Weekly jobless claims
Friday
10 a.m. -- Wholesale inventories (May)
© Copyright IBTimes 2023. All rights reserved.
FOLLOW MORE IBT NEWS ON THE BELOW CHANNELS