Why Ford's 2022 Mustang Will Have Less Horsepower And Torque
Owners of the 2022 Ford (F) Mustang will find that the muscle car comes with a little less horsepower and torque than previous models, and it is all due to some stricter emissions regulations coming down the pipeline.
The Mustang GT and Mustang Mach 1 will be pared down by 10 horsepower in the 5.0 L V8 Coyote engine-powered configurations versus the 2021 models, regardless of transmission.
This means a drop in power from 460 horsepower to 450 horsepower in the GT and 480 horsepower to 470 horsepower in the Mach 1, the dealer ordering system indicated, as reported by Fox News.
Torque ratings will drop 10 pounds per feet in both car models to 410 pounds per feet, Car And Driver said.
In a statement to Fox News, Ford confirmed the drop in power in the 2022 Mustang models, saying, "To meet more stringent LEV III regulatory emissions requirements, horsepower and torque have been reduced by 10 horsepower and 10 pounds per feet for 2022 model year Mustangs with the 5.0 L V8 engine."
Ford will not be making modifications to its Mustang Shelby GT500, which is powered by a 5.2 L V8 engine that develops 760 horsepower and 625 pounds per feet of torque.
Ford is expected to begin taking orders for the 2022 Mustang later this year, with cars slated to arrive at the beginning of next year, according to Car and Driver.
As of Thursday premarket hours, shares of Ford were trading at $15.63, up 12 cents, or 0.77%.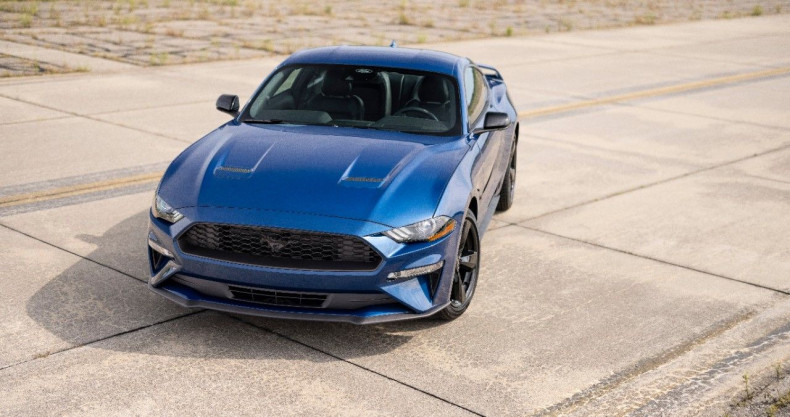 © Copyright IBTimes 2022. All rights reserved.