Why Iran's Influence In Syria Is Likely To Outlive President Bashar Assad's Rule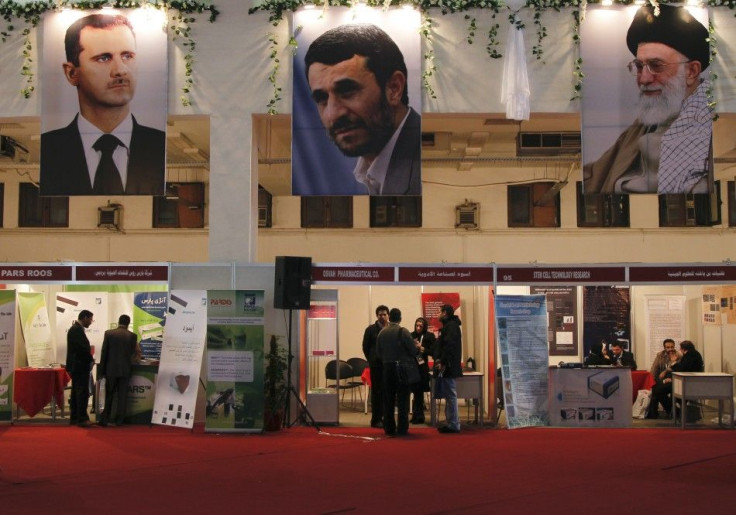 There's one external player that looms large in Syria's civil war, supporting a regime that might otherwise have fallen by now. And its clout in the nation is so big that it would likely survive even that regime's downfall.
The Bashar Assad regime, Lebanon's Hezbollah militants and Iran are known as the region's Shiite "axis of resistance" against Sunni powers, such as Saudi Arabia. Iran has been the Syrian president's strongest backer since the war broke out in 2011, and its involvement is increasing. Iran's military support has become so essential to the regime's survival, and the Islamic Republic's influence in Syria so pervasive, that Iranian involvement there would continue even if Assad were to be deposed.
Iran's Islamic Revolutionary Guard Council (IRGC) advises the Syrian army, trains pro-regime militia and has organized roughly 70,000 fighters in Syria since the war began in 2011, Iranian officials said earlier this year. Iran's military support is keeping Assad as a viable force in the war, but Syria's Iran-trained militias could remain loyal to the Islamic Republic even if Assad falls, further complicating the United States' choices in a war that's threatening to engulf the whole region.
"The Iranians had essentially replaced the Syrian army with a militia called the National Defense Force, which draws many of its volunteers from the Alawite religious group — the regime's main supporters — and also requires minimal training and support to function," military correspondent David Axe wrote in a Reuters opinion article Wednesday.
The shrinking of Assad's army is forcing him to rely on irregulars like the National Defense Force, local militias and foreign fighters. Very few of these units are strictly Syrian; even those that are composed of solely pro-regime Syrians are kept alive by Iran's support. High casualty rates, the threat of gruesome retaliation from the Islamic State group and discontent among pro-regime Syrians have limited the army's conscription capabilities; the irregular forces are now Assad's most powerful and most effective ground force.
On paper, Assad commands the NDF and local militias, but if he did fall, "the remnants of the regime are likely to join forces with Assad's militias, enjoy enduring Iranian support and continue to resist the Sunni oppositionists," according to an 2013 report by the Institute for the Study of War.
When Assad's armed forces were losing ground against the opposition in 2012, the IRGC sent in funding and advisers; Hezbollah troops from Lebanon were deployed; and nearly 5,000 Iraqi Shiite volunteer fighters joined the regime. This likely came at the request of the IRGC's elite Quds Force Commander Qassem Suleiman, whom a former CIA official called "the most powerful operative in the Middle East." Suleiman's strategy was to turn Syria's shabiha gangs, once thought of as pro-regime thugs from the Alawite community, into a version of the Iranian Bassij battalions, legitimate local militias armed by the government.
"Iran came and said, why don't you form popular support for yourself and ask your people for help," Sayyed Hassan Entezari, an Iranian soldier who fought in Syria, told IRGC-backed Mashregh News in October. "This was how the National Defense Force was formed."
The IRGC is training Syrian and Hezbollah youth for these militias both inside and outside Syria, according to a report from the National Council of Resistance of Iran, a coalition of opposition groups that describes itself as a "parliament-in-exile."
After initial training in pro-regime areas of Syria, 50 people a month are sent to an IRGC Special Forces training unit in Tehran, where they undergo "intensive and guerrilla training," the report stated. Some are trained to infiltrate opposition brigades in order to "sow discord" among opposition groups. The regime positioned itself as the only truly Syrian armed force, accusing the rebels of being beholden to foreign interests like the Saudis and Gulf states. For a time this succeeded in creating heavy fissures in rebel ranks.
But that strategy isn't working anymore, with Assad's credibility weakening in the face of advances by the Islamic State fighters and as his forces engage in more and more brutality against civilians. Earlier this month, the Sunni opposition formed the largest anti-regime coalition since the war began, a grouping with a far more radical Islamist stance than the U.S.-favored Free Syrian Army, which had so far been the main rebel grouping.
The regime's "current dependence on indiscriminate tactics and Iran-backed militias is fuel for jihadi flames," according to a report from the International Crisis Group.
And in a signal of Tehran's growing importance in Syria, some local groups have already shed their ties to Assad, but are obeying Iran.
Entezari told a story of his Iranian comrades in Syria who had succeeded in persuading an Alawite tribe to turn itself into a pro-regime militia. "They said that if the Syrian government had asked them, they wouldn't have complied. But because we are representatives of the Islamic Republic, they would do this willingly," Entezari said. "So, see how their view toward the Islamic Republic has changed."
© Copyright IBTimes 2022. All rights reserved.
FOLLOW MORE IBT NEWS ON THE BELOW CHANNELS