Why Is PETA Buying Shares Of Hermès? Jane Birkin Asks Fashion House To Remove Name From Crocodile Bag After 'Cruel' Video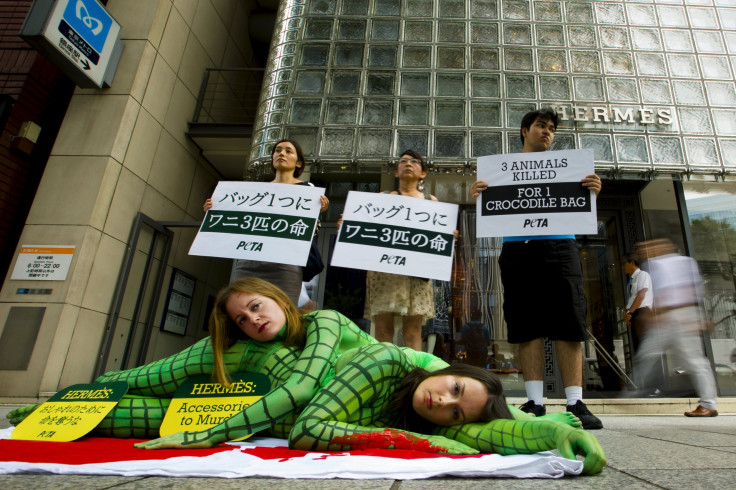 PETA became a shareholder of Hermès International (EPA:RMS) this week in a move to put pressure on the luxury fashion house to end its sale of alligator and crocodile skins, which are made into watch straps and bags.
PETA reportedly bought a single share in the French fashion house on the Paris Bourse (stock exchange) so that its representatives can "attend and ask questions at the company's annual meeting," a spokesperson told Vogue, explaining the move would permit PETA's representatives to "put pressure on the company to end its sale of exotic-animal skins."
This isn't the first time PETA -- People for the Ethical Treatment of Animals -- has purchased shares to put pressure on a company. In 2013, PETA bought stock in SeaWorld's IPO to pressure the amusement park chain to free its "enslaved" killer whales. PETA invested in SeaWorld Entertainment Inc. (NYSE:SEAS) for a second time in 2014 after shares tumbled in an attempt to gain control within the company, buying an additional 55 shares and bringing their ownership to a total of 135 shares.
The group's most recent move comes after 68-year-old former supermodel, actress and singer Jane Birkin requested Tuesday that Hermès remove her name from its famous Birkin bag after PETA presented her with evidence allegedly showing "cruel practices endured by crocodiles during their slaughter for the production of Hermès bags," Birkin said in a statement, according to Agence France-Presse.
The Birkin bag was made for and named after Birkin in the 1980s. Hermès responded Wednesday after Birkin has expressed her concerns, saying her comments "do not in any way influence the friendship and confidence that we have shared for many years," the company said in a statement. "Hermès respects and shares her emotions and was also shocked by the images recently broadcast."
Birkin's comments came after a PETA report claimed to have a video showing the slaughtering of crocodiles for Hermès Birkin bags in factory farms in Texas and Zimbabwe.
"PETA's investigation revealed that the grisly source of Hermès accessories are living, feeling animals, some of whom were painfully mutilated and left to die," PETA Executive Vice President Tracy Reiman said in a statement Thursday. "PETA will be campaigning outside the company and, as a shareholder, also working from the inside to demand a ban on exotic animal–skin accessories, including crocodile-skin bags and alligator-skin watchbands."
The France-based company, which specializes in the design, manufacturing, and marketing of luxury products, is scheduled to hold its next annual shareholder meeting in June 2016.
Hermès has denied that the crocodile farms belongs to them or that the skins harvested there are used to make their Birkin bags. "An investigation is underway at the Texas farm that was implicated in the video. Any breach of rules will be rectified and sanctioned," Hermès said.
Shares of Hermès have gained more than 33 percent in the last 12 months.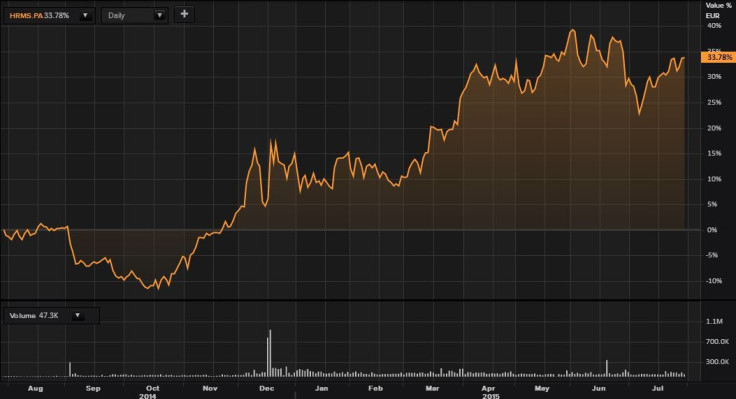 © Copyright IBTimes 2022. All rights reserved.
FOLLOW MORE IBT NEWS ON THE BELOW CHANNELS