Why Tablets Are Dying: Users Are Old (And Very Young) And They're Not Upgrading Anytime Soon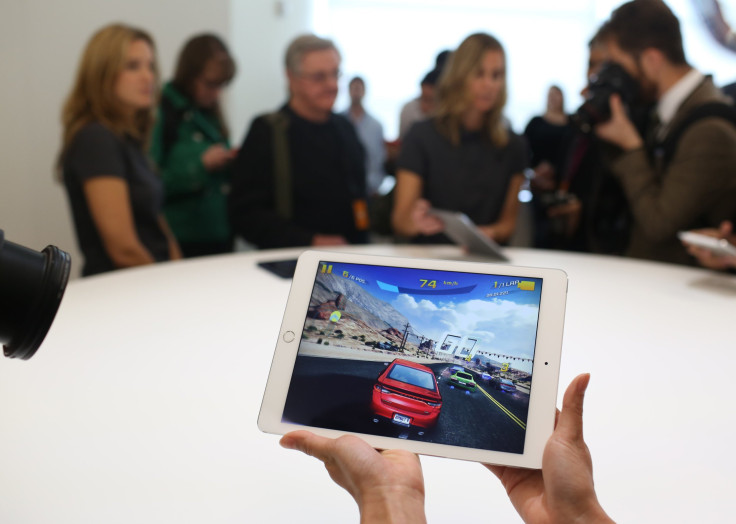 Just a few years ago, it looked like tablets were becoming the dominant type of mass-market personal computer. After the iPad was launched in 2010, it led a product category that, in terms of sales, grew faster than PCs, notebooks or smartphones.
But in recent years, tablet sales have tanked. Not only are they not growing at the same rapid rate, they're actually falling across the board for both Android and iOS. According to research group IDC, worldwide tablet shipments were lower in the 2014 holiday season than during the same period in 2013.
Even Apple's not immune, selling 12.6 million units, or 23 percent fewer iPads in the last quarter than it did during the same period in 2014, while the iPhone notched record profits.
But existing tablets aren't collecting dust. According to global usage data from Fiksu, a mobile marketing service, iOS and Android tablets are being used just as much as they were years ago. Tablets have remained at just over 25 percent of active mobile devices around the world. The only exception to this was during the Christmas holiday season, when surging iPhone 6 activations and increased travel usage temporarily pushed tablets' share under 25 percent.

"While usage is down slightly from the beginning of 2014, this data suggests that there is no crisis for the iPad," said Craig Palli, chief strategy officer of Fiksu.

So why are sales sinking? The answer may be demographic.
Aging Tablet Market
Since the tablet market was born in 2010, tablet owners have skewed older and wealthier than smartphone or PC users overall. It's a consistent pattern. In 2012, market research firm Nielsen wrote that "While [tablet] owners tend to be somewhat older and more affluent they only serve to prove that adoption and use of new technologies are not reserved for the young."
Data from Pew Research Group shows that tablets are extremely popular among senior citizens; 25 percent of seniors in the U.S. own a tablet, compared to 27 percent who own a smart phone. You read that right: Tablet penetration among people 65 and older is almost as high as smartphone. For comparison, 48 percent of people age 18-29 have a tablet, but far more -- 85 percent -- own smartphones.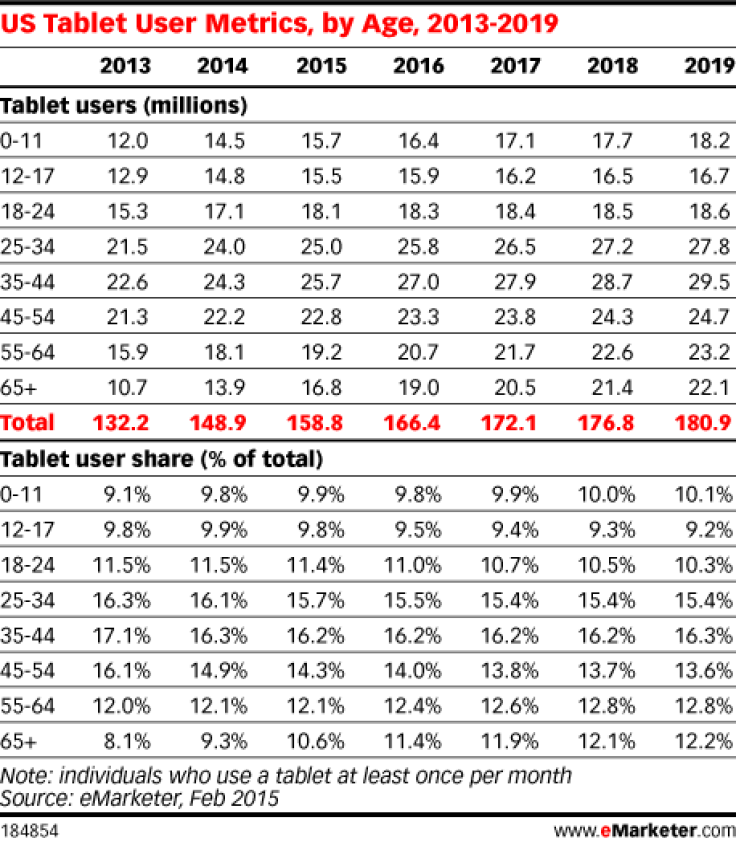 According to eMarketer, of all tablet users in the U.S. in 2014, about 20 percent were under the age of 17. At the other end of the spectrum, more than 36 percent were over 45. Together they make up a majority of all tablet users in the U.S.
And with tablets appealing more to seniors and children than the young adult generation, it's easy to see why only 4 percent of people plan to replace their PC with a tablet in the next year. Older users may be more likely to hang on to their devices longer and be more satisfied with old device performance. Kids don't get a choice.
Hanging On Longer
For instance, 14 percent of iPads in use last October were still the very first model, according to Kantar WorldPanel. Thirty-two percent of iPads in use are the iPad 2 -- nearly 50 percent of the most popular tablet model in use are more than four years old. The replacement cycle for tablets is beginning to look more like TVs (five years) than PCs (three years) or smartphones (two years).
"The smartphone is a one-per-person device, but the tablet in pure consumer markets is becoming more communal," wrote Ben Bajarin, Creative Strategies' principal strategist, in a research report. "This means one or two per household is serving that household adequately. This dynamic can help lengthen refresh cycles, which are now starting to shape up to be at least three years and possibly four."
The Apple Watch, which has been on sale for just over a week, is also expected to face a lengthy replacement cycle. Analysts are hesitant to guess just how long that may be. But most agree it will be longer than the iPhone's. This is also the biggest challenge facing Apple's next big product, the iPad Pro.
Older users are less likely to want to play games, watch TV or do other activities that would tax an older tablet's processing power. And they probably don't mind passing their used computers on to other family members. Older people could also be more interested in sharing their tablets with other family members, as compared to a smartphones, which are personal devices.
On the other hand, millennials are likely to eschew tablets for bigger phones, which are particularly hot right now. According to a Kantar report, phones big enough to be small tablets (over 5.5-inches) made up 21 percent of all United States smartphone sales last quarter.
"I am sure that phones becoming larger and of course being subsidized make finding a reason to buy a tablet more difficult," Kantar chief of research Carolina Milanesi wrote in an email.
All of this adds up to one conclusion: If you don't need the large-print version, you're likely to get a smartphone instead of a tablet.
Despite that, Apple doubled down on its marketing efforts for the iPad on Wednesday with the introduction of a microsite aimed at showcasing all the many ways it can be used.
© Copyright IBTimes 2022. All rights reserved.
FOLLOW MORE IBT NEWS ON THE BELOW CHANNELS