Wikipedia 'Draft' Feature Encourages New Writers To Create Articles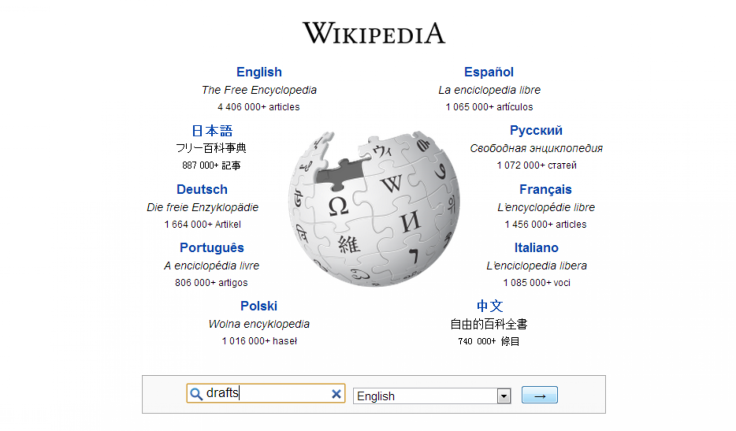 Wikipedia has added a new feature to make it easier for users to save and then edit an article before publishing. Called "Draft," the new feature reverses earlier decisions by Wikipedia to force new articles to be instantly accessible by the public, and the site's community of editors-at-large.
Representatives for the Wikimedia Foundation, which operates Wikipedia, say that articles instantly appearing in searches on the site after a writer clicks "Save" was what helped it grow to the world's sixth most-visited web site. The new feature, Wikipedia says, is made for larger communities, such as the English- and Spanish-language Wikipedias, where standards of quality are high.
"[T]housands of new articles are deleted (sometimes within just minutes) because they don't meet essential requirements for what makes a good Wikipedia article," the Wikimedia Foundation said in a press release.
Wikipedia says roughly 80 percent of articles created by new users are deleted because they do not meet the site's quality standards. On smaller Wikis, such as the Swahili-language Wikipedia, the site will ask writers to skip the draft feature and publish their work instantly to encourage a greater number of articles.
Wikipedia faces an editor shortage, where experienced editors leave the site and new ones are sometimes discouraged from sticking around or making edits by existing users. The visibility that Wikipedia provides for companies has created a demand for paid editors to plant or censor articles on the site for cash.
Paid editing has created a dilemma for Wikipedia as it struggles to maintain a "neutral point of view" in its articles, free of any conflicts of interest. The site even sent a cease-and-desist letter to one firm, called Wiki-PR, for violating the site's terms and conditions of use.
Editors had often used sandboxes, or sub-pages in their user profiles, to draft articles before publishing them online. Drafts of Wikipedia articles will not show up in search results, but can be viewed through advanced search and provided to editors for feedback before they go live.
© Copyright IBTimes 2022. All rights reserved.
FOLLOW MORE IBT NEWS ON THE BELOW CHANNELS