Wikipedia Goes To Medical School: UCSF Med Students Will Learn How To Improve Online Encyclopedia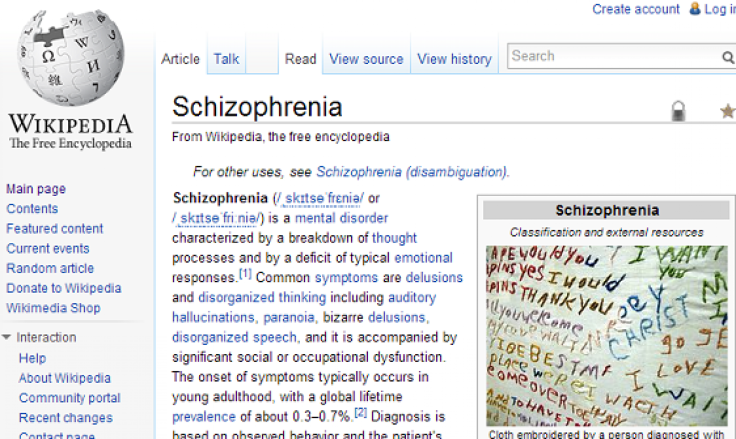 Most professors frown on students relying too much on Wikipedia. But for some medical students at the University of California, San Francisco, it's going to be the foundation of the curriculum for at least one course.
In today's world, where every stray twinge or headache sends us frantically Googling our symptoms, a more accurate Wikipedia is in everyone's best interest. More than one in three American adults have consulted the Internet to try and self-diagnose a medical condition, according to the Pew Research Center [PDF]; of those surveyed, more than half visited a medical professional to get their opinion.
UCSF professor Amin Azzam is teaching a month-long course this December on editing Wikipedia articles for fourth-year medical students. The aim of the course is primarily twofold: to improve the quality of medicine-related articles on the online encyclopedia; but also to encourage medical students to think more about how to translate medical research into language their patients can understand.
"In our academic ivory tower, we sometimes forget that we are a tiny fraction of the globe," Azzam said in a phone interview. "Most people going on the Internet are going to Wikipedia; why not meet the population where they're at?"
The initial idea for the Wikipedia course at UCSF came from one of Azzam's former students: Michael Turken, now a resident in internal medicine at Stanford University. One of Turken's friends was curious about how long an HIV test could deliver false negatives after someone was exposed to the virus. On Wikipedia, an article gave the time period as just two weeks, but Turken knew from his studies that the real answer was about four weeks. Before that error was corrected, someone that contracted HIV could have gotten a negative result three weeks after exposure and felt unjustly reassured.
Teaching Wikipedia editing in the classroom isn't a wholly new concept. In 2011, University of Kansas School of Medicine-Wichita's Robert Badgett and University of Miami Miller School of Medicine's Mary Moore reported [PDF] on their success encouraging medical students at the University of Texas Health Science Center to succinctly summarize studies on Wikipedia. Wikipedia itself maintains a list of university courses that encourage students to improve articles, from a developmental biology course at Boston College to a class on feminist science fiction at the University of Oregon.
Come December, Azzam's students will be working through some of the articles deemed most heavily trafficked by WikiProject Medicine, a volunteer list of Wikipedia editors that focus on medical topics. Offering the course to fourth-year medical students catches the budding doctors at just the right time, according to Azzam.
"The fourth-years are far enough along that they can understand the medical literature, but not so far along that they've forgotten to talk like human beings," Azzam says.
There are many WikiProjects on Wikipedia that coordinate editing efforts on a range of topics. There's an entire page devoted to reviewing images of dinosaurs submitted to to the encyclopedia, to see if they line up with the latest paleontological research (many of the critiques center around feathers on dinosaurs: how many, how long, and what color). Even heavily trafficked articles and widely-used images can use a little polishing.
In the medical sections of Wikipedia, "there are a number of key articles still needing improvement, including: sepsis, leukemia, prostate cancer, fever, cerebral palsy and pregnancy among others," James Heilman, an emergency room doctor, University of British Columbia instructor and avid Wikipedian, wrote in an email.
Keeping in line with Wikipedia's non-hierarchical structure, WikiProject editors do not have special privileges over others. And Wikipedia's operators typically only interact with WikiProjects if there are technical matters (related to the website) that arise.
"There are hundreds of WikiProjects that self-organize and produce amazing work without ever interacting with us, and that's great," a spokesperson for the Wikimedia Foundation (the non-profit that operates Wikipedia and its sister projects) wrote in an email. "They are an integral piece of improving Wikipedia."
While Wikipedia can certainly always use more expert help, it turns out the online encyclopedia can be fairly reliable. In 2005, reporters working for the journal Nature sent 50 pairs of articles – one from Wikipedia, one from the Encyclopedia Britannica -- on scientific articles to experts in the field. The experts were not told which article came from which source, and were asked to count the errors in each piece. The results showed Britannica only slightly more accurate than Wikipedia, with an average of slightly less than 3 errors in each article. Wikipedia articles, by comparison, had an average of just under 4 errors. (Wikipedia also maintains a section of errors in Encyclopedia Britannica that have been corrected in its own entries.)
Azzam is particularly excited by the partnership between WikiProject Medicine and the group Translators Without Borders, which is working on converting some of the top medical articles on Wikipedia into other languages. And soon, it may be even easier for people in the developing world to look up their symptoms. The Wikimedia Foundation is working with cell phone carriers in developing countries to offer free access to all or parts of Wikipedia.
"Hopefully in the near future, everyone will be able to access high-quality medical information for free, in their language," Azzam says. "We're meeting [people] where they're at, and my students are just one piece of that larger effort."
FOR FREE to continue reading
✔️ Unlock the full content of International Business Times UK for free
offer available for a limited time only
✔️ Easily manage your Newsletters subscriptions and save your favourite articles
✔️ No payment method required
Already have an account?
Log in
© Copyright IBTimes 2023. All rights reserved.