Will China Go To War Over South China Sea? Structures To House Surface-To-Air Missiles Near Completion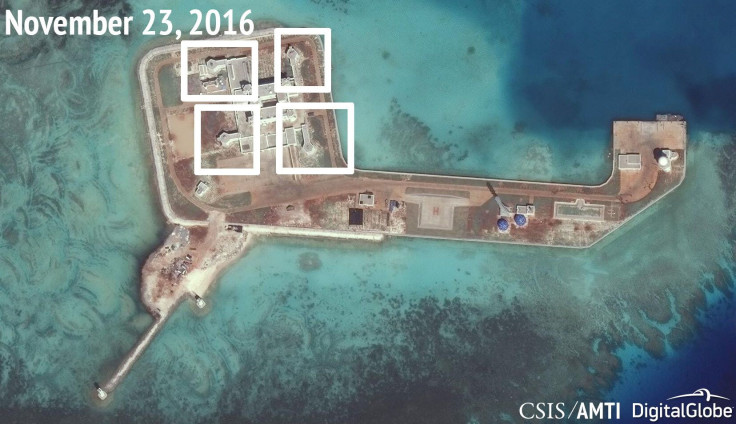 China is close to finishing the construction of structures capable of housing long range surface-to-air missiles on the artificial islands in the South China Sea, two U.S. officials told Reuters Wednesday. The news comes amid growing tensions between Beijing and Washington over the former's claims on territories in the disputed waters.
The structures, which contain retractable roofs, are located on the Subi, Mischief and Fiery Cross reefs. These reefs are part of the Spratly Islands chain, and building such structures in the area could be considered an attempt at military escalation in the South China Sea, the U.S. officials said, speaking on the condition of anonymity. China has also built military-length airstrips and has conducted week-long training drills amid the ongoing territorial dispute. The Donald Trump administration has called China's island building in the South China Sea illegal.
"It is not like the Chinese to build anything in the South China Sea just to build it, and these structures resemble others that house SAM batteries, so the logical conclusion is that's what they are for," a U.S. intelligence official told Reuters.
Another official told Reuters that the structures appeared to be 66 feet long and 33 feet high.
While there have been concerns over China's military capabilities in the region, the U.S. intelligence official said the structures did not pose a significant military threat to U.S. forces, and it appeared to be more of a political test for the Trump administration.
"The logical response would also be political – something that should not lead to military escalation in a vital strategic area," the official said.
China has repeatedly blamed the U.S. for heightening tensions in the South China Sea, through which over $5 trillion of maritime trade passes annually. Brunei, Malaysia, the Philippines and Taiwan also have conflicting claims to the waters.
Southeast Asian countries see China's installation of weapons in the South China Sea as "very unsettling," the Philippines said Tuesday, urging talks to stop an escalation of "recent developments." Philippine Foreign Secretary Perfecto Yasay said that he hoped China and the U.S. start working toward peace and stability in the region.
Over the weekend, the U.S. deployed an aircraft carrier strike group in the South China Sea despite warnings from China's foreign ministry against challenging Beijing's sovereignty in the region. The aircraft carrier USS Carl Vinson began operations in the disputed waters Saturday.
© Copyright IBTimes 2023. All rights reserved.