Sepp Blatter, Michel Platini FIFA Suspension Update: Officials Lose Appeals But Get Bans Reduced To 6 Years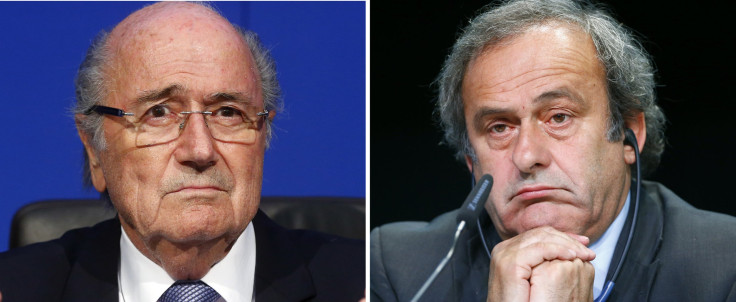 Former FIFA President Sepp Blatter and banned UEFA head Michel Platini lost appeals Wednesday when both had bans from world soccer upheld. Blatter and Platini scored slight victories however, as the FIFA Appeal Committee announced it had reduced the bans from eight years apiece to six years each.
The Appeal Committee denied appeals from Blatter and Platini for infringements related to "general rules of conduct," "conflict of interests" and "offering and accepting gifts and other benefits," among other infractions. The two officials were banned by FIFA's Ethics Committee largely in connection with a payment of $2 million to Platini in 2011, for which the committee ruled there was no legal basis. Both Platini and Blatter appealed and had hearings in mid-February. FIFA was marred in 2015 by two rounds of charges against various officials by the U.S. Department of Justice for allegations including racketeering and money-laundering
While the appeal committee largely confirmed the bans and agreed with the reasoning, it said in a statement Wednesday that "some strong mitigating factors" were not taken into account by the adjudicatory chamber of the ethics committee when it decided on the sanctions.
"In this sense, amongst others, the Appeal Committee considered that Mr. Platini's and Mr. Blatter's activities and the services they had rendered to FIFA, UEFA and football in general over the years should deserve appropriate recognition as a mitigating factor," the statement read.
The bans technically began in October and the suspensions were counted as beginning then. As pointed out by New York Times reporter Sam Borden on Twitter, that would allow Blatter and Platini to return to the game just in time for the 2022 World Cup in Qatar, scheduled for November.
Blatter has already said he will appeal to the Court of Arbitration for Sport, according to the BBC, and Platini is expected to do the same. The election to decide a replacement for Blatter as president of FIFA is scheduled for Friday.
© Copyright IBTimes 2023. All rights reserved.