Will James and Wade ever win like Jordan and Pippen?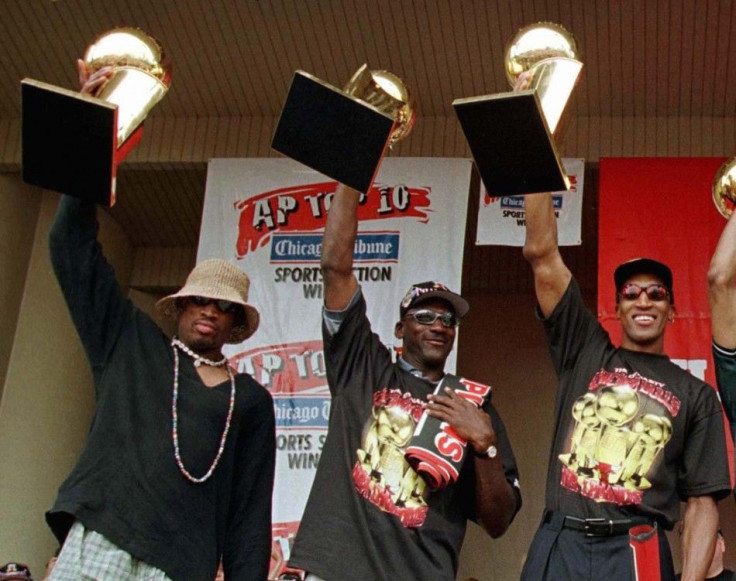 Michael Jordan is considered by many to be the greatest basketball player to ever play the game. Yet, he couldn't win a championship until a young player named Scottie Pippen joined the team.
Jordan and Pippen combined to win six NBA championship titles, three in a row each. The combination would probably have won more if Jordan had not retired from basketball briefly to pursue his baseball aspirations.
During his second stint, he had the help of Dennis Rodman in bringing the championship to Chicago.
Though Pippen and Rodman were pivotal in their support role, Jordan was always the clear leader of the team and go-to man in the clutch. This was evident as Jordan came through for the Bulls in the most important moments.
One example of this was in Game 5 of the 1997 NBA Finals against the Utah Jazz known now as the flue game where he overcame illness to score 38 points including a decisive 3-pointer with under a minute to go.
Another example was in Jordan's final game for the Bulls in Game 6 of the 1998 NBA Finals re-match against the Utah Jazz. Down by a point with only seconds left in the game, Jordan stole the ball from Karl Malone, faked Bryon Russell, and nailed a shot that will be remembered in highlight reels forever.
These were just some of the defining moments that made Jordan who he was, supported by his teammate Pippen and Rodman.
Comparisons to Michael Jordan have often been made for LeBron James. Though Jordan played shooting guard and James plays small forward, James' natural skill has often been compared to the former NBA great.
However, while Jordan was able to win his first NBA championship in his seventh NBA season, James just completed his eighth NBA season without a ring.
Last summer, in an infamous broadcast known as The Decision, James announced that he would leave the Cleveland Cavaliers team that drafted him and sign with the Miami Heat as a free agent.
He joined Dwyane Wade and Chris Bosh in forming a Big Three.
However, as Wade already won a championship for the Heat in 2006 with the help of Shaquille O'Neal, Wade was considered the team leader, often giving pep talks to the team before the game.
Steve Kerr, a former teammate of Jordan, recently compared James' skill with that of Pippen and not Jordan on ESPN radio:
He's so similar to Scottie in that defensively he was just a monster, could guard anybody, really more of a point forward than scoring guard. Scottie always loved to distribute the ball. That's really where LeBron's preference is.
Phil Jackson used to call Scottie a 'sometimes shooter.' Sometimes they would go in, sometimes they wouldn't. That's how it is with LeBron. He's a great talent and a great player but you can see his flaws as a basketball player. He doesn't have an offensive game that he can rely on. No low-post game, no mid-range jump shot. So when the game really gets tough he has a hard time finding easy baskets and getting himself going. That's what Michael did in his sleep so that's why the comparison is wrong.
It is evident that the relationship of James and Wade is much different to that of Jordan and Pippen.
However, Jordan and Pippen proved six times that their combination could win an NBA title.
James and Wade only proved that their combination could be shut down as they were during the NBA Finals series against the Dallas Mavericks.
Indeed, in a pivotal Game 6, both James and Wade scored well below their season averages. Neither could produce in the fourth quarter.
James' -24 in +/- for the game was perhaps the sole reason why the Heat lost the game, since the team was clearly better when James wasn't playing.
It is difficult to compare the skills of James and Wade combination to Jordan and Pippen since they play different positions. However, will James and Wade ever win like Jordan and Pippen?
© Copyright IBTimes 2023. All rights reserved.