Will Julian Assange Be Pardoned? WikiLeaks Founder Has No 'Quick Way Out' Of Ecuadorian Embassy, Prosecutor Says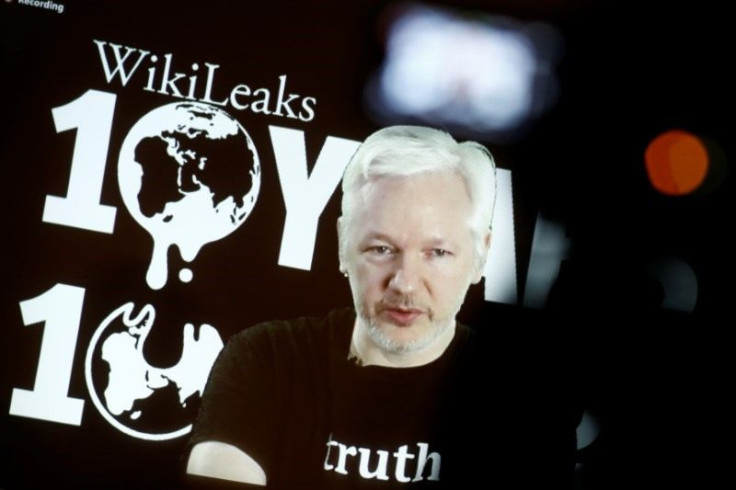 WikiLeaks founder Julian Assange may have to stay put at the Ecuador's embassy in London – where he has been seeking refuge for over four years -- for longer as there is no "quick way out," an Ecuadorean prosecutor reportedly said.
Assange, 45, is facing allegations of sexual assault in Sweden, and the country has demanded for him to be deported. He could also be charged in the United States for publishing hundreds of thousands of secret diplomatic documents through his non-profit organization.
On Nov. 14, a Swedish prosecutor and an Ecuadorean state attorney questioned Assange at the embassy over the allegations of rape, which he has denied.
"Today, after six years of offering his statement to the Swedish authorities, Julian Assange has finally been afforded the opportunity to do so," WikiLeaks reportedly said in a statement, while adding that the absence of Assange's Swedish lawyer, Per Samuelson was a breach of process.
Swedish Chief Prosecutor Ingrid Isgren spent almost four hours at the embassy, posing questions through Ecuadorian prosecutor Galo Chiriboga .
The Guardian reported Chiriboga as saying that Ecuadorean officials will be sending the official transcript of Assange's evidence to Swedish authorities "in mid-December."
"Four years have passed and we are only at this stage, but that is no longer attributable to Ecuador, it is attributable to Swedish prosecutors. I do not think there is a quick way out," Chiriboga said.
The British police has also taken a DNA sample from the Australian for Swedish prosecutors to use in their investigation against him. The prosecutor added, "Therefore Sweden will now have to request that DNA sample from the British police."
Assange has also been in the limelight for his alleged role in swaying popular opinion against Democrat nominee for U.S. president Hillary Clinton after his organization released a spate of emails between her, her campaign chair John Podesta and the democratic party.
Minister of Foreign Affairs of Ecuador Guillaume Long has maintained that Assange remains under government protection and that "the circumstances that led to the granting of asylum remain."
© Copyright IBTimes 2023. All rights reserved.
FOLLOW MORE IBT NEWS ON THE BELOW CHANNELS