Will Manny Pacquiao-Timothy Bradley Fight Be Cancelled? Philippines Election Body Urged To Halt Match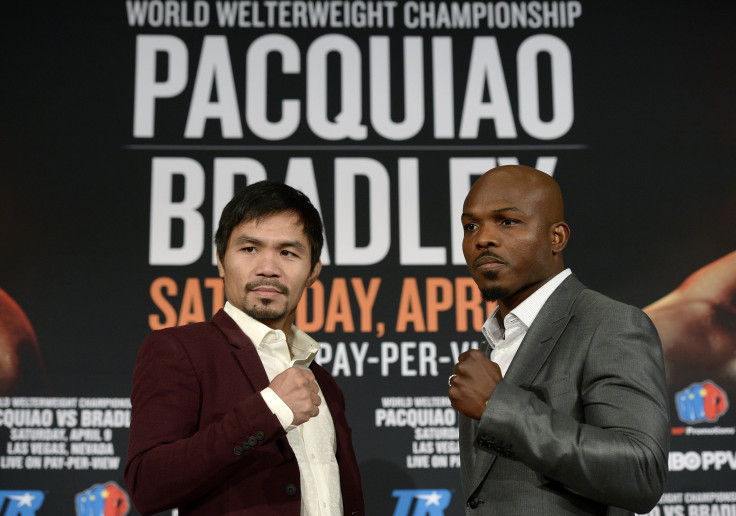 A senatorial candidate in the Philippines has urged the country's election commission to halt the boxing match between Manny Pacquiao — running for a seat in the Philippines senate in the upcoming elections in May — and American Timothy Bradley, citing a possibility of election laws being flouted, reports said. The match is set to be held on April 9 at the MGM Grand Garden in Las Vegas, Nevada, where the boxers have fought twice previously.
Former House Rep. Walden Bello filed a petition Monday, according to the Associated Press (AP), saying that allowing Pacquiao to fight during the campaign time will give the boxer more time in the media spotlight than other candidates, disregarding elections laws which specify that all candidates should have equal access to the media. The rules also ban radio or television programs in the country that favor a candidate.
"This is not a petition to disqualify Manny Pacquiao. In fact, what we wanted to happen is that Congressman Pacquiao would himself postpone the fight with Bradley from April 9 to after the elections," Bello, a former representative of Akbayan party in the country and a senatorial candidate said, according to CNN.
Bello sought to receive clarifications from the Commission on Elections (Comelec), asking how the election laws apply to Pacquiao. Comelec has set the airtime for each of the candidates at 120 minutes on each television station and Bello believes media coverage of the match would exceed that limit.
"Not only will it give hundreds of free time that are not allotted to other candidates, but it will be free time. So this constitutes a tremendous disadvantage to other senatorial candidates as well as to candidates for other office," Bello said, according to CNN.
Last week, Pacquiao faced intense criticism for his comments comparing homosexual couples to being "worse than animals." Following his comments, he issued an apology for hurting people's sentiments, but users on social media continued to slam him while Nike ended its sponsorship deal with him.
"We find Manny Pacquiao's comments abhorrent," the company said last week, adding: "Nike strongly opposes discrimination of any kind and has a long history of supporting and standing up for the rights of the LGBT community."
Pacquiao made the comments during an interview on a local network, saying: "Do you see animals mating with the same sex? Animals are better because they can distinguish male from female. If men mate with men and women mate with women they are worse than animals."
© Copyright IBTimes 2023. All rights reserved.