Will The Subway Shut Down? Blizzard 2015 Prompts NYC, Boston, New Jersey Transit Officials To Issue Travel Warnings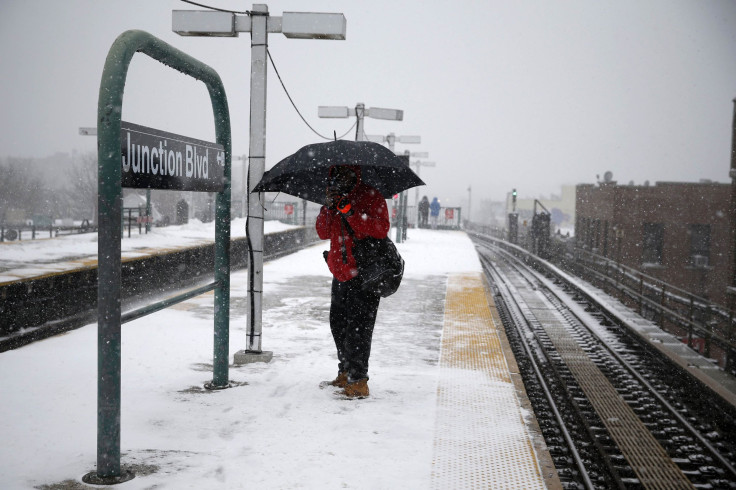 Transit officials across the Northeast advised commuters to work from home Monday and prepare for potential subway, bus and rail shutdowns as the region braced for a powerful blizzard. The severe weather warning covered a 250-mile stretch from New Jersey to Maine and could affect more than 29 million people.
In New York, the Metropolitan Transportation Authority issued blizzard watches for service areas in New York City, the Hudson Valley and Long Island. Commuters were warned about hazardous travel conditions, especially during and after the evening rush hour. Bus, commuter-rail, and subway service was expected to shut down on a route-by-route basis starting late Monday depending on conditions and snow-removal operations. Transit officials worked to clear platforms and stairs of snow. Local buses were equipped with chains or snow tires. Extra engineers and signal maintainers were called in to ensure the Long Island Rail Road would remain in service. Metro-North Railroad officials were activating switch heaters, lubricating the switches and treating them with anti-freeze agents to avoid delays.
"This could be the biggest snowstorm in the history of New York City so, yes, there could be delays of everything," Mayor Bill de Blasio told reporters.
In Boston, all public transportation services were expected to shut down starting at midnight. State transit officials urged customers not to park overnight at the Massachusetts Bay Transportation Authority's parking lots to allow for easier snow removal. State workers rushed to remove snow and keep train platforms and walkways clear Monday morning as snow began to fall. Subway, commuter rail and bus service were operating as usual Monday, but officials warned service might be less frequent Tuesday if the winter weather gets more severe.
In New Jersey, NJ Transit officials urged all customers to check njtransit.com for updated service information before traveling. Officials warned of potential shutdowns of NJ Transit's rail, bus, light rail and Access Link service and of slippery stairs, flooring and platforms.
© Copyright IBTimes 2023. All rights reserved.