Will Ukraine Join NATO? What Needs To Happen For Ukraine To Join Military Alliance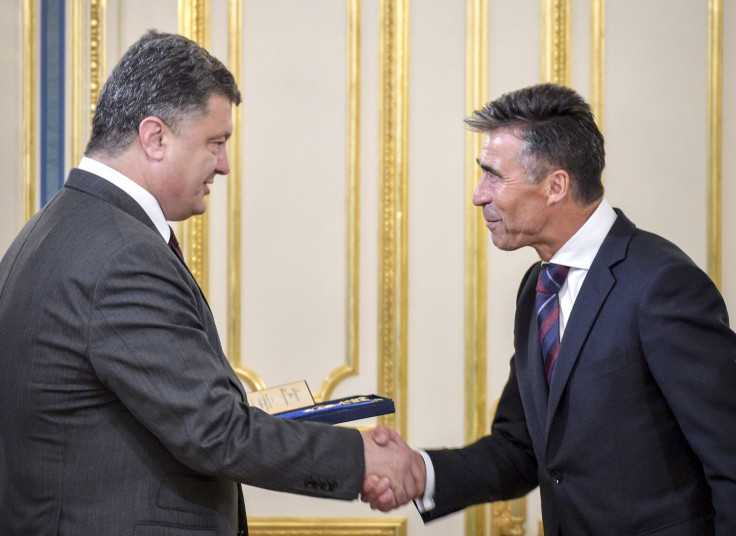 Ukraine will make a bid to join NATO, Prime Minister Arseny Yatsenyuk said Friday. The move comes at a critical moment for a country in the middle of a tug-of-war between East and West. On one side is its former USSR ally, Russia. On the other side is the rest of Europe.
NATO Secretary-General Anders Rasmussen said Friday that NATO would allow Ukraine into the alliance, provided "Ukraine so wishes and fulfills the necessary criteria," but that's a big if for NATO. The "necessary criteria" are complex and in the end, any NATO member could shoot down Ukraine's bid. Here's how it could play out over the next few years.
The first step, which Yatsenyuk took on Friday, is to introduce a bill to Ukraine's parliament, the Verkhovna Rada, which would cancel out Ukraine's nonalignment status and put Ukraine back on track to join NATO. Two years after bidding for and being declined a NATO membership in 2008, the Ukrainian government under newly elected President Viktor Yanukovych enacted a law that declared Ukraine as a "nonaligned" state. The law was unclear, and critics said it was meant to improve relations with Russia.
Ukraine continued to work along NATO recommendations as a nonaligned state, but before it can take steps to apply for membership again, it has to pull itself out of crisis. NATO does not want to "import a conflict into the alliance," Reginald Dale, the director of the Transatlantic Media Network at the Centers For Strategic & International Studies (CSIS), told International Business Times.
"NATO requires some sort of political stability without major conflicts," Dale said. "I can't admit any one of these countries would want to get into this incredible mess."
Ukrainians will have to vote on pursuing membership, but it's not clear that a majority of Ukrainians will do so. Roughly 58 percent of Ukrainians supported joining NATO in 2008.
Once Ukraine is stabilized and if a majority of Ukrainians support joining NATO, it would still take another one to two years for Ukraine to complete all the necessary requirements to get in, which include upgrading an already sub-par military that's now battered by a major conflict. While a European Union Association Agreement was signed just over a month into pro-Western Petro Poroshenko's presidency, a NATO membership is going to take much longer, if it's going to happen at all.
Germany and France opposed Ukraine's NATO bid in 2008 over concerns about provoking Russia, which has strongly disapproved of any of its former Soviet allies, particularly its direct neighbors, joining NATO. When NATO began working with Georgia on membership in 2008, Russia warned of action and later that year invaded in support of two breakaway regions in north Georgia. That crisis was similar to what is happening in Ukraine now.
During the Russian invasion, NATO did not step in to assist Georgia, which is still not a member. Georgia hopes to join NATO in September.
© Copyright IBTimes 2023. All rights reserved.