Wimbledon 2016: Dates, Schedule, Tennis Rankings For Upcoming Grand Slam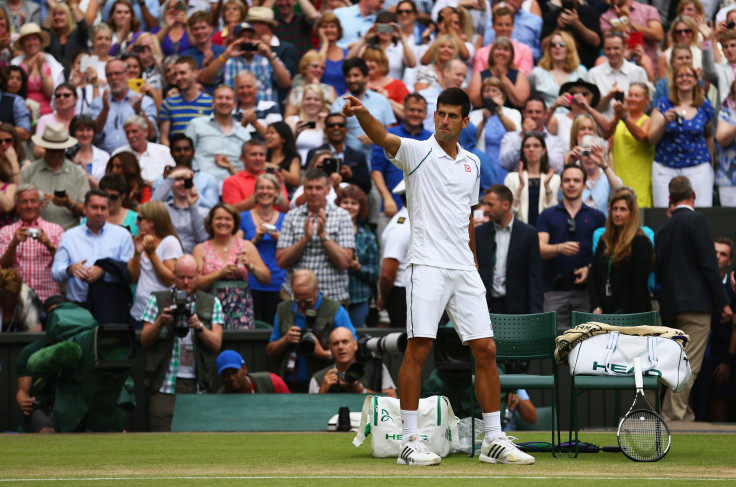 Less than a month removed from completing his career grand slam at the French Open, No. 1 Novak Djokovic once again stands tall in the latest ATP men's rankings before defending his two consecutive Wimbledon crowns next week at the All England Club in London.
Meanwhile, even after a shocking upset loss at the French, Serena Williams retains her status as the women's side outright best player as she too defends her Wimbledon title.
The 29-year-old Serb Djokovic tightened his stranglehold on the tennis world by outlasting No. 2 Andy Murray over four sets at Roland Garros, furthering his lead over the Scotsman with 16,950 tour points compared to Murray's 8,915.
Djokovic hasn't played since storming Paris to secure the lone slam title that had eluded him not only throughout his career but during his two separate stints as the world's No.1-ranked men's player. As of today Djokovic has held the distinction for 103 consecutive weeks, dating back to July 2014, and almost double his first stint of 53 weeks from November 2012 to October 2013.
And as the tournament inches closer, Djokovic must be favored to claim the fourth Wimbledon title of his career. Especially given his dominance over his main competition and the current poor form of 24-year-old Wimbledon title record holder Roger Federer.
Djokovic owns a 24-10 all-time mark against Murray and has won five of their last six meetings, while the grass court master but injury plagued Federer fell to little known Alexander Zverev at the Gerry Weber Open on Saturday in Halle Germany. Back and knee injuries have limited No. 3 ranked Federer to a 16-6 overall record and no titles this season.
The only other player who reason would dictate as comparable to Djokovic, Rafael Nadal, also already announced earlier this month that he will not participate at Wimbledon while he recovers from a left wrist injury. It was the same knock that forced Nadal to pull out of the French.
Turning to the women's side, Williams hopes to secure back-to-back Wimbledon trophies for the second time in her career as well as tie Steffi Graff with 22 career slams, the very mark she was expected to reach before collapsing against No. 2 Garbine Muguruza in straight sets at the French final.
With 6,766 points and No. 3 Agnieszka Radwanska less than 800 points behind her, the Spanish Muguruza leads the handful of contenders that could dethrone Williams. Unfortunately, Muguruza stumbled at her first grass tournament of the year by losing to No. 53 Kirsten Flipkens in Mallorca.
"I just have to keep a totally open mind," Muguruza told reporters after the loss. "I came to Mallorca with very little time to prepare. I mean, yesterday I was still in Paris, and this is a totally different surface.
"The truth is I'm disappointed, but now I'm just training harder to arrive ready for Wimbledon."
Wimbledon Dates and Schedule
Wimbledon will open Monday, June 27 and run until Sunday, July 10. The order of play won't be announced until Sunday, June 26, but two-time reigning men's champion Djokovic and Williams will defend the women's side on the first day.
The first round is scheduled to wrap up in the first two days, with the second round beginning June 29. The third round starts on Friday, July 1, with everyone enjoying a day off on Sunday, July 3, followed by the fourth round on July 4.
The women's quarterfinals take place on July 5, the semifinals on July 7, and the final on July 9 at 2 p.m. local London time.
The men begin the final stages with the quarterfinals on July 6, the semifinals on July 8, and the championship on July 10.
Here's the top 10 rankings for both the men and women's side before Wimbledon.
Men's Singles ATP Top 10
No. 1 Novak Djokovic (16,950 points)
No. 2 Andy Murray (8,915)
No. 3 Roger Federer (6,425)
No. 4 Rafael Nadal (5,335)
No. 5 Stan Wawrinka (5,035)
No. 6 Kei Nishikori (4,155)
No. 7 Milos Raonic (3,175)
No. 8 Dominic Thiem (3,175)
No. 9 Tomas Berdych (2,950)
No. 10 Richard Gasquet (2,905)
Women's WTA Top 10
No. 1 Serena Williams (8,330)
No. 2 Garbine Muguruza (6,766)
No. 3 Agnieszka Radwanska (6,080)
No. 4 Angelique Kerber (4,372)
No. 5 Simona Halep (4,372)
No. 6 Victoria Azarenka (4,191)
No. 7 Roberta Vinci (3,405)
No. 8 Belinda Bencic (3,190)
No. 9 Venus Williams (3,116)
No. 10 Madison Keys (3,061)
© Copyright IBTimes 2023. All rights reserved.