Winter Olympics 2018: USA Skier Ted Ligety Hopes To Overcome Odds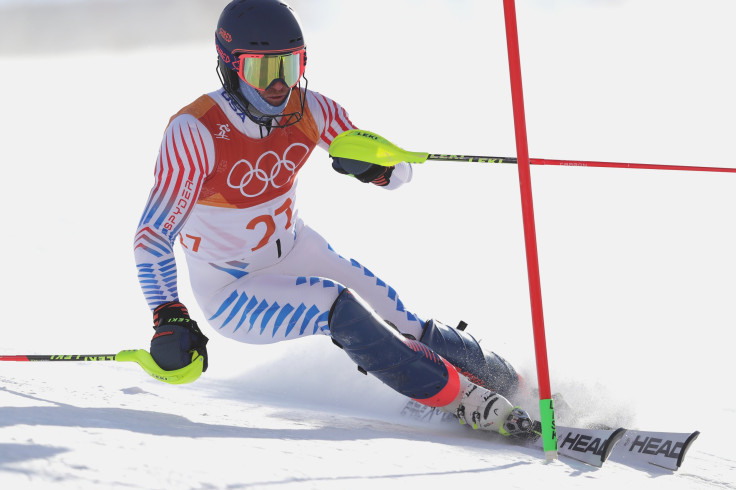 The United States has a chance to add another gold medal to its 2018 Winter Olympic total Sunday morning in Pyeongchang. Ted Ligety will represent the U.S. in the men's giant slalom, and event in which he won four years ago.
A lot has changed for the American since he took home gold in Sochi. Ligety has suffered a couple of series injuries—he tore his ACL in 2016 and underwent back surgery in 2017—and isn't among the favorites to win the event.
Three skiers began the Winter Olympics with better odds than Ligety in the giant slalom. As a 10/1 long shot, according to OddsShark, Ligety is behind France's Alexis Pinturault (9/2) and Norway's Henri Kristoffersen (4/1). Marcel Hirscher of Australia is the odds-on favorite.
The 33-year-old has already come up short in two events in Pyeongchang. He finished fifth in the men's alpine skiing combined event, which features one downhill run and one slalom run, and didn't complete his run in Friday's super-G finals.
Ligety has been on both ends of the spectrum. He was the surprise gold-medal winner in the alpine combined event at just 21 years old in 2006. He had successes and failures as the favorite in the next two Olympic Games.
"I've had all the ups and downs at Olympics," Ligety told International Business Times in January before heading to Pyeongchang. "I won a gold medal in my first Olympics, and then in Vancouver (in 2010) I was one of the favorites to win there and I didn't end up getting a medal. Then I was a big favorite in Sochi (in 2014) and was able to follow through there. So I've kind of had all the ebbs and flows."
Thus far, the favorites have lived up to the hype in Pyeongchang. Hirscher—the sport's most dominant athlete since the conclusion of the 2010 Olympics—won his first gold medal by winning the men's alpine combined event. American Mikaela Shiffrin won gold in the women's giant slalom as the heavy odds-on favorite.
That could just mean an underdog like Ligety is about to pull off an upset.
"The tough part about ski racing is the favorites often don't win. It's not inside a pool or inside a track where the conditions are pretty much the same every single time," Ligety told IBT while promoting Rockin' Protein. "Of course, we're all going out there trying to win. The best ski racers in the world lose far more often than they win. We're used to dealing with those ebbs and flow more so than other sports where the best guys have never felt losing before."
A lot has changed for Ligety since he won his first gold medal. A few major surgeries and 12 years later, he might not have the same physical tools that he did as a 21-year-old, though he's said this is the best he's felt in years.
Having competed in the Olympics three other times, Ligety's experience could be what gets him over the hump and back on the podium.
"I think experience is good for sure because to me it's an overwhelming experience.," Ligety said. "A lot more is going on, whether it's the media or other sports going on, security, this and that. There's so much more happening at the Olympics than a normal competition. So it's really important to try to be able to focus in and try to treat the actual the time inside the fence like any normal race."
© Copyright IBTimes 2023. All rights reserved.