Winter Storm Hits Northeastern US With Heavy Snowfall, Strong Winds; Thousands Of Flights Cancelled Or Delayed, Schools Closed; New York And New Jersey Declare Emergency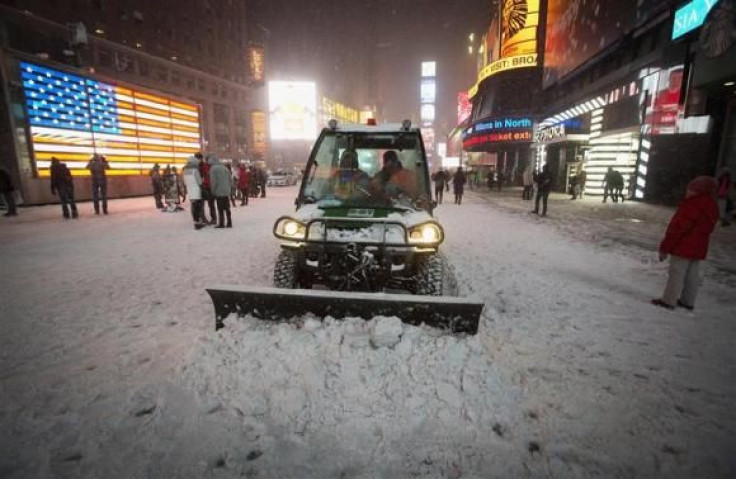 The first major snowstorm of 2014 dumped nearly two feet of snow across much of the northeastern United States on Thursday, as frigid temperatures and strong winds disrupted normal life and paralyzed road and air traffic, forcing the governors of New York and New Jersey to declare a state of emergency.
Much of New England and the neighboring regions including Albany, Boston, Hartford, Conn., and New York City have been issued a winter storm warning until Friday morning, and the region is expected to be blanketed by up to 12 inches of snow, the National Weather Service said. On Friday morning, according to the weather agency, New York City is expected to get about 8 inches and Boston residents are bracing for up to 14 inches of snow.
New York Governor Andrew Cuomo declared a state of emergency for New York State, and urged New Yorkers to avoid traveling, but added that all roads in the city would be open for passenger traffic by 8 a.m.
"Safety remains our top priority. I urge all New Yorkers to take every precaution as we wait out the remainder of this winter storm. Check on your neighbors and loved ones, and only travel if absolutely necessary," Cuomo said.
Authorities also said that all schools in New York City will be closed on Friday and all garbage collection has been postponed until snow-clearing operations are completed. Schools will also remain closed in Boston, which saw heavy snowfall on Thursday night and the storm is expected to dump another 14 inches of snow by Friday morning. New Jersey Governor Chris Christie also declared a state of emergency in the state and advised non-essential workers to stay at home.
The weather service, in an advisory, said: "A combination of storms will impact areas from the southern Appalachians into New England into Friday. Heaviest snow will fall from central New York to the Massachusetts coast. Blizzard conditions are possible for eastern Long Island and the Massachusetts coast. Bitter cold will move into the Midwest and East following the storm."
The storm caused temperatures to plummet to well below normal levels on Thursday, and blizzard conditions are forecast to continue into Friday morning with temperatures hitting and staying at or near 20 below zero. By Friday morning, Boston had received 21 inches of snow and parts of New York saw 18 inches of powder, while some parts of Massachusetts got nearly 2 feet of snow.
The storm disrupted travel across the region with transport officials closing major roads south of Albany and east of New York City, while thousands of flights were cancelled on Thursday night through Friday morning. Nearly 2,500 U.S. flights were canceled with another 7,000 delayed. Chicago's O'Hare International and Newark's Liberty International Airport were hit the worst, according to FlightAware, a website that tracks air travel.
Hundreds of travelers remained stranded in New York's three airports while authorities prepared to accommodate the passengers.
"We have a few hundred cots at each of the airports should you decide to become an overnight guest," Thomas Bosco, an official with the Port Authority of New York and Jersey, told Reuters. The organization also runs New York's LaGuardia and John F. Kennedy International airports, and Newark Liberty International in New Jersey.
"Airport has suspended flight operations til further notice, airport will remain open. Please check with your carrier before departing," a tweet from the New York City Official Emergency Notification system said, referring to traffic at JFK airport.
© Copyright IBTimes 2022. All rights reserved.
FOLLOW MORE IBT NEWS ON THE BELOW CHANNELS