Winter Storm Nemo Brings Snow This Weekend To Northeast US, Possible Blizzard Conditions Around Boston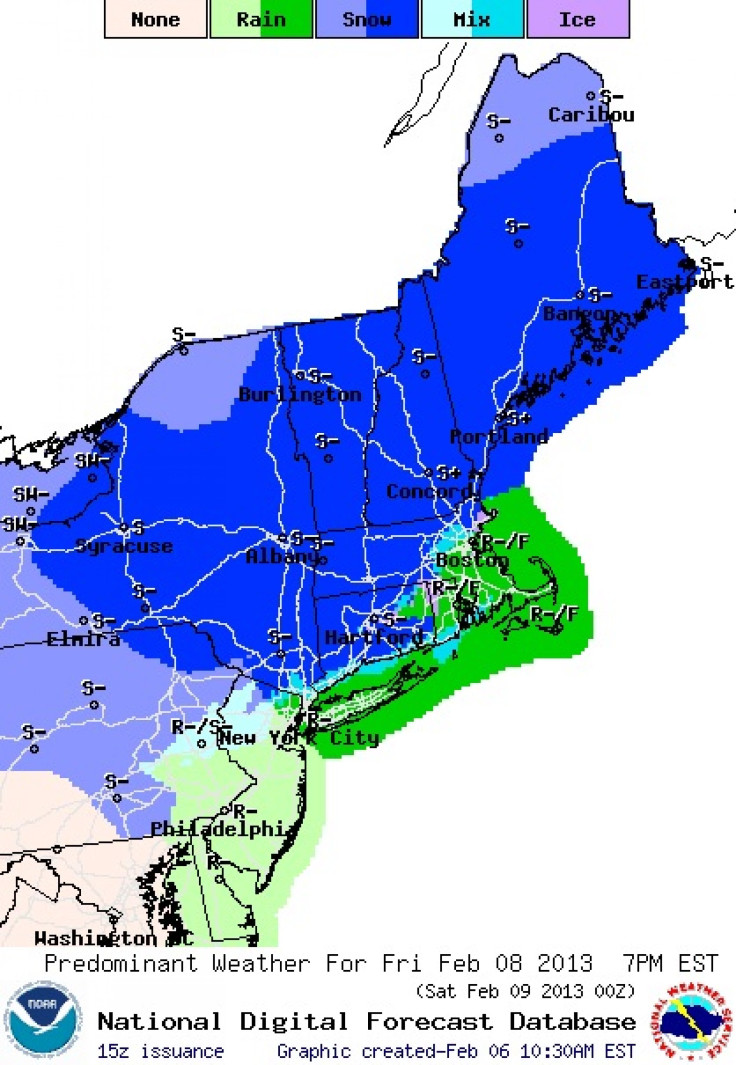 Famed groundhog weatherman Punxsutawney Phil may have predicted an early spring, but this winter seems intent on going out with a bang. Meteorologists are predicting a blockbuster snowstorm for the Northeastern U.S. this weekend, as two separate weather systems are expected to combine into one burgeoning nor'easter that the Weather Channel has dubbed Winter Storm Nemo.
This weekend is likely to bring traffic and travel delays for anyone coming near Nemo's path, so travelers and residents of the Northeast should keep an eye on the weather reports.
On Thursday, a fast-moving low pressure weather system, called an Alberta clipper, will be crossing the Midwest heading east, while a broad rainstorm moves up from the Southern states.
By Friday afternoon, the intersection of the clipper and the rainstorm is likely to cause snow from Michigan to upstate New York and New England. But the weathermen are predicting that the big cities south of New England -- New York City, Philadelphia, Washington, D.C., and Baltimore -- will mostly be getting rain, with the possibility of sleet.
The question of where the clipper and the rainstorm meet could affect the forecast for a number of cities, especially Boston. Meteorologists aren't exactly sure.
"The European model, which is the generally the best model we have, has continued to insist there is going to be this really big storm, but the other models are not bullish on it at all," Weather Channel meteorologist Carl Parker told NBC. "The difference is -- will it be a blockbuster for places like Boston?"
But it's the weekend that will bring the most interesting weather.
From Friday night to Saturday, the newly combined storm will inch along the Northeast coast and is expected to cross what's called the 40/70 benchmark, a point out in the ocean, 100 miles southeast of Montauk Point located at 40 degrees north and 70 degrees west. Most big East Coast snowstorms cross this point as they move toward the northeastern U.S.
Blizzard conditions are possible in parts of Massachusetts, including Cape Cod, Martha's Vineyard and Nantucket Island, according to the Weather Channel. Major cities from Providence, R.I., to Portland, Maine, are likely to experience heavy snow.
TWC points out that February has been a big month for snowstorms in recent years. Both 2010's Snowmageddon and a 2006 record storm that dumped more than two feet of snow onto Central Park in New York City were February storms.
The Weather Channel started assigning names to winter storm systems in 2012, saying the move would raise awareness about encroaching dangerous weather and help keep people safe.
But most other meteorological organizations aren't buying into the name game. The National Weather Service has declined to adopt the practice and sent out a memo to workers asking their staff not to use the Weather Channel's names for storms.
Unlike hurricanes, "a winter storm's impact can vary from one location to another, and storms can weaken and redevelop, making it difficult to define where one ends and another begins," the NWS said in a news release last October.
FOLLOW MORE IBT NEWS ON THE BELOW CHANNELS