Winter Storm Pax Barreling Through Southern U.S., Heading Northeast To Dump Snow On Region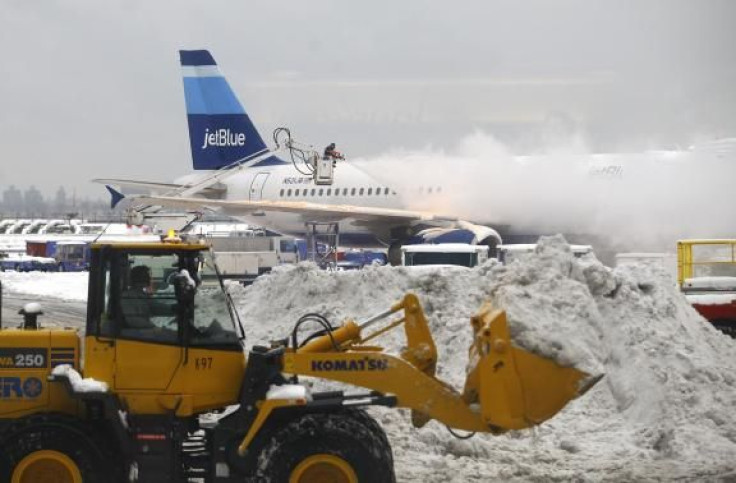 Another winter storm is marching up the East Coast, poised to dump up to a foot of snow on parts of the tri-state area -- but the South is already feeling the freeze.
The system, dubbed Winter Storm Pax by The Weather Channel -- which began naming winter storms in the 2012-2013 season -- started showering parts of Mississippi and Alabama with freezing rain on Tuesday morning. By Wednesday evening, sections of Georgia and South Carolina are expected to get as much as 1 inch of freezing rain.
"Just a slight shift in the track of the storm or atmospheric conditions could greatly alter the amount of snow and freezing rain this storm brings, and residents impacted by this storm should follow the latest forecast updates," Weather Underground meteorologist Jeff Masters wrote on Tuesday. "One positive aspect: The cold air behind this storm will be short-lived, and high temperatures are expected to warm into the upper 40s by Thursday across South Carolina and Northern Georgia."
Pax will be making tracks for the Northeast starting on Wednesday, and is expected to cause significant snow accumulation in the entire Northeastern corridor. Initial predictions for the storm expect there to be 5 to 8 inches of snow to New York City through late Thursday and early Friday, according to NBC New York. In Philadelphia, weather experts are predicting between 6 and 10 inches of snow, and powder is also expected in Washington, D.C., and Baltimore.
It's been a heavily snowy winter thus far, but in most areas, it's not quite a record-breaking season just yet. Central Park has been blanketed with 41.5 inches of snow in total this season, which is above the average of 27 inches but still short of the record 75 inches that fell in the winter of 1995-1996.
The Midwest has been buried even deeper. This January was the snowiest January ever recorded for Detroit, Mich., which had 39.1 inches in 31 days -- easily topping the previous 1978 record of 29.6 inches. Overall, this winter season has dumped 70.8 inches of snow on Detroit as of Monday, ranking it as the fifth-snowiest winter so far, according to the National Weather Service.
It's also been extremely cold for Midwesterners this season, thanks in part to a cold wave brought. in part by the breakdown of the polar vortex that normally pens in frigid arctic air closer to the North Pole. In Chicago, temperatures have averaged about 18.3 degrees Fahrenheit between Dec. 1 and early February - the seventh-coldest average temperature on record for that period, which makes the 2013-2014 winter already among the top 5 percent coldest winter seasons in 143 years.
"Never in 143 years of record-keeping has the Chicago area tallied 24 zero-degree or colder temperatures in a winter season by Feb. 11," Chicago-based meteorologist Tom Skilling wrote on Tuesday. "Never -- that is -- until THIS season."
© Copyright IBTimes 2023. All rights reserved.