Winter Storm Pax Ploughs Up Through East Coast; States Of Emergency Declared From Louisiana To New York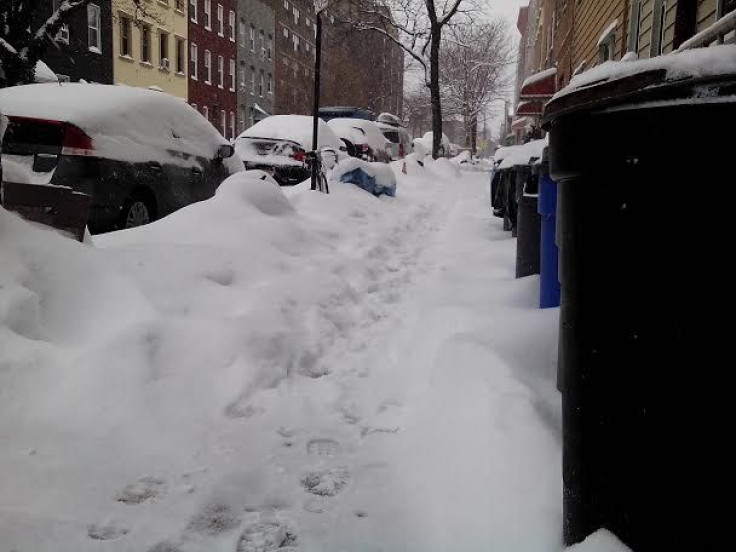 Pax might mean "peace," but Winter Storm Pax is bringing anything but peacefulness to the Eastern U.S.
Many places on the East Coast are expecting to get a foot or more of snow in total from this latest winter storm. Flakes have been spotted falling at the rate of 3 inches per hour in parts of North Carolina, Pennsylvania and New York, according to Jeff Masters of Weather Underground. The most inundated place as of 10 a.m. Thursday morning, per the National Weather Service, was Cherry Grove, W.Va., which saw 19 inches of snow.
At least 14 deaths have been blamed on the storm, including seven car-crash fatalities in Texas on Monday and Tuesday. And as of Thursday morning, about 750,000 people nationwide experienced power outages as a result of the storm, according to WNYC's "The Takeaway." More than half of those outages were in Georgia, where freezing rain fell as deep as 1.5 inches. But overall, the South didn't have quite as bad an ice storm as meteorologists had initially feared.
Winter storm warnings are in effect across much of the Northeast until Friday morning. At least 12 governors along the East Coast from New York to as far south as Louisiana have declared states of emergency to make resources more broadly available in the wake of the storm.
In New York City, 9.25 inches of snow had fallen in Central Park by 10:25 a.m. on Thursday, and the Big Apple is expected to get 10 to 14 inches overall, with deeper snow expected to the north and west. By midday, the snow in the NYC metro region mostly changed to freezing rain and sleet, but snow is expected to return as the temperatures drop later in the day.
Newly installed New York City Mayor Bill de Blasio took some flak for not closing public schools, a decision that United Federation of Teachers President Michael Mulgrew called "a mistake." The storm has caused some delays on subways (longer on commuter rails), but trains are still a better bet than some other modes of transit -- a Gothamist reporter tried taking a Citibike out for a spin in the deep snow, but quickly regretted the decision.
The storm is expected to intensify today and move off the Mid-Atlantic coast, heading toward New England, where it should truly arrive on Friday.
"Warm air streaming in from the Atlantic will change the precipitation to sleet and then plain rain as the day progresses," the NWS storm summary said on Thursday morning. "Sleet should then penetrate further inland into central New England tonight as the storm continues to intensify near the coast."
Meanwhile, the Winter Olympics in Russia could use a bit of this winter weather – on Thursday, temperatures in Sochi climbed to an unseasonably high 62 degrees Fahrenheit.
Also, have you ever wanted to watch the snow fall all night? The "H Street Weather Geek," a meteorological enthusiast in Washington D.C., has you covered. They posted this time-lapse video of the snow piling up from late Wednesday night to early Thursday morning:
© Copyright IBTimes 2022. All rights reserved.
FOLLOW MORE IBT NEWS ON THE BELOW CHANNELS