Winter Weather Statistics: Where 2013-2014 Season Stands So Far In Snowfall Totals And Temperature Records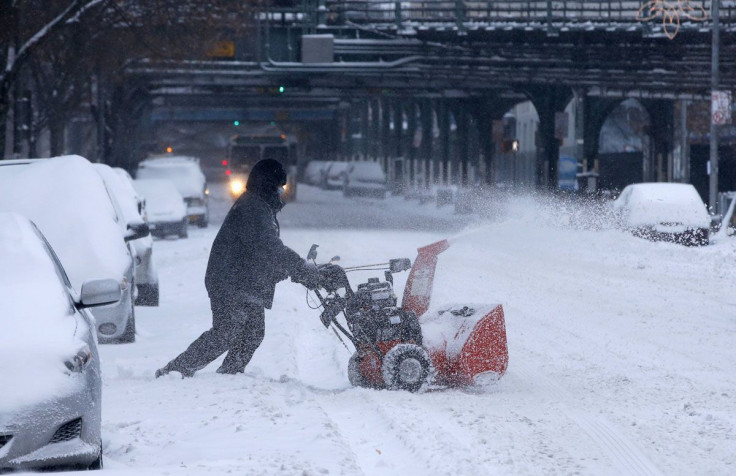 This week's latest snowfall is not quite as deep as previous storms, but at this point the winter malaise is at least waist-high.
But just how serious is this winter, historically? We dug up some winter-weather statistics for a few major cities across the U.S. (Keep in mind, a lot of this is still preliminary weather data from the National Weather Service, so it could eventually be adjusted.)
New York, N.Y.: Snowier than usual, on the colder side
It's a pretty significant winter in New York City, but just where it stands in the record books depends on how you slice it. With Tuesday's snowstorm, the 14th of the season, the Big Apple has seen the most snow ever recorded for a January-February period: 4 feet.
Tuesday's inch of snow brings the 2013-2014 total seasonal snowfall at Central Park to 56.6 inches, enough for the seventh-place spot on the seasonal snowfall records, which go back to 1868. There's still a bit of a ways to go to get to the all-time snowfall record of 75.6 inches, set in the winter of 1995-1996. But if a certain groundhog is to be believed, there's still at least another 4 weeks of winter to go.
And no single snowfall this season has matched the snowstorm of mid-February 2006, which dumped just under 27 inches of snow on Central Park – the all-time record for a single storm.
Temperatures this winter have also been on the colder side, but still short of record breaking. The average temperature in Central Park in January 2014 was 28.6 degrees Fahrenheit. That's colder than the average January mean of 32.6 degrees F. The coldest average January recorded was in 1918, when the mean temperature was 21.7 degrees Fahrenheit.
The polar vortex did bring some frigid weather to the area, with some days setting low-temperature records for specific dates. But the lowest-ever temperature record for Central Park, from February 1934, still stands: -15 degrees Fahrenheit.
Boston, Mass.: Not that much snowier than average, a little colder than average
Boston has seen 53.5 inches of snow so far this winter, as of Monday. That's above average, but far away from setting any records – the 1995-1996 winter remains comfortable in its top spot in the record books, with 107.6 inches of snow. NWS meteorologist Charlie Foley told the Boston Herald on Monday that this year's winter probably won't crack the top 10, in terms of snowfall.
The mean temperature in Boston for January 2014 was 27.4 degrees F, hovering just around the normal average of 29 degrees. The city's lowest January temperature was 2 degrees Fahrenheit, set on Jan. 4, when the polar vortex was gripping most of the country. But that's practically tropical compared to the January-low record of -13 degrees, set in 1882, and the all-time-low record of -18 degrees, set on Feb. 9, 1934.
Chicago, Ill.: Much snowier than usual, colder than average
But really, it's the Midwesterners who have the bragging rights to this season's misery.
This season, Chicago has been hit with 67.9 inches of snow, a good 41.5 inches above normal. That already earns this winter the honor of the fifth-snowiest seen in the city since 1884. It's also the snowiest winter since the 1978-1979 season, which set the all-time record of 89.7 inches. How will the rest of the season shake out? The fourth-place record, 68.4 inches, set in 1966-1967, isn't too far off; but it'll take a good-sized snowstorm to vault this winter past the third-place mark of 77.0 inches set in the 1969-1970 winter. (But, given how this winter's gone so far, maybe that's not too outrageous to expect.)
January 2014's average temperature was a frigid 15.7 degrees F, 8.1 degrees below the normal of 23.8 F. During the month, the mercury dipped as low as -16 degrees F, not quite matching the 1985 January record of -27 F, also the all-time Chicago record low (a day where the wind chill also reached -60 degrees).
© Copyright IBTimes 2023. All rights reserved.
FOLLOW MORE IBT NEWS ON THE BELOW CHANNELS