Wisconsin Democratic Party Leader Alleges Ethics Violations by Walker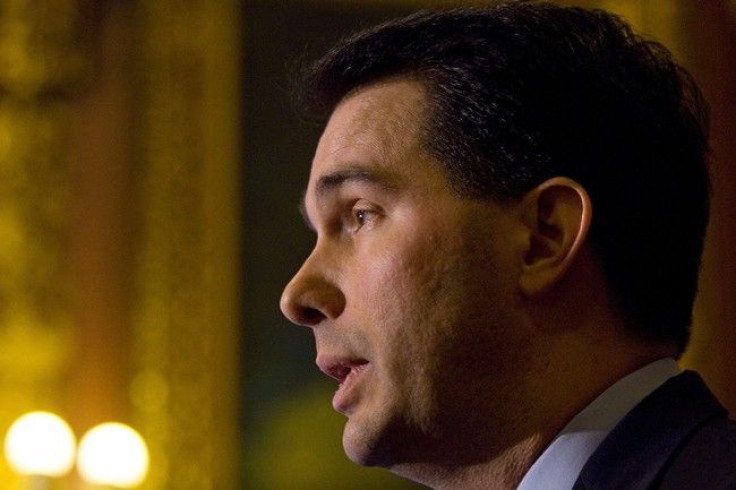 The head of Wisconsin's Democratic Party filed a series of ethics violations complaints against Gov. Scott Walker on Monday.
Walker made various ethical violations during a call with a prankster pretending to be a wealthy Conservative donor, alleged Margaret Brick, the head of Wisconsin's Democratic Party in a government ethics board filing on Monday.
A Walker spokesman said the allegations were baseless, according to reports.
Ian Murphy, a columnist for website the Buffalo Beast, posed as conservative activist David Koch on February 22, conversing with the governor for about 20 minutes. The conversation was intially posted to the YouTube.com website.
The Government Accountability Board confirmed it had received the complaint on Monday but would not provide a copy of the complaint. The document was obtained and published online by some news organizations.
Brick, the executive director of the state's Democratic Party said the statements by Walker during the call should be brought to the Board's attention.
Among the alleged ethics violations are improper requests for political ads, requesting a political contribution in a state-owned building, misuse of his office for primarily political motivations, using his office to obtain a private benefit form himself.
After receiving a complaint, the board must decide whether it merits an investigation. The board may also issue subpoenas, take depositions and ask a court to issue search warrants.
The board can dismiss the complaint, seek a voluntary forfeiture, bring a court action for a civil forfeiture, or refer the matter to a criminal prosecutor.
All records related to investigations are confidential.
© Copyright IBTimes 2022. All rights reserved.
FOLLOW MORE IBT NEWS ON THE BELOW CHANNELS