In Wisconsin, Money Really is Speech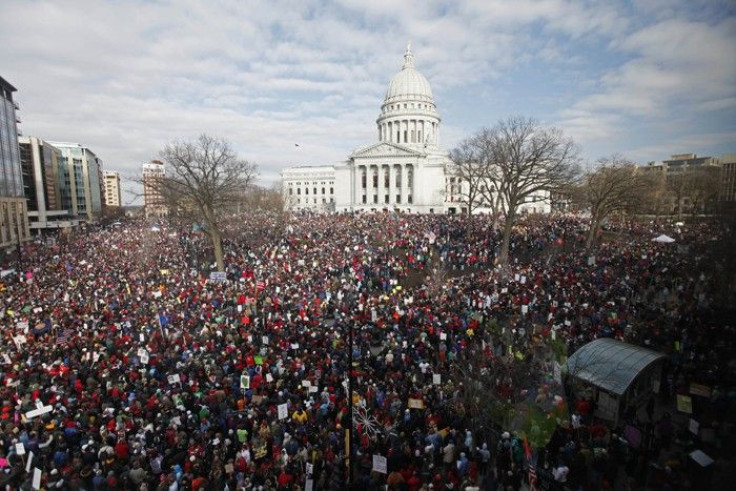 Money will have a stronger voice than ever in Wisconsin politics as the 2012 election approaches, after a federal appeals court on Monday struck down a state law that imposed a $10,000 cap on contributions to independent political action commitees by individuals and organizations.
A three-judge panel of the 7th U.S. Circuit Court of Appeals determined the state's annual limit of $10,000 was an unconstitutional restriction on free speech, ruling in favor of the Wisconsin Right to Life political action committee (PAC), which won a temporary injunction against enforcing the law during the recall elections of nine state senators earlier this year.
An opinion written by Judge Diane Sykes found that applying the cap to donations made to organizations engaged in independent spending for political speech violates the First Amendment. The appeals court cited the U.S. Supreme Court's landmark decision in the 2010 Citizens United ruling, which overturned a previous ban on corporate spending in federal elections.
In that case, the appeals court said the nation's highest court determined there is no valid government interest that justifies imposing fundraising limits by independent organizations. Therefore, the appeals court ruled that as a matter of law and logic the $10,000 cap in Wisconsin is unconstitutional.
Citizens United held that independent expenditures do not pose a threat of actual or apparent quid pro quo corruption, which is the only governmental interest strong enough to justify restrictions on political speech, Judge Diane Sykes wrote in Monday's decision.
Wisconsin Right to Life PAC initially challenged the state's campaign finance law during the 2010 midterm elections after donations limits reportedly stopped two if its members from making $5,000 contributions because of previous contributions to other political parties or candidates, the Courthouse News Service reports. Nine state senators were challenged in recall elections over the summer as a result of a highly-contested budget bill passed by Gov. Scott Walker that significantly limited the collective bargaining rights of public employees, leading Right to Life to revive its challenge.
While Barbara Lyons, the executive director of Wisconsin Right to Life, called the court decision a sweeping victory, George McCabe, the director of the Wisconsin Democracy Campaign, told The Associated Press said it likely won't lead to any difference aside from validating the fact that political candidates are irrelevant in the face of the increasing monetary power of special interest groups.
I'm not sure that very many people will notice a difference because money is flowing so freely in Wisconsin politics, McCabe said. There's no shortage of channels through which special interest funds can flow.
Aside from Wisconsin, the National Conference of State Legislatures reports that only Missouri, Oregon, Utah and Virginia do not have laws limiting contributions to political action committees and political parties. Seven other states reportedly either limit or prohibit contributions by corporations or unions to candidates, while contributions from all other sources are unlimited.
Meanwhile, earlier this month the Walker administration unveiled a new policy would hold demonstrators who protest the State House liable for the cost of extra police in addition to cleanup and repairs, while also requiring groups of four or more people to obtain permits for all activity and displays -- even fliers --in state buildings, which must be applied for at least 72 hours in advance. Groups of 100 or more who protest outside of the Capitol must also obtain permits.
The policy, which is set to take effect on Dec. 16, would charge groups holding demonstrations $50 per hour for each additional Capitol Police officer needed on the scene. Protesters could also be charged for police officers brought in from outside agencies, a cost typically billed to the state, which the Milwaukee Journal Sentinel reports could potentially be required as an advance payment by protesters requesting a permit.
Critics say the demand is unconstitutional since it essentially requires demonstrators to pay for their right to peacefully assemble as guaranteed by the First Amendment. When one woman who has been a frequent protester at the Capitol asked Chris Schoenherr, the deputy secretary for the state Department of Administration, whether he was aware the new policy violates the U.S. Constitution at a public meeting on Dec. 6, the Wisconsin State Journal reports Schoenherr simply replied, We don't believe it does.
That same day, 22 Democratic state lawmakers reportedly sent a letter to Department of Administration Secretary Mike Huebsch that said the policy is both unconstitutional and discriminatory.
Gov. Scott Walker, Lt. Gov. Rebecca Kleefisch and four Republican state senators are being targeted for recalls next year. United Wisconsin, which is coordinating the Walker recall effort, reports it received 300,000 of the approximately 540,000 valid signatures it needs to trigger the recall election in the first 12 days of its campaign.
© Copyright IBTimes 2023. All rights reserved.