Wisconsin Recall: What It Could Mean For The Presidential Election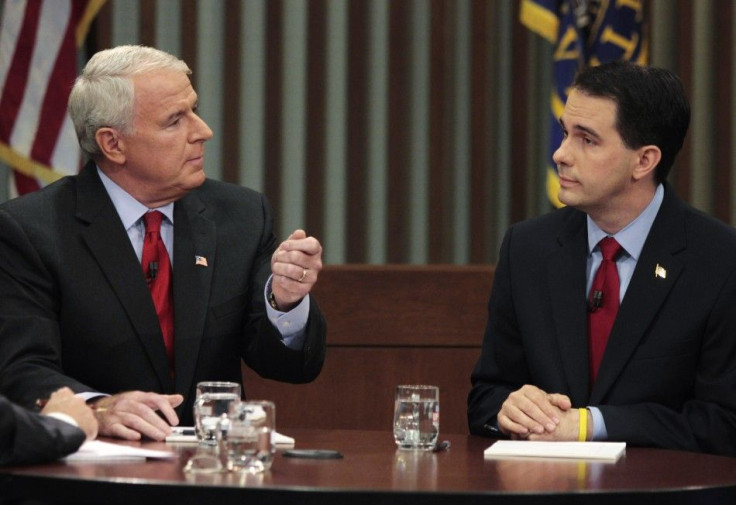 As goes Scott Walker, so goes Mitt Romney?
The question is hovering in the background as Wisconsin voters go to the polls Tuesday to deliver their verdict on Republican Gov. Scott Walker, whose tenure so far has been largely defined by his staunch support for a bill all but eliminating collective bargaining rights for public worker unions. Walker defended the legislation as a budget balancing measure, but critics saw it as an attack on organized labor, typically a stalwart Democratic ally.
In one sense, this election distills the raging battle over closing the nation's budget deficits into one contest. Republicans consistently invoke unions as defenders of an untenable and costly status quo, and leaders of Republican states have enacted laws -- from Ohio's recently repealed law curtailing collective bargaining to Indiana's right-to-work legislation -- that check union power. Romney has praised Walker as a hero.
That's why the election has attracted a maelstrom of spending, and why top party surrogates from Republican New Jersey Gov. Chris Christie to former President Bill Clinton have been campaigning in Wisconsin. But observers say it may be a stretch to use the results of the Walker recall to predict who will prevail in November's presidential election.
I don't think it's going to tell us very much about the voting in Wisconsin in the presidential race, said Timothy Dale, an assistant professor of political science at the University of Wisconsin, Green Bay. I think it might have some effect in the sense of, if Walker wins, Romney and other Republicans around the country are going to claim credit and at least use the electoral victory as a victory for the party.
After narrowly going blue in 2000 and 2004, Wisconsin went for Barack Obama by a resounding 13 points in 2012. A recent Marquette University poll had Obama leading Romney in Wisconsin by about eight points.
But five months is a long time in the lifespan of a presidential campaign. A string of disappointing economic numbers like the recently released May jobs report could affect Obama's prospects in Rust Belt states like Wisconsin more than the outcome of Tuesday's contest.
The intersection of collective bargaining rights and budget deficits is also a matter of state policy. The Walker recall could affect how aggressively governors try to pursue measures to curb unions, but at a national level it may have less of an effect.
And no matter who wins on Tuesday, Romney and Obama will have ammunition to make their case to voters. If Walker loses, expect him to blame an influx of out-of-state union cash supporting his opponent, Milwaukee Mayor Tom Barrett. If Walker wins, Romney will be able to say his cost-cutting approach is vindicated while Obama redoubles his warning about Republican attacks on the middle class.
This is why there's so much money and interest being paid to Wisconsin right now, because this is connected to larger ideological divides between the two parties, Dale said. Whether the outcome is in favor of Walker or Barrett, they're both going to use it. So in defeat Walker is going to become a martyr for the cause Romney is talking about, and if he wins he's going to become a hero.
That isn't to say Tuesday's vote will have no effect. A Barrett victory could lead Romney to reconsider his campaign strategy in a state where Obama is already leading in the polls, while Walker retaining his seat -- particularly if he matches or builds upon his 2010 margin over Barrett -- could force the Obama campaign to double down.
If Walker can turn out the people that he claims to have, I think what it does do to Obama and his team is it makes them spend a lot more money and resources in Wisconsin they might not ordinarily have wanted to expend, said James McCormick, chairman of the political science department Iowa State University.
There's also the possibility that the election could affect turnout in November, particularly if Walker is able to use his incumbent advantage to rally voters.
I do think if Walker wins, that likely carries over to some extent to November with Republicans who remain motivated, said Mike Nichols, a columnist and a senior fellow at the Wisconsin Policy Research Institute. I think it's possible if Democrats lose they could be more dispirited come November.
Presidential politics aside, people have poured an unprecedented amount of money into the Walker recall -- more than $60 million and counting -- because many view it as a decisive moment in the debate over the role of public unions.
Particularly public employee unions, they see this as a fight to the death, because if Walker is not recalled their view is this means it's open season on them, said Kenneth Mayer, a professor of political science at the University of Wisconsin, Madison. You have two sides to a political controversy thinking their lives are at stake in a death match.
© Copyright IBTimes 2023. All rights reserved.