Wolves vs. Celtics: Jaylen Brown Suffers Scary Fall, Undergoing CT Scan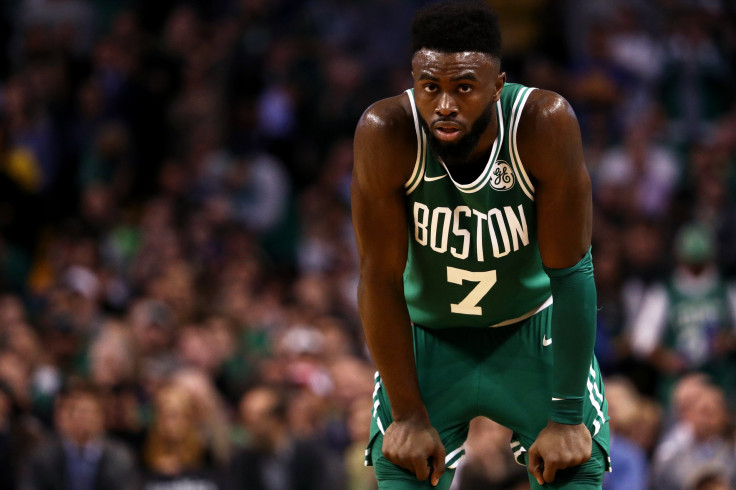 Jaylen Brown suffered a massive injury scare and is still not in the clear after crashing to the floor after a dunk during the Boston Celtics' 117-109 win over the Minnesota Timberwolves on Thursday.
The incident occurred in the third quarter when Brown ran the length of the court on a fast break and dunked, but his hands slipped of the rim and he landed hard on his upper back, shoulder and head. The Celtics shooting guard remained motionless on the floor for a moment but later was able to pick himself off the floor and walk back to the locker room on his own accord.
Brown was ruled out for the remainder of the game as he underwent checks for concussion related symptoms under the supervision of the Minnesota medical team. There was a moment of silence when the incident occurred, but there was relief when the Celtics' second top scorer walked off court to a standing ovation from the rival fans.
Celtics coach Brad Stevens gave a positive update after their win over the Timberwolves stating Brown felt 'pretty good' leaving the arena. But he is set to undergo a CT scan to ensure there is no serious injury.
"He felt pretty good leaving the arena. He went to get a CT scan. He's with (Minnesota's) team doctor, so he's in good hands," Stevens said, as quoted on the Celtics' official Twitter account.
Celtics center Al Horford Reynoso labeled it as one of the worst falls he has ever seen but was glad to see his teammate get up and walk on his own to the locker room.
"I was right there. It was tough to see. I was just happy he was able to get up and walk off because that was one of the worst falls I've seen," he said after the game.
Brown's teammates were not the only ones concerned as Cleveland Cavaliers talisman LeBron James was one of the first to wish the Celtics shooting guard a speedy recovery, while Kevin Love also sent his prayers after watching the play.
Celtics, meanwhile, clinched a spot in the 2018 playoffs with their win over the Timberwolves with 16 games still left to play in the regular season. It is the Boston franchise's earliest clinch since 2011.
Celtics have three losses more than Eastern Conference leaders Toronto Raptors and will remain in second place after their recent win, which was the Celtics' sixth win in seven games.
© Copyright IBTimes 2023. All rights reserved.