Woman Found Decapitated in Phoenix Home Along With Two Dead Dogs; Suspect Removed His Own Eye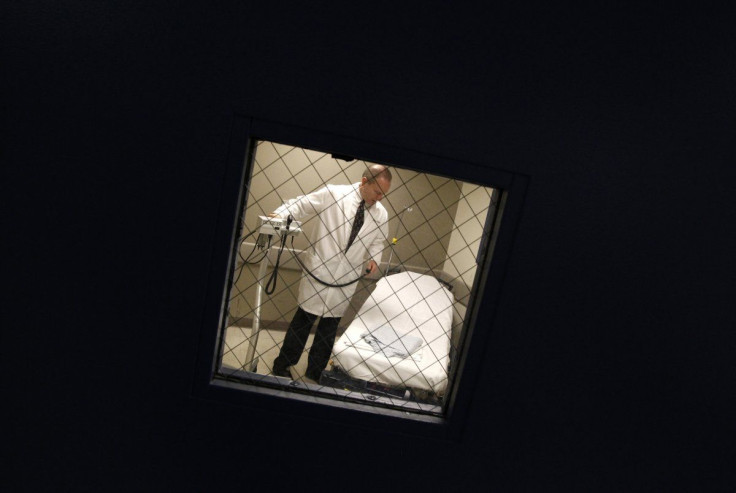 A woman's decapitated body and two dead, mutilated dogs were discovered by police Saturday in a Phoenix apartment. The suspect in the crime cut off his left arm at the elbow and removed one of his eyeballs.
The 43-year-old male suspect has a known mental illness, authorities said. "These two have a history of a domestic-violence relationship," Sgt. Trent Crump told reporters at the scene.
The incident comes as Arizona and other states have been cutting mental health services.
The scene was discovered by a neighbor who was checking on the woman, whom he hadn't seen enter or leave the apartment in more than a day. Through the window he could see blood on the floors and walls, and after the suspect answered the door with his eyeball hanging from a socket and his left lower arm dangling at the elbow, the neighbor "quickly backed out" and called police, Crump said.
The identities of the witness, the victim and the suspect were not released by police.
Investigators found the woman's body in a walk-in closet and two dead and mutilated dogs. (Some reports said the dogs also were decapitated.) During questioning at the scene, man said he killed "three family members." Police were trying late Saturday to verify if the suspect meant the dogs were family or whether there were other human victims.
Last December, the Arizona Republic published a five-part investigative series surrounding public funding cuts for mental health treatment that have left clients waiting for months to receive help. The report highlights excessive administrative spending by 28 Arizona nonprofits, including excessive growth in executive compensation for these organizations.
A National Alliance on Mental Illness report published in 2011 rang alarm bells about a nationwide trend reducing services for mental health treatment. "You will see … people [who lose mental health services] ending up in prison, jails, emergency rooms, homeless, harassing tourists and breaking into homes," Nevada Judge Jackie Glass warned after her state legislators targeted her Mental Health Court for defunding.
© Copyright IBTimes 2023. All rights reserved.