Women In ISIS: Morocco Islamic State Attack Avoided After Terror Cell Arrested For Alleged Planned Suicide Bombing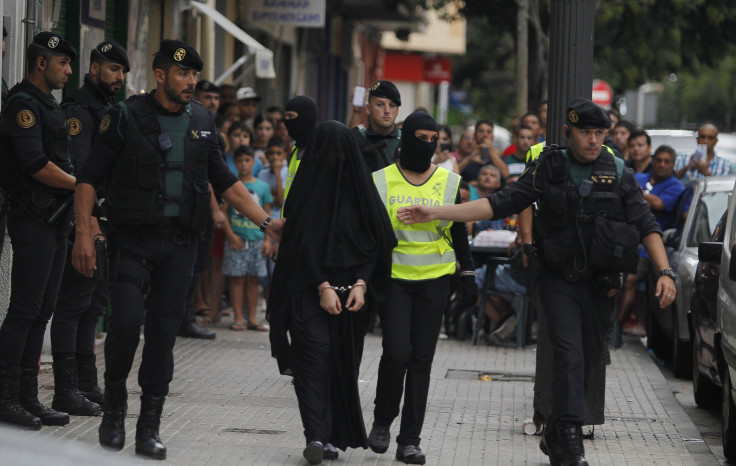 Morocco likely dodged an Islamic State-inspired suicide bombing attack Monday — one alleged to have been perpetrated by a group of women.
In a raid on a militant cell in Rabat, the nation's capital, Morocco's Central Bureau of Judicial Investigation (Bureau central d'investigation judiciare, or BICJ) arrested 10 women and seized a collection of chemicals and bomb-making materials in their homes, Reuters reported.
Inspired by a brother of one of the women who was involved in Iraq bombings earlier this year, the members encapsulated the Islamic State's new effort to incorporate female militants into its attacks, Morocco's Interior Ministry said.
The group had ties to operations in other Moroccan cities, such as Kenitra, Salé, Sidi Slimane and Tangier, and planned to carry out suicide bomb attacks in multiple locations, according to Agence France-Presse.
In an examination of women's involvement in ISIS attacks, the New York Times pointed out Sunday that three recent incidents related to the terrorist group in France involved radicalized women.
"While the extremist women operating today in France typically proclaim loyalty to the Islamic State and have been in touch with people affiliated with the group, they appear to be acting with guidance and encouragement only from afar, from men either in Syria or in Europe," wrote Alissa Rubin, who has presided over Times bureaus in Kabul and Baghdad and currently heads the newspaper's Paris office, along with Franco-American journalist Aurélien Breeden.
They added that younger women were likely to be most vulnerable to extremist ideals, and women born and raised in Europe, "where it is taken for granted that women can control much about their lives," are at high risk of being drawn to the group as well.
Morocco came under international scrutiny following the deadly ISIS attacks in Paris last year, as the Belgian national behind the attacks, Abdelhamid Abaaoud, was of Moroccan heritage. Less than two weeks before the Paris attacks, authorities in Madrid arrested three Moroccans with suspected ties to the Islamic State.
The nation's government estimated that about 1,500 Moroccans had left the country to fight for militant groups in Iraq and Syria, nearly a fifth of which had been killed in battle, and about 220 of which returned home and faced imprisonment by the Moroccan government.
© Copyright IBTimes 2023. All rights reserved.