World Cup 2018 Group Stage Predictions: Brazil, Germany, Spain, England Certain To Advance To Round Of 16?
Sixteen of the 32 World Cup countries will advance out of the Group Stage in a tournament that seems devoid of a true "Group of Death." One of the positives of such a scenario is that there are plenty of "Group of Life" entries, meaning some countries that normally would be knocked out in the group stage have a decent chance to advance to the knockout rounds.
"Four" is a magic number in group play. In 2014, three of the eight countries that finished in second place advanced with 4 points. Two countries finished with 4 points but failed to advance.
Some countries seem certain to advance. Germany, Brazil, Spain, England and Belgium are just five contenders that are capable of coasting to the Round of 16.
Then there are the big longshots. Iran, Tunisia, Saudi Arabia and Panama may feel fortunate to come away with 1 or 2 points.
It's the rest of the countries — the ones that are battling for second place like Denmark, Switzerland and Serbia — that have the most pressure to advance.
Upsets are always a possibility, but most of the groups should go according to plan.
Group A
Russia, Saudi Arabia, Egypt, Uruguay
Prediction: Uruguay is clearly the best of the bunch and Russia is playing on their home soil, so it seems likely that both will advance. Egypt, which has one of the best players in the world in Mohamed Salah, might give some strong performances, but the roster lacks depth. Saudia Arabia will be lucky to come away with a point. Russia may barely squeak past Egypt.
Group B
Portugal, Spain, Morocco, Iran
Prediction: Rivals Spain and Portugal will likely draw in the opening match, providing an easy path for both to the Round of 16. Morocco and Iran are just happy to have made the tournament and stand little chance of advancing. In a drama-free group, expect Spain to win the group on goal differential and Portugal to finish second, as both countries should come away with 7 points.
Group C
France, Australia, Peru, Denmark
Prediction: France are loaded with talent and seem assured of winning the group, but second place looks up for grabs. Peru and Australia, two big longshots, can perhaps make things difficult for Denmark. However, Denmark, with a young but experienced squad, probably have enough to just barely sneak into the Round of 16.
Group D
Argentina, Iceland, Croatia, Nigeria
Prediction: Argentina have a balanced squad and Lionel Messi will do everything in his power to avoid an early round exit. Croatia might be the most dangerous country in the tournament due to their exceptional midfield. Though Nigeria and Iceland both aren't overflowing with talent, each seem capable of overachieving as they have leading up to the tournament. In the end, Argentina and Croatia should both advance but might be tested more than they expect.
Group E
Brazil, Switzerland, Costa Rica, Serbia
Prediction: Brazil once again have a talent-rich squad and not a serious challenger in the group. However, Neymar and Co. may find themselves working harder to get wins against defensive-minded and counter-attacking opponents. Many expect Switzerland to also advance, but an experienced Serbia roster will probably come away with a win over Costa Rica in the group's opening match and surprise the Selecao and Swiss with some impressive performances. Brazil will win the group, but it's not stretch if Serbia come in second and cause some trouble.
Group F
Germany, Mexico, Sweden, South Korea
Prediction: It's a two-way battle for second place, as Germany might have the best roster in the world and should coast to first place in the group. Don't expect big things from struggling South Korea, leaving Mexico and Sweden to battle it out. Sweden lack star power but make up for it with cohesion. However, Mexico seem desperate to shed their underachieving reputation and should probably do enough to advance.
Group G
Belgium, Panama, Tunisia, England
Prediction: Much like Group B, it's a two-way race as England and Belgium appear head and shoulders above Tunisia and Panama. It wouldn't be surprising if England and Belgium draw in their head-to-head match, and both come out of the group stage with 7 points. Belgium seem to have a slightly stronger attack, so they have a better shot at finishing on top.
Group H
Poland, Senegal, Colombia, Japan
Prediction: This is one is interesting. All four countries have a decent chance to advance, though if Japan sneak in it will raise some eyebrows. Under-rated Poland are strong at goalkeeper and forward, as Bayern Munich star Robert Lewandowski may be poised to shine. Colombia has an experienced and talented squad, with a well-balanced attack. But Senegal seems ready to make a splash, with Sadio Mane and Cheikhou Kouyate capable of lifting the Lions. There are always some surprises in the group stage, so don't be shocked if Senegal come away as the group winner and with Poland barely edging out Colombia.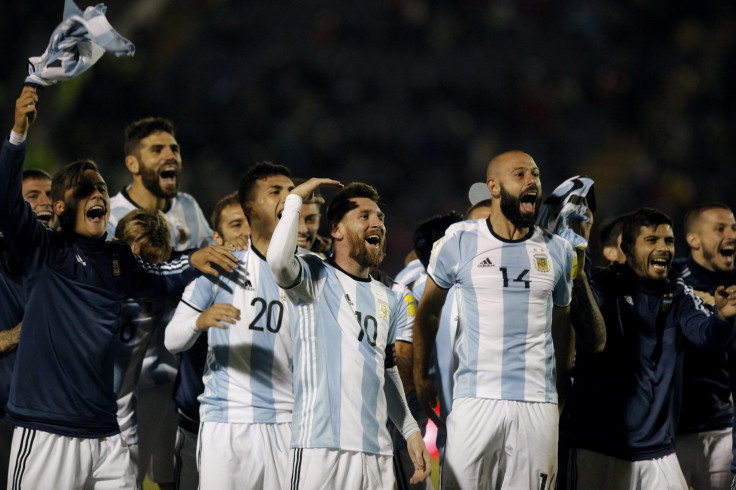 © Copyright IBTimes 2023. All rights reserved.