World's Best Winter Festivals
Mardi Gras (Feb. 12)
Mark Twain once said: "An American has not seen the United States until he has seen Mardi Gras in New Orleans." The city known for funky brass, moody blues and sweet soul and for Creole cooking and bead-throwing bonanzas truly comes alive each winter with costumed balls, raucous parties and festive parades that make New Orleans' Mardi Gras the United States' wildest party. The Fat Tuesday celebration marks the last day Catholics can (over)indulge before Ash Wednesday -- and if the Big Easy is known for anything, it's going big. Nah'leens celebrates each year with nearly 400 floats, 15,000 marchers, a million spectators and beads aplenty.
Quebec Winter Festival (Feb. 1-17)
If nothing else, Quebec's Le Bonhomme Carnaval (a cross between the Michelin Man and Pillsbury Doughboy) wins the award for best festival mascot. The lovable snowman presides over Canada's best -- and there are many -- winter festival, the Carnival de Quebec. Billed as the world's biggest winter celebration, the two-week event boasts dogsled races, elaborate masquerade balls, outdoor banquets, dance parties in an ice palace, parades and dramatic snow sculptures. Most spend the festival with a cane full of warming Caribou (an alcoholic concoction from the settler days that's not made from the local reindeer but rather red wine, whisky and maple syrup).
Harbin Ice Festival (Jan. 5-Feb. 5)
A relative newbie to the winter festival circuit, the Harbin Ice Festival has exploded onto the scene in a major way and is now one of the largest of its kind in the world. Millions of crystal-clear ice blocks are plucked from the Songhua River each year to create a frozen world replete with full-size buildings that literally take over the town in far northeastern China. The enormous ice structures are best seen at night when Harbin twinkles like a giant Lite-Brite. Beyond the city limits, festival-goers hit the ski slopes at Yabuli and visit the ice-lantern exhibition in Zhaolin Garden. A brave few also strip down for some "polar bear" swimming in the frozen Songhua River, which is believed to improve circulation and benefit health.
Sundance Film Festival (Jan. 17-27)
Utah has the strictest temperance laws in the United States and a strong Mormon influence over culture and daily life, but that hasn't stopped Hollywood royalty from flocking to the Beehive State each year for two weeks of film and fun. America's preeminent independent film festival takes over the ski bum town of Park City on Jan. 17, flooding the quiet streets with nearly 50,000 attendees. It's definitely a see-and-be-seen affair with parka-clad movie stars and wannabes shuttling between screenings, the bunny slope and the Sky Lodge, wondering all the while which indie gem will be this year's "Little Miss Sunshine."
Rio Carnival (Feb. 9-12)
Few acts of repentance could be as fun as the Rio Carnival. Considered a farewell to the pleasures of flesh before the start of Lent, this purposefully profane event is the benchmark against which every other carnival is compared. Indeed, it's one of the most famous artistic events on the planet. Over half a million foreign tourists come to the Carnival Capital of the World each year to watch the debauchery, and, from Ipanema to Copacabana, the city couldn't be more bawdy with blaring blocos and scantily clad samba queens.
Sapporo Snow Festival (Feb. 5-11)
For most of us, Sapporo is known as the home of our favorite Japanese beer. But locally, it's known as the winter capital of Japan with snow slides, snow mazes, snow murals and more than 400 snow statues, some of which rise above 15 meters (50 feet) and double as stages for myriad concerts and events. Some 2 million annual visitors make the trek to Japan's northernmost metropolis for the beloved Sapporo Snow Festival (Sapporo Yuki Matsuri), held each February for one week only (or until the ice melts).
Venice Carnival (Jan. 26-Feb. 12)
This popular festival was first held in Venice in the 11th century and consisted of more than two months of revelry each year before it fell into decline during the 18th century. Thankfully for all of Italy's talented mask-makers, the government revived carnival in 1970 with great success, and it's now one of the world's most photographed events. The streets of Venice, already full of intrigue, turn into an elaborate stage for revelers adorned with dazzling Venetian masks and elaborate costumes. One only wishes it was brought back at its original length.
Shetland's Viking Fire Festival (Jan. 29)
If you paired the attendees of a Dungeons and Dragons convention with a group of pyromaniacs and let them loose on a remote Nordic island, it might look something like Up Helly Aa, the Shetland Island's Viking Fire Festival. The Shetland Scots take their proximity to Scandinavia and their former occupation by Norse invaders very seriously, and ever since the 1880s they have thrown a massive bonfire and booze-up festival to celebrate. The details of the annual event are shrouded in secrecy, but you can expect to see all of the following: more than 800 heavily disguised men marching through the otherwise delightful streets of Lerwick, rockets exploding overhead, the ritualistic burning of a longship and, according to the official Up Helly Aa website, "tears of mirth."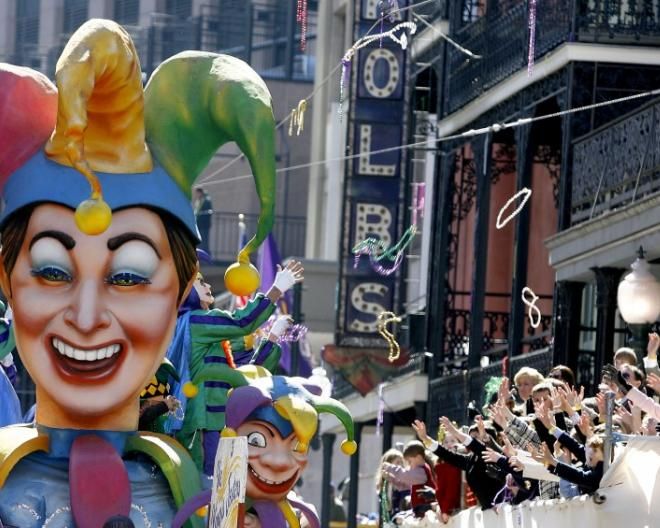 © Copyright IBTimes 2022. All rights reserved.
FOLLOW MORE IBT NEWS ON THE BELOW CHANNELS