World's Biggest Slaughterhouse For Whale Sharks Discovered In China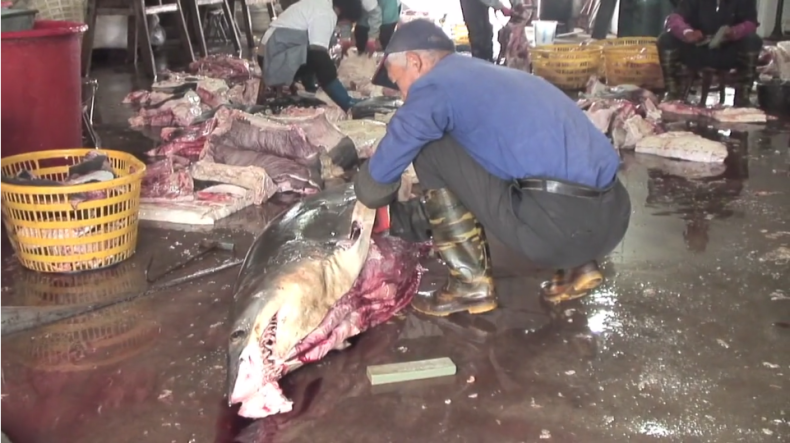 Just when China seemed to be making strides in ending shark harvesting, the world's biggest whale shark slaughterhouse has been discovered in southern China.
Recent reports said that in 2012, China's shark fin market shrank by 50 percent to 70 percent, thanks in large part to Western conservation groups like WildAid and public luminaries like Yao Ming, leading to optimism that sharks would no longer be senselessly hunted.
But the discovery of a massive whale-shark processing operation in southern China reveals that China is far from eradicating illegal shark harvesting. Hong Kong-based conservation group WildLifeRisk on Monday published a report on a factory that processes around 600 whale sharks annually, calling it the world's biggest slaughterhouse for the endangered species, according to the Global Post.
"How these harmless creatures, these gentle giants of the deep, can be slaughtered on such an industrial scale is beyond belief," said a WildLifeRisk statement sent to the AFP, reporting on the China Wenzhou Yueqing Marine Organisms Health Protection Foods Company, based in Zhejiang province.
These massive fish are slaughtered and processed to produce shark oil for health supplements. Undercover video footage from the conservation group's four-year-long investigation showed workers cutting up large, dotted back fins of whale sharks and other shark species.
"It's even more incredible that this carnage is all for the sake of nonessential lifestyle props such as lipsticks, face creams, health supplements and shark fin soup," the statement said.
Factoring in blue sharks and basking sharks, the slaughterhouse produces a total of 200 tonnes (220.46 tons) of shark oil annually, said Li, the owner of the operation, identified only by his last name, on the video footage. In addition, whale shark skin is smuggled out to European countries, where Chinese restaurants find culinary uses for it.
All three species are protected in China, which means the slaughterhouse is operating illegally, yet the video footage shows completely blatant processing.
Whale sharks, which can grow to as long as 39 feet, are on the "Red List" of endangered species drawn up by the International Union for the Conservation of Nature, as well as the Appendix II of the United Nation's Convention on International Trade in Endangered Species, according to the Global Post.
Watch the video footage below, uploaded by the WildLifeRisk.
China Whale Sharks from WildLifeRisk on Vimeo.