World's Oceans Continue To Heat Up At Alarming Rate - IBT Graphics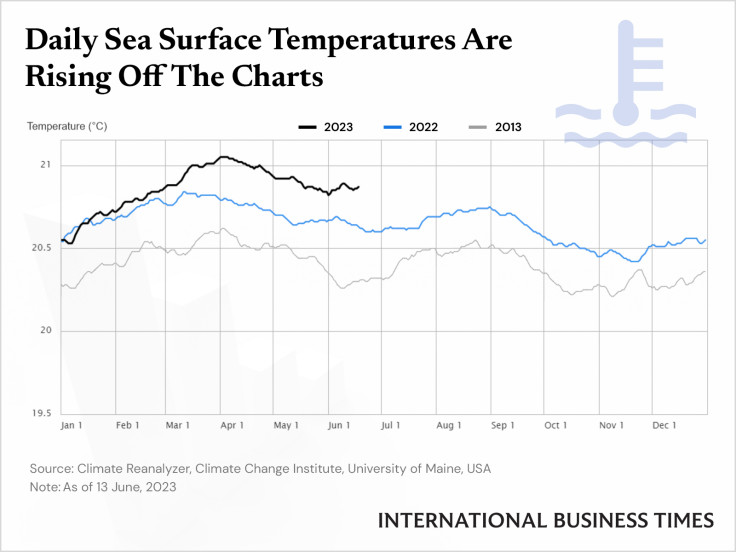 Oceans are heating up to record-breaking levels at a fast pace and there is no sign of stopping. According to the National Oceanic and Atmospheric Administration (NOAA) data processed by the Climate Change Institute at the University of Maine, the ocean surface temperatures have been rising at an alarming rate, particularly in April-May, recording the highest levels since the 1950s.
A pattern of higher sea surface temperature has been taking place for years, particularly in 2022, when the global oceans broke heat records for the fourth year in a row.
The sea surface temperature was recorded at 20.8 degrees Celsius on June 1, compared to 20.7 degrees Celsius same time last year. Over the past decade, the temperature has soared from 20.4°C (June 2013) to 20.8°C (June 2023). In the first week of April, the sea surface temperature peaked at 21.1°C, as per the data. Ocean temperatures last month were the hottest ever recorded.
Seawater temperature is a crucial factor constituting both marine and terrestrial ecosystems, along with human activities that are dependent on the ocean. Sea surface temperature (SST) is the temperature of the uppermost layer of seawater, which is in direct contact with the atmosphere. It relies on various factors, including wind, solar radiation and currents.
© Copyright IBTimes 2023. All rights reserved.