Long-Haul Flights Back In Favor As Air Travel Surges Post Pandemic - IBT Graphics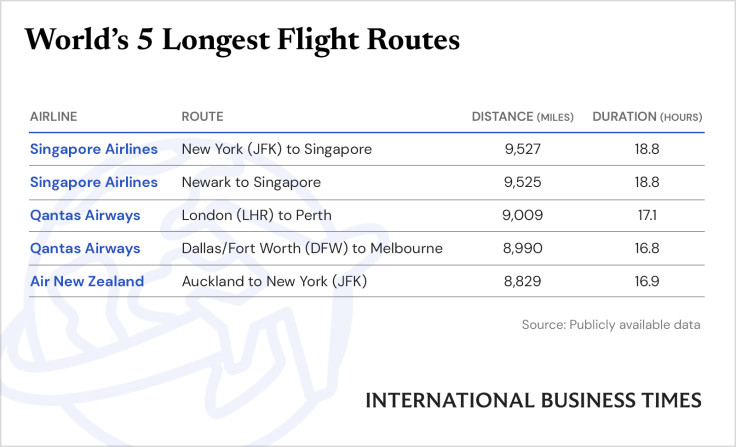 Ultra-long-haul flights are returning to the air after as post-pandemic air travel picks up pace.
The International Air Transport Association (IATA), the International Civil Aviation Organization (ICAO), and the International Federation of Airline Pilots' Associations (IFALPA) together define any flight scheduled to last over 16 hours as "ultra-long." These flights connect some of the biggest cities in the world without a stopover in between.
Australia-based Qantas Airways recently said it is focusing on longer routes and non-stop flights, particularly between Sydney to New York and London, which could take around 20 hours, according to CNBC.
Singapore Airlines operates some of the world's longest flights, including daily long-haul flights connecting Singapore with two New York City-area airports. The airline plans to launch new nonstop flights on ultra-long-range Airbus A350-1000 planes as soon as late 2025.
Its Airbus A350-900ULR operates the world's longest active commercial flight, between Singapore and New York's JFK airport. It covers 9,537 miles in around 18 hours and 40 minutes.
A number of long-haul flights have been canceled over the years due to reasons ranging from high fuel prices to low demand. But airlines' love affair with long-haul flights may be resuming.

© Copyright IBTimes 2023. All rights reserved.