WWE SummerSlam 2016: Match Card, Predictions For Lesnar vs. Orton, Cena vs. Styles, More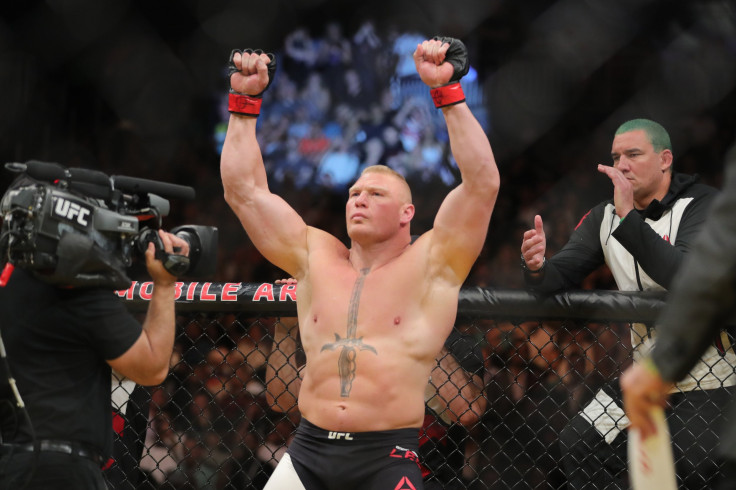 WWE has been treating SummerSlam almost like WrestleMania over the last few years, and that has never been the case more so than this year. SummerSlam 2016 has been extended to four hours, and every championship will be defended at Sunday's pay-per-view.
The card at Barclays Center in Brooklyn is headlined by Brock Lesnar vs. Randy Orton, John Cena vs. AJ Styles and the first ever WWE Universal Championship match. Dean Ambrose will defend his WWE World Championship for the first time since being drafted to SmackDown, and Roman Reigns fights for the United States Championship.
Jon Stewart will make an appearance a year after he interfered in the SummerSlam match between Cena and Seth Rollins. There's also been speculation that former WWE stars might return at the PPV.
The likes of Sami Zayn, Bray Wyatt and Alberto Del Rio are not on the card. The Undertaker doesn't have a match after headlining SummerSlam 2015 against Lesnar.
Below is a look at the entire card for WWE SummerSlam 2016, as well as predictions for each match.
Brock Lesnar vs. Randy Orton
The way WWE has been building this match, it's very possible it could go on last, even though no title is on the line. Lesnar has to be the favorite, as he is in every match, and the most likely scenario has him pinning Orton after hitting several supplexes and an F5. But WWE has made it believable that Orton could win with an RKO, and he could do so if another wrestler interferes to distract Lesnar. Lesnar hasn't lost clean since Triple H pinned him at WrestleMania 29 three and a half years ago.
Prediction: Brock Lesnar
Finn Bálor vs. Seth Rollins (WWE Universal Champion Match)
With the first ever WWE Universal Champion set to be crowned, this is the other match that could be the main event. Balor was the biggest star in NXT over the past year, and he won't lose clean in his first PPV match on the main roster. Rollins is currently WWE's top heel, but he has a chance to become an even bigger babyface, and a loss at SummerSlam could signal the start of his turn.
Prediction: Finn Balor
WWE World Champion Dean Ambrose vs. Dolph Ziggler
It's hard to imagine Ziggler winning WWE's top title after receiving no push for the entire year. Ambrose will likely remain SmackDown's top babyface for the rest of 2016, but even if he does keep the belt, the match might not simply end with a clean pin. Ziggler could turn heel, or Bray Wyatt could somehow get involved, considering he's been a part of the WWE Championship feud in recent weeks.
Prediction: Dean Ambrose
John Cena vs. AJ Styles
If history is any indication, Cena is winning at SummerSlam. Styles got his victory over Cena at Money in the Bank, and now it's time for the "face that runs the place" to come out on top, following his tag team win over Styles and The Club at Battleground. It's what Cena did against Bray Wyatt, Kevin Owens and Rusev in his last three major feuds, and it's likely how things will go down on Sunday.
Prediction: John Cena
U.S. Champion Rusev vs. Roman Reigns
Despite Reigns' perceived "punishment" for failing the WWE wellness policy and moving from the WWE Title picture to the U.S. Title picture, he's still being booked like a top star. He's closed out each of the last two episodes of Monday Night Raw by spearing Rusev, looking as strong as ever. But because Rusev has yet to get the upper hand in this short-lived feud, he'll find a way to keep the belt.
Prediction: Rusev
WWE Women's Champion Sasha Banks vs. Charlotte
This might be the easiest match on the card to predict. After Charlotte's lengthy championship reign ended with a loss to Sasha on Raw, it appears that she'll be moving away from the title picture for the time being. Dana Brooke has been barred from ringside, so there shouldn't be any shenanigans. It's Sasha's time to be the face of the women's division, and she'll solidify her spot on top with a win at Barclays Center.
Prediction: Sasha Banks
WWE Tag Team Champions The New Day vs. Luke Gallows & Karl Anderson
It's probably time for The New Day to drop the tag team titles. They've had the belts for a year, and they've become so popular that the group certainly doesn't need the titles. With Big E injured, Gallows and Anderson should be able to win without making The New Day look weak.
Prediction: Luke Gallows & Karl Anderson
Enzo Amore & Big Cass vs. Chris Jericho & Kevin Owens
Continuing to grow as two of the most popular wrestlers on Raw, Enzo and Cass should get the win over two of WWE's top heels. Jericho and Owens don't need the win, and it could help establish Enzo and Cass as challengers to Gallows and Anderson's tag titles in the near future.
Prediction: Enzo Amore & Big Cass
Intercontinental Champion The Miz vs. Apollo Crews
WWE could look to put the belt on Crews and give him a push, but he still hasn't gained much steam as a babyface. He might be the wrestler that takes the belt from The Miz, but it could happen at a future PPV.
Prediction: The Miz
Cesaro vs. Sheamus (First match in Best of Seven Series)
With their feud guaranteed to continue for a few months, either wrestler could win on Sunday. Look for Cesaro to get the pin in Brooklyn, where he's sure to get a huge reaction from the crowd.
Prediction: Cesaro
Carmella, Becky Lynch & Naomi vs. Natalya, Eva Marie & Alexa Bliss
There's not much rhyme or reason for this match, which likely means a win for the babyface team.
Prediction: Carmella, Becky Lynch & Naomi
© Copyright IBTimes 2023. All rights reserved.