WWE Tag Team Wrestling Icon Has Stunning Admission About The Usos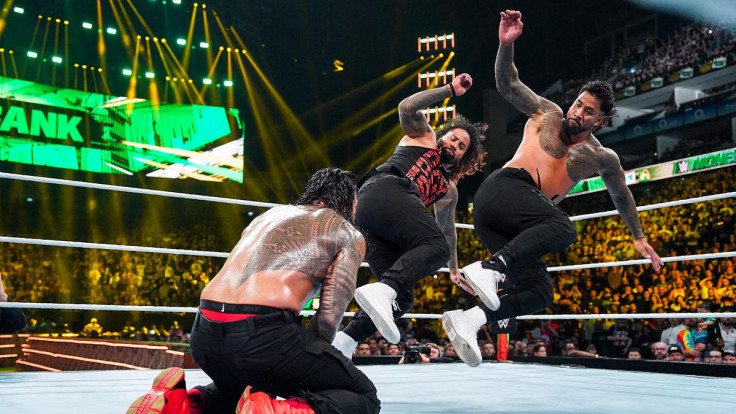 KEY POINTS
Bully Ray outlines why The Usos have surpassed other iconic WWE tag teams
The Usos have been as central to the Bloodline storyline as Roman Reigns
"The Usos are involved in an A-storyline that is generating major money for the WWE," Ray says
WWE has been riding the hot hand of The Bloodline storyline for the better part of the past three years.
While it has elevated Roman Reigns to elite performer status, his cousins in The Usos have also benefitted greatly from the lengthy program.
Outside of Reigns, Jimmy and Jey Uso have established their credibility as the best tag team in WWE history–at least if former WWE superstar and tag team specialist Bully Ray (better known as Bubba Ray Dudley during his WWE days) had his way.
Speaking on the latest episode of the Busted Open podcast on SiriusXM Radio, Ray had a lengthy explanation as to why The Usos can claim top-dog status amongst the many, many tag teams to have graced WWE's ring.
"It's not even a thought for me anymore. To me, it's [the best tag team in WWE history is] The Usos and the reason is because when you look at the numbers of what The Usos have accomplished, I don't think any other team can stake their claim," Ray mentioned.
"The most decorated teams of all time in the WWE – The Hardys, The New Day, The Dudleys... we can look at the amount of times a team has won a championship and that's kinda apples to apples. We can look at what kind of matches or memorable matches teams have had, all this stuff and everything is a bit of a wash when it comes to the upper-echelon of teams in the WWE."
The Usos have certainly seen their star reach new heights throughout the better part of the Bloodline storyline as it began with Jey Uso challenging Reigns for the Universal Championship and the right to be called the "Head of the Table".
Though he failed in this pursuit, he and his brother Jimmy would find success in the tag team scene and even unified the Raw and SmackDown tag team titles by late May of 2022.
When their reign came to an end at the hands of Sami Zayn and Kevin Owens at WrestleMania 39, The Usos had logged 622 days with the SmackDown tag titles and 316 with the Raw belts–an impressive feat considering they were just viewed as tag team specialists.
The brothers' acting chops were on full display as soon as the storyline began in 2020 and it is starting to hit a crescendo after they turned their backs on Reigns, with Jey hoping to fulfill his destiny very soon.
"The Usos are involved in an A-storyline that is generating major money for the WWE. To me, Jimmy and Jey Uso, greatest tag team in the WWE and they're not even close to calling it quits," Ray mentioned with finality.
© Copyright IBTimes 2023. All rights reserved.