'X-Men: Apocalypse': First Look At Apocalypse And Psylocke's Costume; Storm Seen With A Mohawk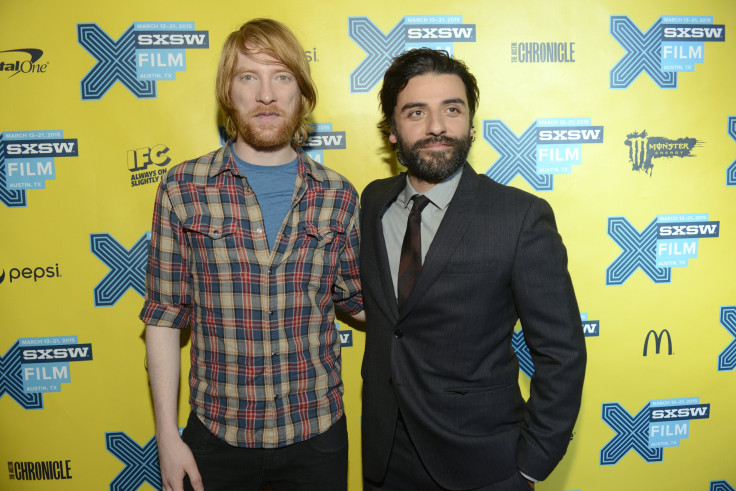 The first official look at Oscar Isaac's Apocalypse from "X-Men: Apocalypse" has been revealed by Entertainment Weekly. In the latest issue of the magazine, Apocalypse graces the cover alongside Psylocke (Olivia Munn) and Magneto (Michael Fassbender). Isaac can be seen dressed in a blue costume and appears to have blue make-up. His costume has been reportedly created by using practical and digital effects.
He said to Yahoo Movies that robotic technology has also been used to create his costume. The character will be depicted as God on earth. He will be the first mutant who has been around for centuries. According to Cinema Blend, the movie has been set in 1983 and it will see Apocalypse hiring weak-willed mutants including Psylocke, Storm (Alexandra Shipp) and Magneto (Michael Fassbender) who will be his horseman. His fourth horseman will be Angel (Ben Hardy).
According to Isaac, it will be interesting the way his character recruits horsemen. "Without giving anything away, the recruitment of the Four Horsemen is very cool. It's very interesting the way that he does that. You know the idea of - the way that cult leaders do - they find people that are in need of something and try to fulfill that thing in them - as it relates to every one of the Horseman," he said to IGN.
Meanwhile, Munn was seen wearing a blue latex costume, which consisted of matching gloves and boots. The actress has revealed in a previous interview with E! Online that she has to use lubrication to get into the costume. In other stills released by the magazine, Shipp was seen as Storm. She can be seen sporting a Mohawk and appears to be wearing a purple costume with a cape.
Bryan Singer is directing the film from the screenplay by Simon Kinberg. The other stars of the film includes James McAvoy, Jennifer Lawrence, Oscar Isaac, Nicholas Hoult, Rose Byrne, Evan Peters, Kodi Smit-McPhee, Sophie Turner, Tye Sheridan, Lucas Till, Josh Helman and Lana Condor.
The film opens May 27, 2016.
© Copyright IBTimes 2022. All rights reserved.
FOLLOW MORE IBT NEWS ON THE BELOW CHANNELS