Xbox One X Preorder Details To Be Revealed This Sunday, Aug. 20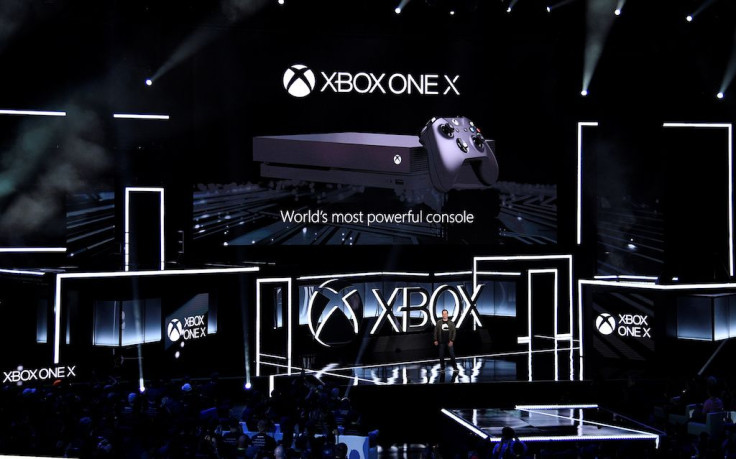 Microsoft's Xbox One X was officially revealed back in June at E3 2017, and now it looks like it's going to be available for preorders soon. The company has confirmed that it will reveal details on Xbox One X preorders this weekend, specifically on Aug. 20.
Microsoft confirmed the the date when it sent out emails inviting fans to tune in during its Gamescom 2017 briefing live stream, according to IGN. The briefing will be streamed live on Mixer.com and on the Mixer app on Sunday, Aug. 20 at 12 p.m. PDT/3 p.m. EDT. The company also teased that there may even be "a few surprises" and "giveaways" during the live stream.
Microsoft's official Xbox Twitter page also confirmed the upcoming Gamescom briefing live stream promising that "pre-order info is coming!" Fans will also be able to watch the company's Gamescom briefing on Twitch and on YouTube as well.
"What's more, you can sign in to your Microsoft account at Mixer.com and you'll be in with a chance of winning lots of great prizes and be able to ask questions to the teams behind your favorite games," Microsoft said on its website.
Gamescom 2017 will take place in Cologne, Germany, and will officially kick off on Aug. 23, Wednesday. Microsoft having a press briefing the weekend prior has always been something the company's doing for other major gaming conferences. The Xbox One X will most likely be available to try out to Gamescom 2017 attendees.
The Xbox One X will cost $499.99 and is scheduled to be released on Nov. 7. The upcoming console is a more powerful version of the Xbox One and is capable of playing 4K HDR games at 60 frames-per-second. Microsoft hopes that it could attract players looking for PC-like performance in a console, which is something that Sony hasn't been able to do with the PlayStation 4 Pro.
Microsoft has already confirmed more than 30 current and upcoming games that will be Xbox One X "enhanced." One of the upcoming first-party titles, "Crackdown 3," was supposed to be released alongside the Xbox One X on Nov. 7, but Microsoft has delayed it to spring 2018.
"We're very excited about 'Crackdown 3,' and so are many fans, and so it's a difficult call to move the release date," Microsoft Studios Publishing general manager Shannon Loftis told Polygon.
"However, we want to make sure to deliver the right game, with the right quality, and at the right time. 'Crackdown 3' is a hugely ambitious game and we want to ensure we deliver the right experiences all the way through every part of the game, whether that's campaign, co-op multiplayer or our competitive multiplayer mode, Wrecking Zone. Getting the balance right between the three modes is important, and we are going to take the extra development time to ensure that. Gamers can expect 'Crackdown 3' in Spring of 2018."
Loftis also remained optimistic about the Xbox One X's lineup of launch games, saying that it will be "one of the greatest lineups of games ever" for a newly released console. Exclusive Xbox One X launch titles include "Forza Sport 7," "Cuphead," "Super Lucky's Tale" and "Player Unknown's Battlegrounds."
© Copyright IBTimes 2023. All rights reserved.