XFL 2020 Week 4 Lines: Odds Favor Wildcats, BattleHawks Saturday, Roughnecks, Vipers Sunday
The early betting odds indicate that both Saturday games in XFL Week 4 might be one-sided. It could be a different story Sunday since each contest features a one-point spread.
Week 4 kicks off with a battle of 1-2 teams that are headed in different directions. The Los Angeles Wildcats are favored by a touchdown on the road against the New York Guardians. Los Angeles is coming off the biggest victory of Week 3, and Wildcats quarterback Josh Johnson leads the league in passer rating after two starts. New York has scored the fewest points of any team.
New York tried three different quarterbacks under center in their 29-9 loss against the St. Louis BattleHawks. St. Louis is back at home and the biggest favorite of Week 4, laying 12 points against the Seattle Dragons. The BattleHawks have the XFL's top rushing attack. The Dragons are the only team that hasn't scored 20 points in any game.
The Dallas Renegades are on a two-game winning streak after losing the season opener at home against the BattleHawks. Dallas is a one-point home underdog against the Houston Roughnecks, who are the XFL's only remaining undefeated team. Quarterback P.J. Walker has been the league's top star with more touchdowns than every other team.
The league's only winless team is a slight favorite against one of the XFL's best teams in the Week 4 finale. The Tampa Bay Vipers are laying a point against the DC Defenders, who entered Week 3 with a 2-0 record before losing by 30 points in Los Angeles. Tampa Bay didn't score an offensive touchdown in the first two weeks but kept its Week 3 opener against Houston within one possession.
Houston leads the league with a plus-31 point differential. St. Louis is second at plus-22.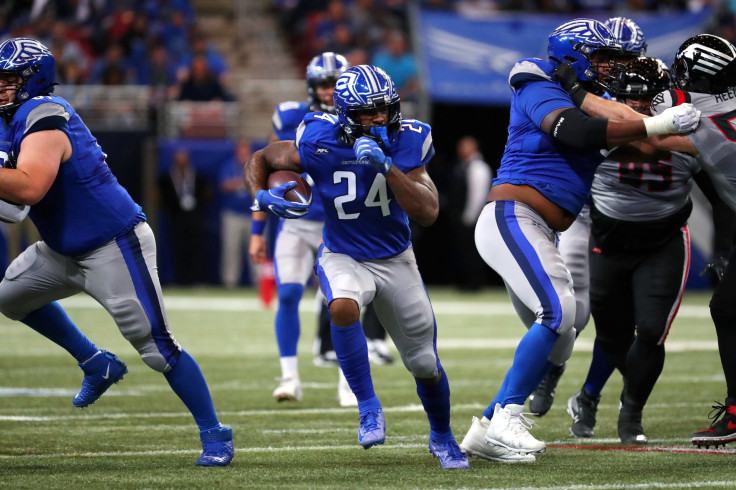 Below are the complete betting lines for all the XFL Week 4 games, including the point spreads and totals, from U.S. Sportsbooks.
Saturday, Feb. 29
Los Angeles Wildcats (-7) at New York Guardians, 40
Seattle Dragons (+12) at St. Louis BattleHawks, 39
Sunday, March 1
Houston Roughnecks (-1) at Dallas Renegades, 50
DC Defenders (+1) at Tampa Bay Vipers, 43.5
© Copyright IBTimes 2023. All rights reserved.