Xi Jinping Tells US CEOs China Will Lift Restrictions On Foreign Investment, Protect Intellectual Property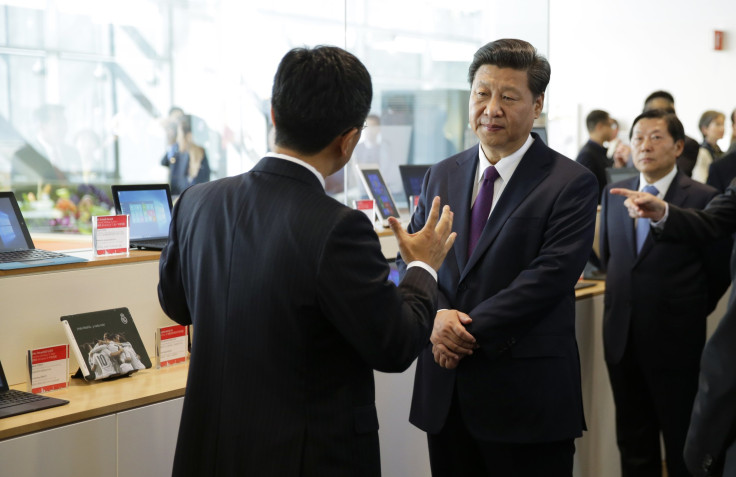 Chinese President Xi Jinping pledged to significantly reduce restrictions on foreign investment and strengthen protection for intellectual property, during a meeting Wednesday with U.S. and Chinese business leaders in Seattle, the latest stop on his U.S. tour.
Xi told a group of 30 CEOs from companies including Microsoft, Starbucks, Apple, Boeing, Amazon and Berkshire Hathaway that "in the long run ... the fundamentals of the Chinese economy are good," addressing concerns caused by the country's recent stock market volatility and slowing economic growth.
The CEOs of 15 Chinese firms, including Alibaba, Lenovo and Tencent also took part in the event. Representatives from Facebook, Google and Twitter were notably absent from the meeting, despite being among the most influential technology companies in the world; China blocks those companies' websites.
"Without reform, there will be no driving force; without opening up, there will be no progress," Xi said through an interpreter. "There is good news and I believe there will be more good news in the future."
Xi told the assembled business leaders that new intellectual property courts in the country were "working smoothly," and would help provide much stronger protection for foreign and Chinese companies. Intellectual property theft is a major concern for many foreign firms in China, which sees unauthorized copies of a wide range of consumer products, from designer handbags to smartphones, on its black market.
He added that Chinese companies wanted the U.S. to ease restrictions on civilian high-tech exports to China and to lower barriers to Chinese investment in the U.S., and that China wanted to cooperate with the U.S. on a range of enterprises, including clean energy, finance and manufacturing, according to the Wall Street Journal.
All the U.S. CEOs at the event signed a letter to Xi and U.S. President Barack Obama, urging them to support a bilateral investment treaty that would provide a framework for broader investment in the economies of both countries, according to the Guardian.
In addition, plans were announced Wednesday for Chinese companies to purchase 300 Boeing aircraft, valued at about $38 billion at list prices, as the U.S. aircraft manufacturer also revealed that it is set to open its first aircraft finishing facility outside of its home country in China.
News of the Chinese finishing facility has riled U.S. labor unions, and Republican presidential hopeful Donald Trump, who criticized the move for taking jobs out of the U.S., according to Reuters.
Xi will travel to Washington D.C. on Thursday to meet with Obama.
© Copyright IBTimes 2022. All rights reserved.
FOLLOW MORE IBT NEWS ON THE BELOW CHANNELS