Yankees Trade Rumors: 4 Pitchers On New York's Radar Ahead Of The Deadline?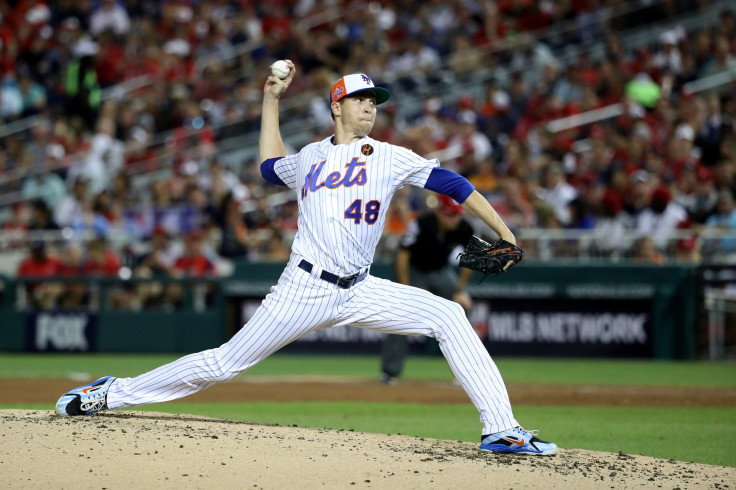 The New York Yankees are expected to be among the most active teams entering the July 31 non-waiver Trade Deadline. High expectations surrounded New York at the start of the season after acquiring superstar slugger Giancarlo Stanton, yet the Yankees find themselves trailing the Boston Red Sox in the American League East and looking for help to make a postseason run.
General manager Brian Cashman will be seeking a starting pitcher despite New York owning the third-best earned-run average (3.52) in the Majors. Masahiro Tanaka and Sonny Gray have been ineffective and Domingo German no longer fits into the team's plans after being optioned. On Saturday, the Yankees called up prospect Domingo Acevedo, who has a 2.84 ERA in 50 2/3 innings in Double-A.
But Cashman will have his sights set on bigger names, which could come at the expense of highly touted prospects Miguel Andujar and Clint Frazier, as well as Acevedo and others.
Jacob deGrom, Mets
The rumors of deGrom to the Yankees have been growing in recent weeks. DeGrom's current value is at its zenith and some are wondering if he really is on the trade block. The Mets don't want to make the Yankees better so they will demand multiple top prospects in return. There is a lot at stake for the Yankees after adding Stanton, so Cashman may want to roll the dice and deal someone like Frazier for one of the best pitchers in baseball.
Cole Hamels, Rangers
Do the Yankees really want to take on Hamels' contract? The four-time All-Star is earning $22.5 million in 2018 and has a $20 million team option for 2019 with a $6 million buyout. He has also seen his ERA drop to 4.36 ERA over 109.1 innings due to a 10.50 ERA in three July starts. The 34-year-old lefty is capable of turning it around, so the Yankees may want to keep their options open with Hamels. However, it might be a better bet that he ends up back in Philadelphia.
J.A. Happ, Blue Jays
Unlike deGrom, there is a very high likelihood of Happ getting dealt. The 35-year-old southpaw will be a free agent at the end of the season and there is no logical reason for Toronto to keep him before July 31. Happ isn't exactly enjoying a stellar season, with a 4.29 ERA in 109 innings. But he was excellent in August and September last season, which is all that should matter for the Yankees. The Blue Jays may be willing to part with Happ for a few mid-tier prospects but the Yankees could face plenty of competition to acquire him.
Matt Harvey, Reds
It seems like a given that Harvey will get moved before the deadline, it's just unclear what teams want him. After a terrible stint with the Mets this season, he's done well in Cincinnati, boasting a 3.64 ERA in 64.1 innings. In his last start, Harvey's four-seam fastball reached 96 miles per hour and he allowed just one earned run over five innings in a win over the St. Louis Cardinals. The Yankees can perhaps land Harvey without giving up quality prospects and he probably would embrace the idea of returning to New York at the PR expense of the Mets.
© Copyright IBTimes 2023. All rights reserved.