Yellen Nomination For Fed Chair To Get Senate Banking Vote Thursday: A Look At S&P 500 Performance Early In New Fed Chairs' First Term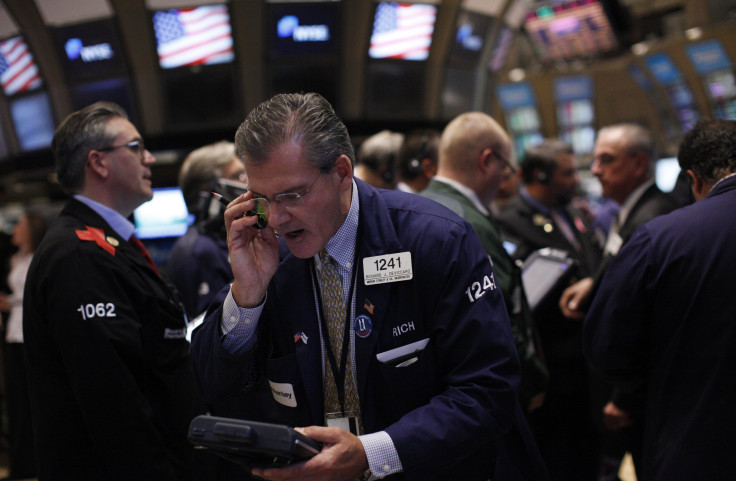 Janet Yellen's nomination to head the Fed is scheduled for a Senate Banking Committee vote on Nov. 21, a week after she sailed through her nomination hearing. The question then becomes: Should investors steer clear of the stock market early in a new federal reserve chair's first term in office?
The committee is expected to approve Yellen's nomination, which would send it to the full Senate for a vote later this year. Democrats hold a two-vote lead on the 22-member committee and no Democrat has opposed Yellen's nomination. Democrats also control 55 of the 100 votes in the Senate, which means Yellen would need to gather only five Republican votes to overcome any procedural hurdles.
If confirmed, Yellen would succeed Ben Bernanke, whose current term ends in January.
Sam Stovall, chief equity strategist at S&P Capital IQ, crunched the numbers and proved the belief that the S&P 500 (INDEXSP:.INX) performed quite poorly during the first three months of a new Fed Chair's term to be untrue.
There have been 14 chairmen since the Fed was started in 1914. The average tenure for the first six Fed chairmen was a shade more than three years, until Marriner S. Eccles was appointed in 1934. Eccles was in office for more than 13 years and later, William McChesney Martin Jr. served for nearly 19 years.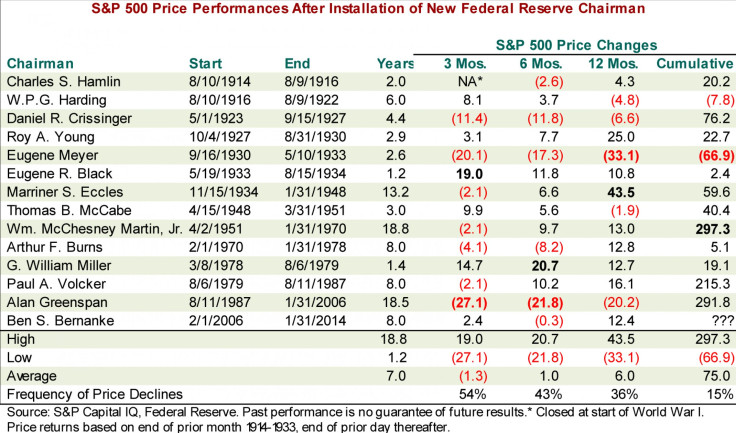 According to this table put together by Stovall, the S&P 500 fell an average 1.3 percent during a new Fed chair's first three months in office. However, the result is heavily influenced by the stock market crash of 1987. If we take out Alan Greenspan's first year in office, the S&P 500 actually would have risen an average of 1 percent in the first three months, even taking into account the more than 20 percent slip during the first three months of Eugene Meyer's term.
In the six and 12-months into each chairman's first term in office, the S&P 500 recorded advances, on average, of 1 percent and 6 percent, respectively, according to S&P Capital IQ.
For the full tenure of all 14 Fed chairmen, the best cumulative return was a gain of 297.3 percent under Martin, while the worst was a decline of 66.9 percent under Meyer.
© Copyright IBTimes 2023. All rights reserved.
FOLLOW MORE IBT NEWS ON THE BELOW CHANNELS