Yelp Reviews Calling Trump Hotels 'Shitholes' Explode After President's Reported Comments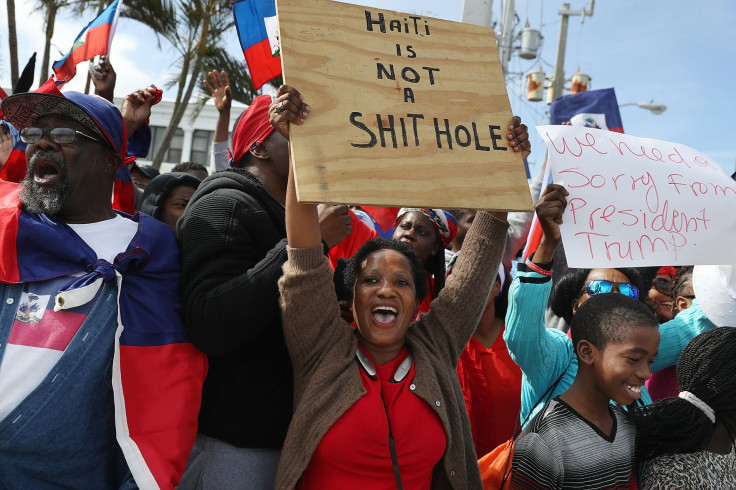 People have been using Yelp reviews to call Trump properties "shitholes" after President Donald Trump reportedly used the expletive to refer to African nations and possibly Haiti Thursday in a meeting on immigration reform.
"This place is a complete shithole," Yelp user Isis A. posted Sunday about Mar-a-Lago, the club the president has called his "Winter White House." "I've seen very bad places, and let me tell you this is one of the worst. FAKE Times Person of the Year framed on the wall, hookers at the bar, bad seafood, & even large cracks in the building foundation. Horrible decorations. Fake gold everywhere. Like a place that racist, D-List celebrities go to feel important."
Mar-a-Lago, however, is a private club and people can only enter as members or guests of a member.
Another user, Kevin M., had harsh words for Trump International Hotel in Washington D.C.
"Utter Shithole. Embarrassing place to even be seen in. If you go here you should be ashamed of yourself," said Kevin M.
The reviews, for the most part, appeared to be fake and seemed to be used mostly to insult the president. Some users, like Isis A., had review histories typical of other users, leaving honest reviews of coffee shops and restaurants. Other accounts had only postings on properties owned by the Trump Organization.
"It is a nightmare situation because you can't control someone sitting at home writing a review," said public relations and crisis management expert Eric Dezenhall to International Business Times. "We tell a client not engage in negative and offending behavior, but here that's not going to happen because the offending behavior is what got him elected."
Dezenhall does not represent the Trump Organization but said that the spike in negative press may not correlate to the company's bottom line. Trump's hotel in Washington D.C. turned a much higher profit than expected in the first four months of 2017, despite the president's low approval ratings. This recent hiccup may not hurt the hotel, which dropped down to a two rating from a four rating in the recent spate of bad reviews.
The Yelp pages for the Trump properties bear a banner that reads "This business is being monitored by Yelp's Support team for content related to media reports."
"Businesses under a high level of scrutiny and media attention will often receive an active cleanup alert to let users know about our policy to remove reviews that violate our Terms of Service, including ones that aren't about a firsthand experience with the business," Yelp said in a statement to IBT.
After widespread reports about his alleged "shithole" comments, Trump himself denied using the language, while White House Press Secretary Sarah Huckabee Sanders said the president uses tough language but that the country should focus its attention on whether a deal for the Deferred Action for Childhood (DACA) arrivals immigration program gets done.
"The point that he's trying to make, the point is that, frankly, the entire conversation should be focused on the issue at hand," said Sanders at a briefing Tuesday. "We've wasted five days fighting over one word when we should be fighting over the people that are involved in the DACA program. If Democrats really want to protect these individuals, that's who they should be fighting for, and that's who they should be fighting about."
The program ushered in by President Barack Obama protected people brought to the U.S. illegally as children by deferring action on their deportation.
The Trump Organization did not immediately return IBT's request for comment.
© Copyright IBTimes 2023. All rights reserved.