Yemen Airstrike Kills 45 Near Aden, Officials Urge Ceasefire As Crisis Worsens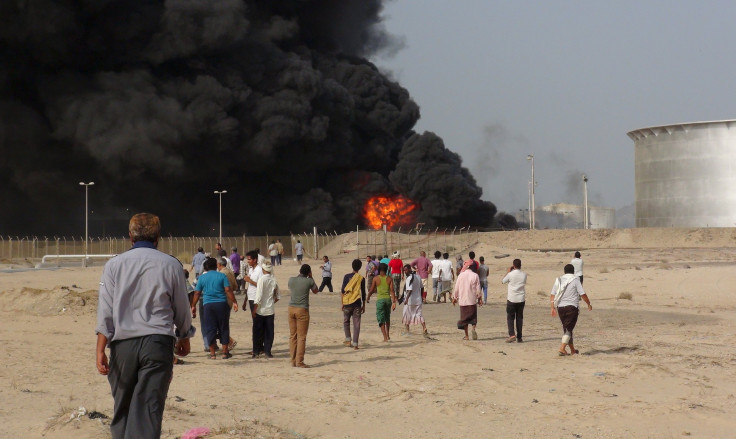 At least 45 people were killed in an airstrike near the southern Yemeni port city of Aden Monday, shortly after the government said it expected to reach a ceasefire following months of internal conflict, according to officials. The Saudi-led coalition airstrike took place at a market in the suburb of Fayoush just north of the city and targeted Houthi rebels, the Associated Press reported.
Another 50 civilians were wounded in the attack, reports indicated. The strike follows another airstrike on Sunday that killed at least 30 people at another market near Aden. Airstrikes continued across Yemen on Monday.
Fighting has intensified in Aden since late March, when rebel forces advanced on the city. Aden has served as a stronghold for Saudi-backed President Abed Rabbo Mansour Hadi, who was forced to flee the capital, Sanaa, in February.
More than 6,870 people have been wounded since fighting broke out near Aden between groups loyal to Hadi and Houthi militias. At least 585 civilians, including 259 children, have been killed, according to the Middle East Monitor. Some of the deaths were caused by disease as the conflict has forced several medical centers to close, officials said.
The United Nations has urged a ceasefire. "We are intensifying our efforts to reach a peaceful resolution to this crisis that, in truth, as you know, has resulted in a humanitarian catastrophe for the Yemeni people," U.N. envoy Ismail Ould Cheikh Ahmed said Sunday from Sanaa, according to United Press International. "We were optimistic, but the central issue that we are focusing on is a long-term peaceful resolution and to bring back the issues to the negotiating table so the Yemeni people can return to a peaceful political process."
© Copyright IBTimes 2022. All rights reserved.
FOLLOW MORE IBT NEWS ON THE BELOW CHANNELS