Yemen Crisis: Three Saudis Killed, Two Injured In Fighting At Yemeni Border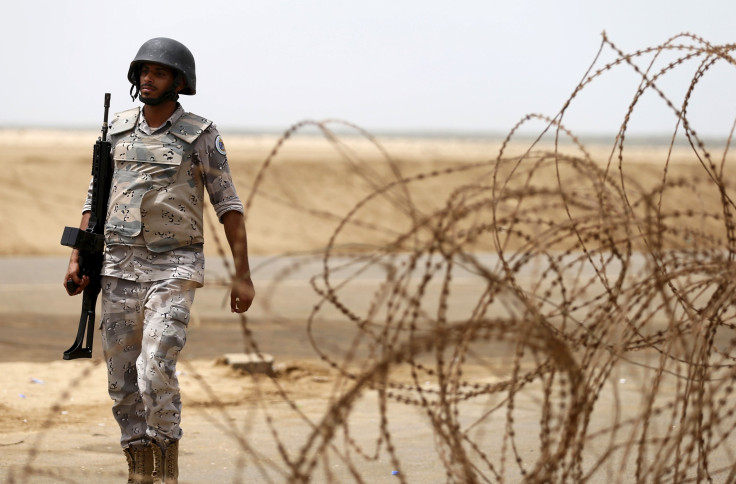 Three Saudi military officers died and two were wounded in a clash with Houthi rebels at the Saudi-Yemeni border on Friday, the Saudi Defense Ministry said Saturday. They were reportedly caught in mortar fire. Their deaths bring the number of Saudi fatalities to six.
The defense ministry claimed Saudi forces have killed more than 500 Houthis since they began operations on the Yemeni border in late March. Meanwhile, militiamen loyal to embattled Yemeni President Abed Rabbo Mansour Hadi claimed to capture two "Iranian officers" advising Houthi rebels outside the city of Aden, one of the last bastions of support for Hadi. The officers are reportedly members of Iran's Quds Force.
Militiamen plan to hand them over to the Saudi-led coalition conducting airstrikes against the Houthi rebels as part of Operation Decisive Storm, which could lead to a major diplomatic tangle between Riyadh and Tehran, as Iran denies it is actively supporting Houthi rebels in Yemen.
Eight Arab and North African countries are part of the coalition behind Operation Decisive Storm. The U.S., a major backer of the Hadi government in Yemen, has been providing logistical support to the coalition. The coalition has conducted 1,200 sorties since March 25, or roughly 70 per day. At least 200 civilians have been killed in the airstrikes, which have targeted Houthi rebels around the Yemeni capital, Sanaa, which they captured late last year, and further south as Houthis pushed toward Aden.
Russia called for a "humanitarian pause" in the fighting and advocated for a diplomatic solution to the crisis last week at an emergency U.N. Security Council meeting it called over the increasingly brutal conflict.
Along with Houthis and Yemeni loyalists, al-Qaeda, Ansar al-Sharia and other smaller militant groups are actively fighting in the conflict. The two former militant groups, which are Sunni, are primarily targeting the Shiite Houthis.
© Copyright IBTimes 2023. All rights reserved.