Yemeni Civilians Suffered At Hands Of Islamists And Military: Amnesty International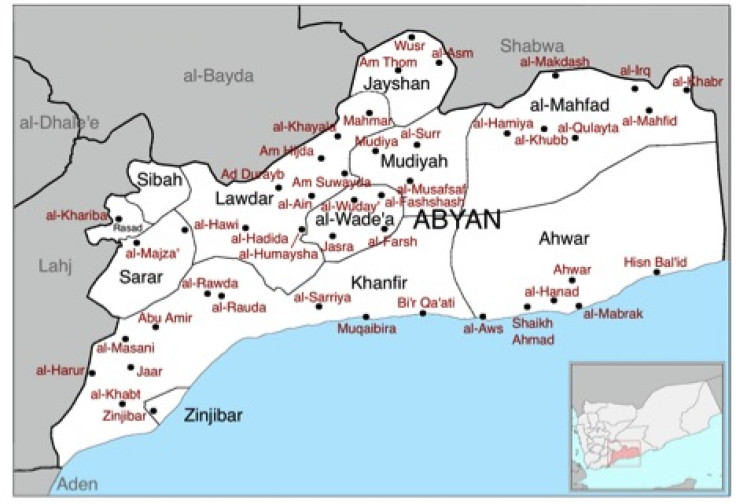 Yemeni security forces and an Islamist militant group have both committed human rights abuses against civilians in an armed conflict that began in the country's southern region last year, according to a new report from Amnesty International.
The report examined the period between February 2011 and June 2012 during which security forces battled with al-Qaeda affiliate Ansar al-Sharia for control of the Abyan governorate.
"Abyan experienced a human rights catastrophe as Ansar al-Sharia and government forces vied for control of the region," said Philip Luther, director for the Middle East and North Africa at Amnesty International, in a statement.
In the report, Amnesty documents claims of widespread abuses committed by Ansar al-Sharia during the nine-month period in which it ruled over much of the Abyan region, enforcing Islamic laws and carrying out strict punishments, including several executions and at least one case of mutilation where an offender's hand was amputated.
The report also criticizes the military campaign in Abyan over its use of heavy artillery and airstrikes in residential areas, and for failing to take other precautions to ensure the safety of civilians.
The Yemeni government announced in September that it would launch an investigation into the conflict. Amnesty International has emphasized the need for an independent and impartial inquiry in order to fully expose the extent of human rights abuses.
"The Yemeni authorities must ensure that a commission of inquiry announced in September 2012 covers the truly shocking abuses committed," Luther said.
"The tragedy of Abyan will haunt Yemen for decades to come unless those responsible are held to account, and victims and their families receive reparations."
While Amnesty criticized both sides of the conflict, the majority of human rights abuses documented in the report were committed by Ansar al-Sharia.
"During its rule, Ansar al-Shari'a was responsible for widespread and disturbing human rights abuses, often via 'religious courts' set up as part of the organization's governing structure," read an Amnesty statement.
"The courts frequently imposed cruel, inhuman and degrading punishments on alleged criminals, suspected spies working against Ansar al-Sharia and people who transgressed cultural norms."
Amnesty added that women in particular were subjected to oppressive treatment during Ansar al-Sharia's rule.
"The rights of women and girls came under attack during Ansar al-Sharia's consolidation of power: severe dress codes were imposed, draconian restrictions were applied at work and in schools, and the sexes were strictly separated," Amnesty said.
Ansar al-Sharia was able to gain control of the Abyan region following a government crackdown on widespread protests against former President Ali Abdullah Saleh.
"Ansar al-Sharia rapidly established control of the small city of Ja'ar in the governorate of Abyan while the Yemeni authorities were brutally repressing protests calling for President Ali Abdullah Saleh to resign, and controlled most towns and villages in Abyan -- including the capital, Zinjibar -- by mid-2011," Amnesty said.
Security forces were able to push Ansar al-Sharia out of power in the region in June 2012, though concerns remain that the group may resurge.
© Copyright IBTimes 2023. All rights reserved.