Yes Guitarist Steve Howe Discusses Solo 'Anthology' And Prog-Rock Legacy, As Yes Summer Tour With Toto Approaches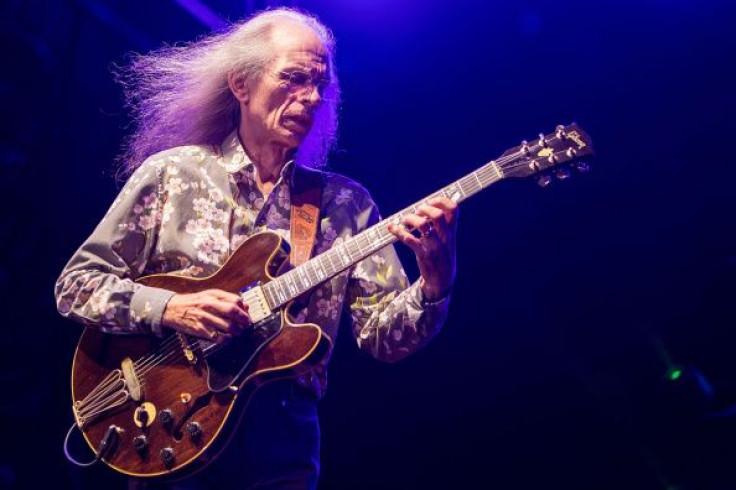 "One man, and one guitar at a time." Yes guitarist Steve Howe is speaking about the U.K. concerts he recently performed while touring "Anthology: A Solo Career Retrospective" (Rhino), a two-disc set that spans the various solo albums the iconic guitarist/songwriter has recorded throughout the years. During a lengthy conversation with International Business Times, Howe discusses his solo work, which even includes an album of Bob Dylan covers, and reveals how he managed to become such a fruitful solo artist while also retaining his legendary role as the guitarist in Yes -- a band that brought progressive rock to lofty levels on masterpieces like the 1972 albums "Fragile" and "Close to the Edge" -- and in the supergroup Asia.
Earlier this year, Yes released "Progeny: Seven Shows From Seventy-Two," a 14-CD set that captures a whole lotta music from the '72 tour, and, for those with a bit less listening time to spare, "Progeny: Highlights From Seventy-Two." Yes fans can also expect to hear some of that choice material in concert during the summer, when the band co-headlines a tour with classic-rockers Toto. During those shows, Howe -- famous for funneling jazz, country and classical stylings into rock -- will perform with Yes men Alan White (drums), Geoff Downes (keyboards) and Jon Davison (lead vocals, a role traditionally held by Jon Anderson). Unfortunately, bassist/co-founder Chris Squire won't be joining his bandmates, after being diagnosed with acute erythroid leukemia (AEL). Squire's role will be handled by Yes alumnus Billy Sherwood.
[Update, June 28: Legendary bassist Chris Squire, 67, the only member of Yes to perform on all of its studio LPs, has died. The news was initially tweeted by Yes keyboardist Geoff Downes: "Utterly devastated beyond words to have to report the sad news of the passing of my dear friend, bandmate and inspiration Chris Squire." Squire's extraordinary bass guitar work was a key signature component of Yes' dynamic music. "It's with the heaviest of hearts and unbearable sadness that we must inform you of the passing of our dear friend and Yes co-founder, Chris Squire. Chris peacefully passed away last night in Phoenix Arizona, in the arms of his loving wife Scotty," Yes stated on its official Facebook page.]
Here is IBTimes' conversation with Steve Howe:
International Business Times: How did the "Anthology" tour turn out?
Steve Howe: Real nice. My wife and family were there [in London]. I like my solo tours, they give me a chance to fool around, kind of play lots of country-pickin' music, things I write, things I love, and, things from "Anthology" this time. So it's really been nice.
IBTimes: Unlike when you're with Yes, you're truly all by yourself when you perform your solo shows.
Howe: I'm absolutely. solo. One man, and one guitar at a time. I take about half a dozen guitars out and I move across from electrics, to Spanish, folk, Portuguese. And every time I go out, I change the tour a little, and absolutely love to change the material and keep looking in the pocket to find more music maybe I haven't played on the solo tours. That's been the way I've been doing it.
IBTimes: That's great. This time out, did you include in any music from Yes and Asia?
Howe: I always play things from Yes because without it, they're [the audience is] gonna be disappointed. I've been doing solo shows, on and off, and I do mean, on and off, since 1993, and with some vigor when I do it. I've been kind of, you know, enjoying my repertoire -- and there's always a bit of Yes, sometimes there's a bit of Asia, not too often, but other times, I've played something from ABWH [Anderson Bruford Wakeman Howe], so really the ball's in my court. I played a bit of "Long Lost Brother Of Mine" [by ABWH], so anything goes on my tour. I don't have to get anybody's permission because I don't need anybody's [laughs].
IBTimes: Any plans to take the solo tour to the States?
Howe: I have done it in the past, but not since a few years ago. I was hoping to get in some dates this year, but I think the time just closed in on me a little bit. And Yes is going to be so busy in the second half of the year, and I'm going to have to reserve some of my energy. So next year, I do hope to do a fairly solid solo tour, and build on this "Anthology" show that I've got now and see what else I can throw into the mix.
IBTimes: The "Anthology" retrospective draws from your various studio albums. It's amazing that while you've had such a fruitful output of music with your bands, with Yes especially, you've still managed to put out all these solo recordings. When you first started as a guitarist, did you think that you might become a solo artist?
Howe: Solo didn't appear to be an option. I saw myself as the guy next to the singer -- here's the singer, Bill Haley, here's the guitarist, Freddie Beecher. So I imagined a band. You would read about bands. I wasn't so cocky that I was just going to come out as Steve Howe as a solo artist back in 1964. But I knew that I was on course, I was learning much about the guitar, so I could imagine, and it only took a few years for me to start thinking, that maybe I'd write some songs, and I did. The first single I ever released in 1964 [A version of Chuck Berry's "Maybellene, with the Syndicats], I actually I wrote the B-side ["True to Me"] with the singer. So immediately, there was a dual reason to be a guitarist, and that was to be a writer as well. I didn't imagine I'd do a whole lot of singing because I didn't even know if I could sing. But then when I started writing more songs myself, I started to have to sing because somebody had to sing them just to get the idea across. So that became my at-home secretive kind of making recordings on a Revox 2-track, and just record demos. Years later, I started getting ready to do Turbulence [1991] by having my own studio and by being able to write, and record there.
IBTimes: You've been able to achieve quite a big collection of solo songs, even while having such a busy career with Yes and Asia.
Howe: In between the bands, and when it was a down time, it was quite an output. And sometimes people would say, Are these songs that Yes didn't want? Or that Asia didn't want? And I said, "I did a few songs with them, and most of them stuck, but I have another stockpile," which was my solo music. I mean, obviously I didn't play them "Cactus Boogie" [from 1979's "The Steve Howe Album"], but I quite wanted to play "Cactus Boogie" [laughs]. That kind of reality inspired me to not only play different styles, play country-picking, but also to record at home, like Les Paul had done, and carry on a sort of fine tradition of guitarists who record at home and mess about really. It's kind of messing about compared to booking a studio and getting a record advance; I didn't need any of that. I could just work in my own studio and make music without having to ask anybody. And I think that speaks of why I make music. You know, I was very resistant about education in the general sense of the word. I disliked school, so I wanted to be a rebel against conformity, and the best way to do that was not need other people. And that's why, I guess, I pulled to myself making the solo albums. I could write with my own direction, I could find my own pace, and that pleased me a lot.
IBTimes: As your solo has progressed, from, say, "Beginnings" to "The Steve Howe Album" to "Quantum Guitar," how has it coexisted with your work in Yes?
Howe: By having my own studio, I had a bigger backlog than most musicians. So if I wanted to make a solo album, I could sift through the tunes and find the ones that I haven't offered Yes or haven't been of interest to Jon Anderson. The '70s were great. I was working with Jon Anderson a lot -- we'd write some fantastic pieces; at the time, I always promoted us as songwriters, and I'm not sure Jon did enough, but I certainly did, and I thought it was an amazing marriage. But of course it didn't last, and after "Going for the One" [1977], we didn't really work very closely together. So I found even more reason to gain competence in my own writing and make my own decisions. You know, that's what got me ready for "The Steve Howe Album"' album, really. I took on the role of producer on that record. The first one "Beginnings" [1975] was co-produced by me and Eddy Offord. But I took on production because that was another interest that I'd gained from the way that Chet Atkins had recorded his tunes. He produced his tunes. But he helped produce the Everly Brothers and other people too. So Chet really did give me a lot of ideas and took me to a lot of different places.
IBTimes: In 2007, 2010 and 2012, Asia returned with its original lineup, which featured you, vocalist/bassist John Wetton (also of King Crimson and U.K.), drummer Carl Palmer (also of Emerson, Lake and Palmer) and Geoff Downes (also of Yes and the Buggles). And there was also a time when your work with Yes overlapped with your work with Asia, and with your solo work. Anything to note about all this juggling of solo and band work?
Howe: I've never had any trouble finding material for my own projects, [except] when the bands would get super-busy, and the most recent period that was super-busy was when Asia reformed, and then Yes reformed after a three-year break. So from 2008, I was kind of in a very difficult situation trying to give my loyalty and some priority to two different bands. That was very difficult to do. So that's when around 2012, I said to Asia, I can't do this anymore, I think Yes is much more about my overall musical direction, and Asia's really been like a project. It was a short project in the '80s, I dabbled with it for a while in the '90s with Geoff Downes, and then we reformed in 2007. But I wanted it to stop. And I actually liked "XXX" [2012] -- it's really good -- but enough was enough. So that made me more [interested in pursuing the solo work]. I guess I don't like to say, "Oh, I'm prolific," but basically I've written a fair bit of music, and I do have a backlog, which is nice. I can pull out a tune I wrote five years ago, stick a new component to it, and then completely change it. So, I can refresh my music, or I can drop it. I have the freedom to do what I want.
IBTimes: "Anthology" includes two of your Bob Dylan covers, "Just Like a Woman" and "Buckets of Rain," which originally appeared on your 1999 solo album, "Portraits of Bob Dylan." How did Dylan inspire and influence you?
Howe: Well, it was quite new and there was resistance in my household. My family's was like, "Who is this guy?"And my mum used to say, "God, I hate that harmonica." I absolutely loved it. I liked his independence, if you like, the way he could sing with a guitar and voice. That was his first strength. But then when he got rocking and rolling, and when "Like a Rolling Stone" came out, well that was it! It was easy to commit to adoring his records. Right up to "Street-Legal" [1978] -- a fantastic record -- but not improved with the remix really that they brought out. You can't polish something that wasn't meant to be polished, and Bob's recordings are not about polish. They're about expression and emotion. So, all his songs just reached me so much. "Idiot Wind," such a phenomenal song. So really, I think the quality of the songwriting, his ability to reinvent himself, a bit like David Bowie did. Bob kept reinventing his voice. When "John Wesley Harding" came out, I thought, "Who is this singer?" [laughs]. He was like a high-lonesome country singer. Bob was an assimilation of so many things: But mainly the writing and his ability to steer music was so impressive, with "Sad Eyed Lady of the Lowlands" and songs like that. So when I came to do "Portraits," I thought about how great he was at doing songs about where he had it all, and lost it all. [laughs]. It's so much about what happens to so many people in life. When you get to Bob, you get to songs about real love, and not about this puppy-dog love. It's really about mature expressions of what relationships are all about. I like "Just Like Tom Thumb's Blues." It starts about being in Mexico -- "And it's Eastertime too / And your gravity fails / And negativity don't pull you through." He constantly did it, so of course I had to do an album eventually of his music.
IBTimes: Many would have a hard time comparing Dylan's music to the multi-layered progressive rock you've recorded with Yes. And when you reinterpreted Dylan's music as a solo artist, you didn't, as one would expect, take the usual commanding guitar approach you've taken in Yes, Asia and GTR, your project with Genesis' Steve Hackett. Anything to say about stepping outside your usual guitar role?
Howe: I really, really enjoyed the element of being a producer on that one ["Portraits of Bob Dylan"], where I didn't want to do too much guitar. I did kind of, you know, had to reinvent myself a bit. So I wasn't a noodling guitarist, of course, on Bob Dylan songs, because I knew he wouldn't like that. But I don't think he would have liked my album much, because it was produced, and the way it was produced was essential. I wasn't gonna set up a band and work in the studio and record the songs. I wanted to construct them, pace them, discover them, and then make decisions on them, not all in the same hour. I do those things over months of time, choosing who would sing this song, or offering two songs to somebody and find out which one they pick up and offer the other to somebody else. So I had to go about kind of maneuvering.
IBTimes: Another Dylan, your son Dylan Howe, has been featured on some of your solo work. A while back you told me that he learned a great deal about drumming from original Yes drummer Bill Bruford. What's it been like recording and performing with Dylan, and with your son, Virgil Howe?
Howe: Two things: He learned from all the drummers I've worked with. Another words, Bill, Alan [Alan White of Yes], Carl Palmer, and then Jonathan Mover [of GTR]. He kept on learning from all the different drummers and he managed to get something out of all of them. But Bill, in particular, has become his main influence -- or one of his big influences. But also he likes Elvin Jones, he likes Art Blakey; I like Chico Hamilton, a very understated drummer. But I think he [Dylan] was very determined to not just jump on the bandwagon, and play on my records; he wanted to get himself established first. That's why he waited until 1990s when he was over 20 and coming up to 25, before he actually said to me, "Well, I could play on one of the albums." Because he felt not only confident, but he felt he'd gained enough experience to be able to do it properly. I've done it also with Virgil, with him playing keyboards, and drums too, actually, on some unreleased tracks that have come along. On "Quantum Guitar, Dylan is the only other person on it. And he's on "Natural Timbre." The other person has to be really important to fill out the music, and his drumming has been really, really good.
And I loved the experienced working with Virgil on the "Remedy" tour, which was for "Elements" album, which featured Dylan and Virgil. So they team up/ Virgil's a great drummer too, he also plays keys and does a lot of production, writing and DJing; he's a very well-rounded musician.
IBTimes: Yes has been keeping busy lately. The band will tour with Toto beginning this summer. And Yes archival material continues to get released; for instance, the live collection "Progeny: Seven Shows From Seventy-Two," which captures the tour that followed the recordings of "Fragile" and "Close to the Edge," two of progressive-rock's greatest masterpieces. Anything to recall about the challenges of performing such artfully arranged songs like "Heart of the Sunrise, "Long Distance Runaround," "Siberian Khatru," "And You and I" and the multi-part "Close to the Edge" title piece in concert?
Howe: In a way, it's very different from how we see it now. In the '70s, and obviously when Alan joined, it was very difficult to overcome the loss of Bill Bruford, because he was much more than a drummer; and his musical ideas and his writing are pretty much peppered across the albums you've mentioned, and including "The Yes Album." Bill's approach to playing the drums made everybody think much harder than normally [as opposed to] when you wrote with a "normal" drummer -- you know, the guy who just taps away. But Bill made you think and he had contributions and he had no-go areas. "I'm not playing 4-4 across that, that would be dreadful." So he was very indignant about not conforming and all that. So it was great. Now when we went on tour, we had no option but to buy into the best version of that that we could do. And now we've got so much experience and so many listening times that you can say, hang on, that's the wrong note there, or don't play that like that, that should be played like this, or can we please re-learn those parts there because they're not the same as the record. And that's a demand we put on ourselves now. But we didn't put it on ourselves very much then -- partly because we expected each other to know them [the songs], as we'd just recorded an album, so go out and play it.
So when Alan joined, we basically had to kind of groove along with it, more than say, oh let's stop and make sure this is like the record. We got kind of inventive in a live environment that most probably would be called "jamming" more now, because we just played the songs the way we wanted to.
IBTimes: Yes has had many different lineups over the years. Not only have there been two drums, but several different keyboardists, including Tony Kaye, Rick Wakeman, Patrick Moraz, Geoff Downes and Igor Khoroshev.
Howe: Jon Anderson sometimes also played the synth during "Yours Is No disgrace" [from "The Yes Album" [1971] because Tony Kaye didn't do multi-keyboards, he was a great organist and pianist, but didn't want to play multi-keyboards. And he never has, and good for him. But obviously Rick Wakeman took that on, and Patrick Moraz took that on. And then Geoff Downes took that on. And by that time, there was a culture of thinking about the multi-keyboard player. In a way, Yes were one of the people who invented that position: the guy with the multi-keyboards. Why? Because on our records, we had all this crazy stuff. We couldn't get it out of [just] a Hammond and a piano. And the same with my guitars. I kept changing my guitar each album I made, to discover more about myself and what sounds I could get from these guitars. And that meant bringing them on the road. So really, the experience is very broad, and it's very difficult to sum up, or remember [laughs], possibly, how we did it. I mean, how did we ever play "Turn of the Century" [from "Going for the One"] in the mid-70s? I know how we play it now, we play it really well. It was tentative and so difficult to do, and yet it would have been fresh in our memories because we would have just recorded it. And when Patrick Moraz left, we didn't do "Sound Chaser" or "To Be Over" ever again live. We played "Gates of Delirium" [the three pieces that make up Yes' 1974 album, "Relayer"] -- it was essential that we did that, but we didn't play those other two songs, and that's why I invented a solo version of "To Be Over," which is a bit shorter, and demonstrates a little bit of the melodies and the instrumental parts of that song, because I liked them, and I don't want to not play them. So Geoff Downes would say "We'll do your version," and I said, "No, I refuse to allow Yes to do my version of "To To Over." Yes has to do Yes' complete unadulterated version of "To Be Over" [laughs], and then we've really got something.
IBTimes: What was it like bringing, say, "Close to the Edge," to surround-sound via the 5.1 remix done by Steven Wilson [the producer, engineer and multi-instrumentalist/frontman of prog-rock band Porcupine Tree]?
Howe: Well, that question is quite easy to answer really. It started with Bill Bruford running to me saying, "this guy has remixed King Crimson and we just think it's great, so if he wants to do Yes, you ought to let him do it." So I then got some mail about this from Rhino and Steve Wilson's team. And basically, it was a bit like, "If you want to do this, just go ahead and do it." The thing we didn't know is that Steve Wilson went to intricately and purposely copy the mixes that existed as well, and make fresh stereo mixes and instrumentals sometimes, which we were not totally madly happy about, strange little outtakes of different versions of the songs, which are on the "In a Word" box set. So we did a bit more of that. But also, he did the 5.1. Now 5.1 is one of those animals. It's like quadraphonic. Now, is the world ever really gonna settle down on this? It kind of has. And that's why 5.1 is valid. And if our music didn't make this transition -- if it had never left the [vinyl] record; say it had never been on a cassette? Never on an 8-track, never on a CD, never on 5.1? Because how many people have got record players that actually run at the right speed, have got a clean needle, and are plugged into a nice amplifier? So in fact, if you block the movement toward 5.1, if you had, you would have been stopping the music ever going forward, because it has to go forwards, on these different formats, otherwise it dies. Bach is the greatest example of what I've just been talking about. His music was picked up by various organists after he had gone out of fashion, and somebody said, "You know, I think we should be listening to Bach again," and then when recordings came out, people did the same thing. Periodically, every 30 or 40 years, somebody else will get the great idea to do it. And I hope what happens to Yes is that we do keep going on to new formats that come out, and that our music continues to be heard, particularly the original versions. I love Steven Wilson's work -- I love it all, it's been very good, it's been fascinating, and sometimes I've been very close to it, and I do admire his determination to keep the balance and all the right instruments -- but I still do believe that fundamentally, the originals can't be beat. Another words, you can't make it better than the originals.
© Copyright IBTimes 2023. All rights reserved.