Yes Singer Jon Davison Discusses New Album 'Heaven & Earth' And All Things Prog-Rock [INTERVIEW]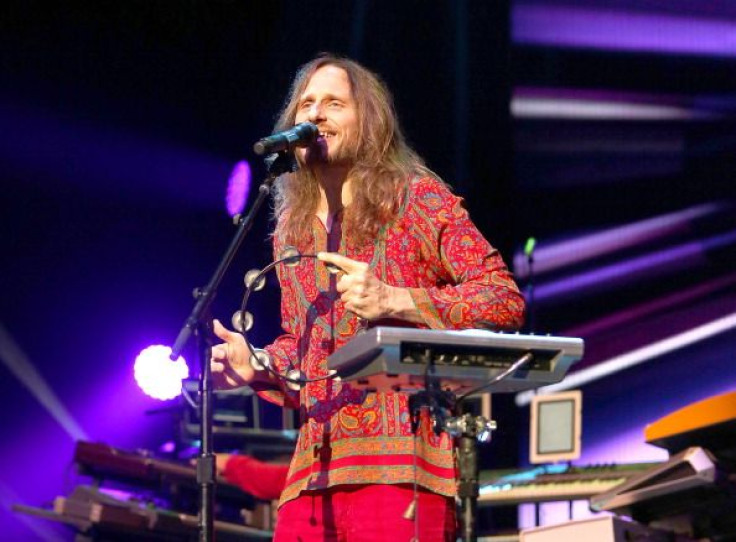 Legendary prog-rock band Yes is back with a new studio album, "Heaven & Earth," its first since 2011's "Fly From Here." The album features singer Jon Davison in the role long held by original Yes frontman Jon Anderson, who exited the band in 2008 when he suffered acute respiratory failure. When Anderson left, he was replaced by vocalist Benoit David, who sang on "Fly From Here" and toured with the band for a while. But in the midst of touring in 2012, David had to call it quits too -- also because of an acute respiratory condition.
Enter Jon Davison, who is also known to prog aficionados for his work in the Chattanooga, Tennessee-based group Glass Hammer. When Davison joined Glass Hammer, he contributed his soaring vocals to "If," a record on which he and his GH bandmates were "definitely going in a Yes-like direction," he tells International Business Times.
Now, with Yes, Davison's vocals can be heard live while he and his band, with its layered, swirling arrangements, perform two of Yes' best albums -- and two of progressive rock's mightiest achievements -- in their entirety: 1971's "Fragile" and 1972's "Close to the Edge."
International Business Times caught up with Davison for an extensive conversation:
IBT: Are you still in Glass Hammer?
Jon Davison: Yes, I am. Right now, I'm just on the studio-project level with them. And whatever live performing they're doing, I'm not a part of. But that's OK. Because they've always been this live collective.
Kind of like Yes.
That's true. Someone pointed out to me the other day that there's never been, beyond the very two first Yes albums, one consecutive Yes lineup for more than two studio albums. Because you have the first two albums, and then [guitarist] Steve Howe came in [for "The Yes Album"] and of course [keyboard player] Rick Wakeman came in for "Fragile," and then there was "Close to the Edge," with the same lineup as "Fragile." That's two albums there, but it never went to three, did it? Because then [keyboardist] Patrick Moraz came in to replace Rick Wakeman. And it's gone on since. Consistently. So it's interesting [laughs].
And then in the '70s with "Going for the One," Yes almost continued with same lineup that was on "Close to the Edge," except Alan White was on drums instead of Bill Bruford.
That's right, yes.
But even with all the lineup changes, Yes' music retains a dynamic, unmistakable identity that manages to end up being bigger than its individual players.
That's right, and it's similar to the way classical music works. Long after those marvelous composers, like Chopin and Bach and all of them, passed, and the centuries moved forward, their music lives on. It's not so much about the personality anymore. And people have a hard time seeing that now, because obviously the members [of Yes] are still alive, apart from [original guitarist] Peter Banks, who passed away last year. But it's so easy to associate the music with the personality, and that causes a lot of conflict among fans. But ultimately, it's about the music, and just taking the music forward. And there will always be a Yes. And I'm a lover of Jon Anderson as much as I'm a lover of Chris Squire, but you can't fight it. And when something has that power to it, it's beautiful, and beauty transcends all of that personality, and it's always gonna belong, you just can't put a cap on it and say, "Well, the original members aren't doing this music anymore, so it's over." That can never be. It just can't be.
It reminds me of the music of Frank Zappa, who composed so much great material with many different lineups -- and many different lineups have performed it.
Yeah, that's exactly it. Art just transcends so much. And when there's something beautiful and powerful, it's going to thrive, and you can't stop it. Each lineup of Yes reflects a new, fresh kind of flavor, if you will. In the grand scheme and topography of Yes. So I think that's kept it going. I think that's kept it really fresh. Even the later albums, with "Open Your Eyes," and so on, those albums are less popular, perhaps, but there was always a nice freshness there, the music was alive, and I think that has to do so much with the unique lineups that keep evolving.
In a recent article, Yes bassist Chris Squire joked, but in a somewhat serious way, that Yes will be around in a hundred years.
For me, when I hear the classic Yes stuff, yeah, I definitely hear that this is a '70s band -- there's a lot of aspects in it that reveal that. But at the same time, it's futuristic music. It's like this thing you can't quite pinpoint. It's, like, way ahead of its time. And I still think we haven't arrived at the point where, OK, we've arrived to the full realization of what Yes is. No, it's like it's still in the future, and I think that's why it goes over so many people's heads.
It's definitely rock and roll, but at the same time, it has this transcendental quality that you can't quite pinpoint.
How do you think the new album compares with previous Yes albums?
I don't think it really compares to any, and that's what's most exciting about it for me. There's a real freshness and spontaneity about it, and it signifies a new direction, of moving forward. The culmination of the five of us is unique, so therefore the music's unique.
Anything to recall about the making of the new album in the studio?
Well, it was all quite exciting because on one hand it was really natural and there was a great creative flow happening -- it was a highly creative time. At the same time, we were under the gun because we had time constraints. And so in some ways there was a bit of pressure because of the time constraints. Yet it things were flowing and there was a lot of creativity.
What was the main reason for the time constraints?
We had a tour booked. And so there's always a few delays, things don't actually pan out to your original schedule on paper. So things change, and there were slight technical delays and whatnot. But we got it all finished in it, luckily, just in time.
Do you have a favorite song from the record?
I really don't. Each one is kind of a world in its own and yet there's a nice continuity and flow to the album. It's by no means a concept album, but there are some lyrical themes that pass through. As the album title signifies, there's this tendency of dichotomy in our personalities, which reflect in our relationships. It's sort of a call to transcend the complacency we tend to fall into in our lives. So the lyrics encourage us to perfect our relationships, and go for the real meaning of what life is all about. Which is what we give along the way through the course of our lives. The love we give. That's what's gonna matter most in the end of our lives as we look back. It's not so much that I was rich and powerful, or whatever it might be, and that as individuals we succeed on a material level. What will matter, in the end, is how much love did we give, were we good to others, did we strive to include others rather than just our own personal motivations. So the album's a call. You'll find in the lyrics, there's a call to everyone to reach beyond, to go beyond the complacency, and go for all this that I mentioned.
Let's talk about some of Yes' previous albums. Recently you spoke about the first time you heard "Tales From Topographic Oceans" (from 1974). For you, it was like opening the Bible. Why was that the case?
Well, basically, I had no idea what was going on [laughs]. And that was also basically the first impression of reading the Bible for the first time. Same thing. You know something is significantly being said, but it's sort of in parables and it's not quite clear. You know something powerful is at play, but you can't quite comprehend and grasp it, and yet it's very compelling and it drives you in. And it's something you have to stick to and it unfolds as it goes along. Which is so rewarding about Yes music; it offers the listener that complete experience, where it's the antithesis of, like, a pop song that you catch the first time you hear it; ultimately the interest is gonna wane.
And "Tales" just unfolds. And its an ever-giving, ever-nurturing experience that continually unfolds.
I remember someone once comparing "Tales" to an onion -- with many layers.
Exactly, yes.
Progressive rock is such a dynamic, multi-faceted genre, and the history of prog-rock has included many immensely talented bands. What are your thoughts about being a prog-rock musician?
It's an honor. Prog-rock has evolved in so many different ways now. So Yes has its definite kind of flowery, if you will, sound to the music. Because it's mostly in major keys. And that has a lot to do with it. It's very uplifting. And it might be considered light, compared to say, Dream Theater or Porcupine Tree or other bands, current progressive bands, that are a bit more a minor key, a bit heavier, at times. Yes can be heavy; if you listen to "The Ancient," for example, or parts of "Gates of Delirium," or "Sound Chaser." It's not like that gritty, heavier sound is absent, but in general, it's sort of lighter, positive, major-key, rather than what current progressive rock is emphasizing.
You've been in the prog-rock band Glass Hammer. How would you say that band fits into the whole prog-rock universe?
Glass Hammer has been around for many years, 20-plus years, and there's was a direction we took, when I first joined, and we did the album "If," we were definitely going in a Yes-like direction. Since then, actually, we've taken the music in other directions. There's a big crossover with Glass Hammer. So you'll hear moments where they sound more like a current progressive-rock band, and then of course, back to the Yes or the classic kind of '70s sound too. They've really touched on all aspects of progressive rock.
Glass Hammer is from Chattanooga, Tennessee, yet you're from Laguna Beach, California.
So we had a long-distance relationship. But essentially, for the second album I was involved with, I went out to Chattanooga. I lived with them for a while and spent a lot time together with them, my wife and I. But with technology these days, you don't even have to be in the same country.
How do you think Internet technology and the whole new avenues of technology have corresponded with Yes?
Well, I mean, the reality of the Web has obviously changed the whole entire music business, and in many ways for worse -- from an artist's perspective. But think about how anyone can record a pretty amazing sounding demo, in their bedroom even, and reach the whole world with the Internet. It's an amazing thing. It's different now.
Prior to joining Yes, you were also in a Yes cover band.
That's really where I first attempted to sing for the first time, actually. The first time. I grew up playing bass and singing background vocals, and then I got to Seattle for school in the early '90s, and I joined a psychedelic space-rock band by the name of Sky Cries Mary that was fairly big in the Northwest. I was a bass player in that band, and those are my roots really.
Later in my life there was a lack of musical involvement. So I found I would try singing, because I've always been a huge Yes fan, and there was an opportunity. There was a Yes tribute band in my area that was looking for a vocalist. And I knew I had the high voice, right? So I thought, well, I'll do it for fun, I didn't know if I would develop doing this, would I be any good at it? Perhaps not, and it'll just be a hobby. And I actually had a knack for it. We didn't play much. It seemed like we never quite rehearsed enough because of the music being so technical; nonetheless, I really advanced with it. That's really where I began to hone my abilities. It was kind of like Yes boot camp for me, if you will. The band was called Roundabout. They were wonderful guys and very talented musicians. And I think they're starting up again, with a different singer. I'm happy that they can move forward.
It's certainly not the first time a singer from cover joined the actual group the cover band is covering. Another example was Ripper Owens, who was the singer in a Judas Priest cover band and then replaced singer Rob Halford in the actual Judas Priest. (Meanwhile, Rob has been back with Priest for a while now.)
That's right. And of course I can bring a lot to Yes, as a composer as well. Not merely as a performer. I brought a lot in terms of creativity. That was very appealing to them that I could help enable the band to move forward.
What "Heaven and Earth" material did you write and work on?
Basically I have a hand in everything, apart from track 7, which is Steve's song alone, "It Was All We Knew." The other ones I had a hand in. I had a big creative burst. I was so excited to join the band, you see. Right when I joined, in '12, we were already talking about an album. And I was demoing, and in any spare time I could get, and preparing, so this album is the result of a long time preparation and anticipation.
Really as a band, it was just at the final stages that we collaborated and arranged the music. But in terms of bare-bones ideas, demos, I was doing a lot of personal prep work for more than a year, and then in December was when we really started buckling down, and we would work one on one, we'd do sessions; I worked with Steve [Howe] and [keyboardist] Geoff Downs in the U.K., on separate occasions, and then I went out to Arizona with Chris [Squire], and I was up in Washington with Alan [White], so there was a one-on-one period too. There were definitely different phases, or tiers, if you will, toward the final plateau of recording.
Let's talk a little bit about Yes on stage. Yes is an amazing live band, not only musically but also visually. Over the years, Yes has presented some incredible stage shows. The crisp musicianship, with Steve Howe's guitar work and Chris Squire's bass, plus the lighting, everything comes together so well on stage. On the "Relayer" tour, the stage setup was amazing, like a Roger Dean painting come to life, and it certainly accentuated the complex, twisting progressive rock on that album. And when I attended my first Yes concert, at Madison Square Garden, the band was touring "Going for the One" and they presented the show in the round, with a revolving stage. It was impressive.
Oh wow! Lucky you.
In addition to singing, you also play acoustic guitar on a two tracks on "Heaven & Earth." How did that go in the studio?
I'm on acoustic guitar for a couple of the tracks because I write a lot on the acoustic. That doesn't mean I always play acoustic on the songs I wrote, even though I maybe started with an acoustic. It's always been a tradition in Yes; Jon Anderson's main instrument is the acoustic guitar, but sometimes it goes beyond the acoustic and it's translated to a keyboard part. Or Steve would take over the part and flesh it out, and make it really grand, with his immense talents. So basically I'm doing a few songs on acoustic.
I read a while back that rock drummer Taylor Hawkins had a connection with you?
Yeah, we grew up together; we were neighbors. We decided play music together. We learned our instruments and had elementary school bands and whatnot, and we were always side by side through that whole evolution.
And he has a connection to Chris Squire. Can you talk about that?
He's been friends with Chris for more than five years. Probably. And he was always kind of sharing with Chris who I was and what I was doing and all that. And then Yes contacted me separately. It was funny. There was a tour booked coming up in one month for Yes to go to Australia, New Zealand, Japan and Indonesia. And they didn't want to back out of the tour, and then Benoit [David] was no longer able to perform, so there was sort of this frantic race to resolve this matter, and finding a singer, because they weren't going to back out of the tour. So in the same moment, perhaps even the same hour, of the same day, Chris is calling Taylor to get my phone number, because he's gonna give me a call, and then the manager is also working on contacting me, so I got contacted by both of them. [laughs]. It was kind of funny. The more the merrier.
Have Taylor and Chris collaborated on anything? And what about you and the other two?
Yeah, they've done some demo work. Chris has played bass on some of Taylor's stuff, and Taylor has a new project, called the Birds of Satan, and there's a new CD that just came out, the first CD, I guess you'd say, and I did some singing on that and a little 12-string work. Just on a few songs. And Chris has done some stuff that actually hasn't been released. But we always talk about the three of us, plus another member, doing some kind of side project.
So you've mentioned that Yes was your favorite band since age 12. What other bands have you loved since childhood?
Early Genesis, Emerson Lake and Palmer and Queen, bands like that. And even going back to the late '60s, obviously the Beatles, that goes without saying, but also the Beach Boys, that was a big influence, and I think that influence is actually on this new Yes album. Believe it not. It's interesting. As you get to know other musicians, in this case, I got to know Chris and the others, we suddenly realized we have a lot of equal influences, we like the same kind of bands, be it the Zombies or the the Who or the Beach Boys -- those were bands that influenced and inspired them when they were in their early 20s. and yet that's something that we currently share in common. Those are bands I admire. So it was interesting when you find a common camaraderie, and something that you share. Something like the bands that you have in common. That sounds begins to surface a little bit, and it influences what you're doing together. I wouldn't say in an obvious way, but I think it's there, there's a lot of harmony emphasis on this album. And I think you'll hear a little bit of that kind of sound, the Beach Boys sound.
© Copyright IBTimes 2023. All rights reserved.