Your Closet In The Cloud: Will MakeSpace Be The Amazon Of Physical Storage? [VIDEO]
What if you could upload your entire closet to the cloud? MakeSpace, a full-service storage company that aims to take the pain out of using a traditional self-storage unit, hopes to make that idea a reality by being the first to create a "Dropbox for physical items."
Sam Rosen, founder and chief executive officer of MakeSpace, spoke to International Business Times about how he wants his new startup to be the "Reverse Amazon" for self-storage in the tech space.
What is MakeSpace?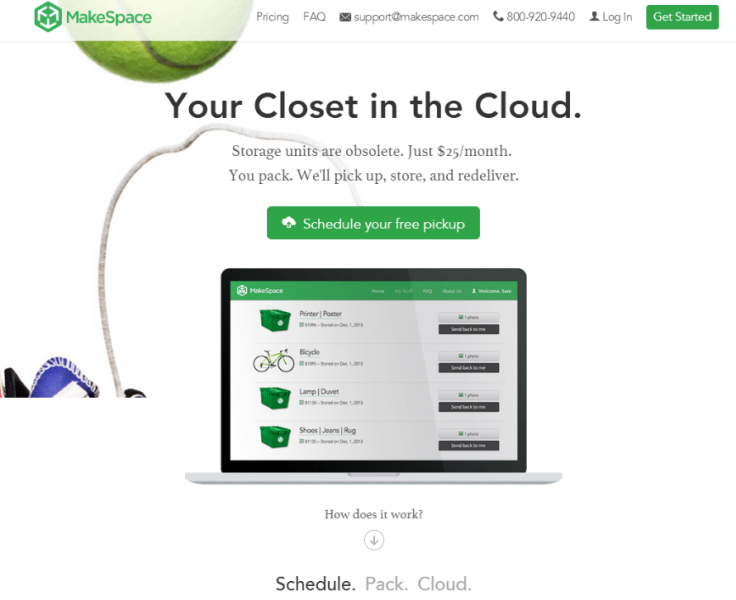 MakeSpace is a Manhattan-based startup currently offering its local pickup and delivery service in New York City. The company uses a unique digital cataloging system to store customers' belongings so they never have to actually visit the storage facility. The company also offers Makespace Air, a "closet in the cloud" via mail, whose customers can "upload" their physical items as if to the cloud from anywhere in the United States.
Rosen first saw the need for MakeSpace in the aftermath of Hurricane Sandy, when he helped his former girlfriend move from her flooded apartment.
"What if physical storage was categorized like our online storage? If I could flip through that storage facility the same way that I would look for a file in my computer or a song on Spotify," Rosen said to IBTimes. "That was the genesis for this Dropbox for physical things or cloud storage for your physical belongings."
The company has a $2 million comprehensive insurance policy that not only covers customer's belongings while they are in storage, but also the drivers who come to their homes.
"Think of MakeSpace like a reverse Amazon," Rosen said. "Rather than putting a little bookstore in a city center and filling it up with books where the price ultimately goes up every year because the store has to pay more rent, we instead run ourselves like a reverse Amazon. We move the facility outside of the city. We pass along that cost savings to our customers and we co-locate people's bins with other people's bins."
How To Use MakeSpace: Schedule, Pack And Cloud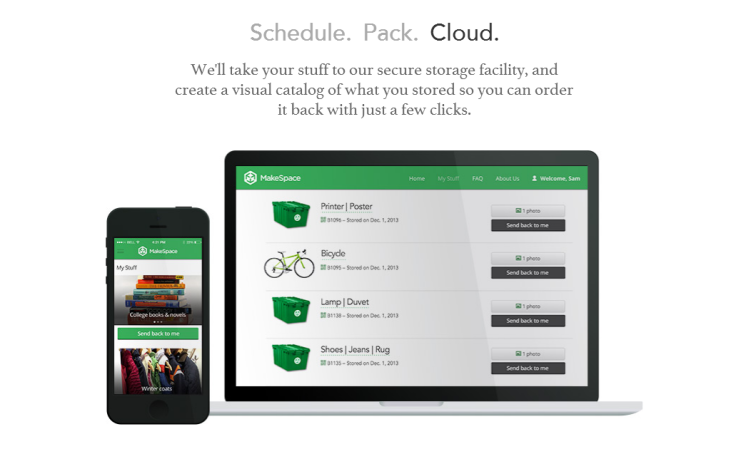 Plans for MakeSpace start at $25 per month and include four of the company's plastic bins. There are no monthly contracts and each additional bin is $6.25 per month. Pickups are always free and to get anything back from storage is $29.
Each bin holds three cubic feet of space and is designed to handle up to 100 pounds in weight. The bins are high-density plastic containers made of of industrial grade polymers, and they have permanently attached flip-up lids that interlock for optimal stacking strength and can be locked with security seals.
To use MakeSpace, the company offers three key steps: schedule, pack and cloud.
First, customers can schedule a reservation online at www.makespace.com or make a reservation over the phone for when they would like their empty bins to be dropped off.
Second, drivers drop off empty bins at a customer's home, and then the customer fills up their bins with their personal belongings. MakeSpace then picks up the packed bins and takes them to the storage facility in Jersey City, New Jersey.
"We literally offer storage to your door," Rosen said. "We don't pack bins for customers. Customers can either fill up the bins right in front of the drivers while we wait 20 minutes downstairs, or [they can] take up to two weeks to fill them up. Then MakeSpace will come back and pick up the bins right from customers' apartments, whether they're in a fifth floor walk-up or a 30-floor high-rise building."
During a customer's scheduled pickup, drivers take an inventory of the items. Each bin has a label on which users can write a description of what's in each bin. The drivers can then take a high-quality picture of the description of each bin and scan its barcode. The pictures and label descriptions are then uploaded to the customer's account, which customers can view online as a visual catalog of everything they store store with MakeSpace.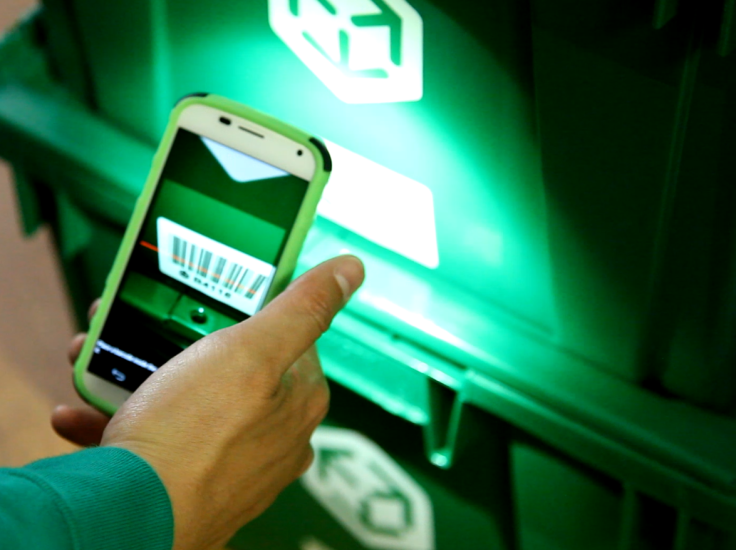 "We have a pretty unique inventory process," Rosen said. "When customers make their reservation, 99 percent of them opt in to have MakeSpace help them create a digital catalog. It can be done in two ways. Each one of the bins has packing labels on top that they fill out [with] a text description of maybe 'summer clothes' or 'school books.' In addition to that, when we bring those bins back to our warehouse, we'll actually have a photographer open up the bins so customers can actually see a picture of what's inside. They can also opt out if they choose."
The third step is the cloud. Customers can log in to their private account online to see all of the items they have available. Whenever a customer wants to get something back, they can log in to their account to see a visual catalog of what they have stored and schedule a delivery of the relevant items within 48 hours.
"I think what's cool about the product is that it scales with you," first-time MakeSpace customer Doug Jaeger told IBTimes. "If you need more storage, you just get more bins. You don't have to get another room size or migrate your stuff from one room to another. You just get a couple more bins, and the ability to get the bins that you've stored back when you need them is really great."
MakeSpace Air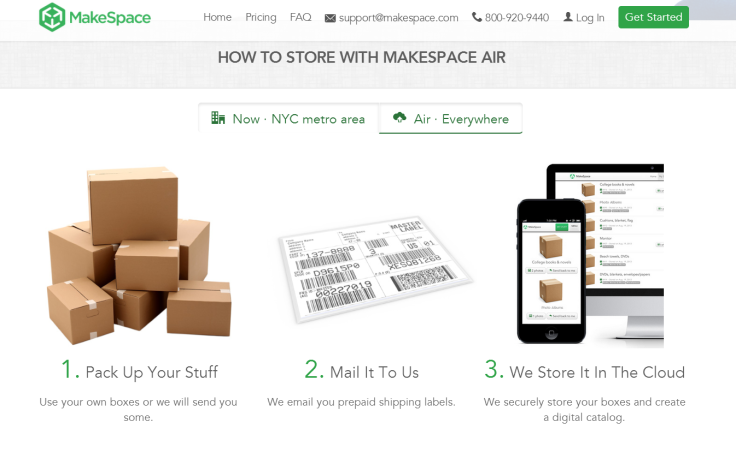 The company also offers MakeSpace Air, a "closet in the cloud" via mail. It allows customers to upload their physical belongings to MakeSpace through UPS.
"Makespace air is a program we've leveraged with UPS to allow customers to ship their belongings through the mail," Rosen said. "The best part about it is we will actually pay for round-trip shipping, in and out, for an agreement of a six-month contract with us."
Military Families
To use MakeSpace Air, customers sign up online, and the company can send boxes if they're needed. MakeSpace then emails its customers shipping labels for their boxes. When the customer is ready, a UPS driver picks up their boxes and brings them to the warehouse, where information about their boxes get "uploaded to the cloud" so customers can order them back easily, whenever they need them.
"Military families are pretty unique," Rosen said. "Often, when military men and women deploy overseas, they don't actually know where they're going to end up when they return. They can mail their items through MakeSpace Air, and wherever they go, we'll deliver those belongings to them."
The company can inventory the boxes by taking a picture of the outside of each box and transcribing the description on each one. Both the picture and the user's transcribed label description are then uploaded to their MakeSpace account, which they can view online.
"Using our MakeSpace Air program, we've had customers from Boston to Tokyo," Rosen said. "So we have a national product offering already."
Next Step: MakeSpace App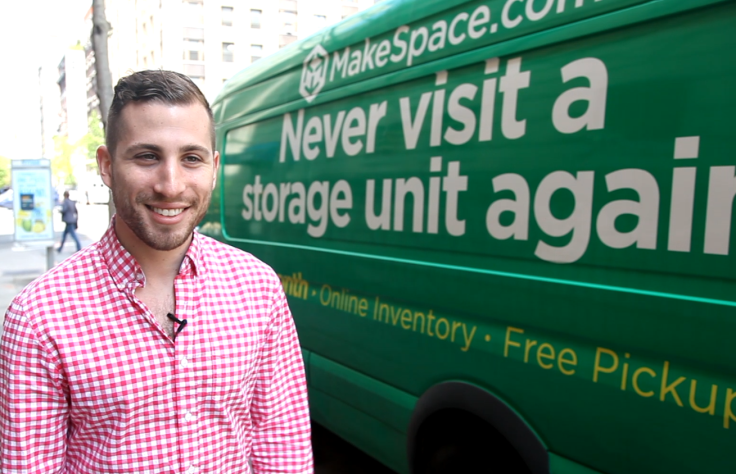 The company plans to release an iPhone app this summer that will allow customers to itemize everything in their bins and schedule a pickup within two hours. MakeSpace currently offers its local pickup and delivery service in New York City and plans to expand to other cities on the East Coast by the end of the year.
"We've actually been overwhelmed by consumer demand for this product," Rosen said. "But the overall ability to tag your items exactly [to know] what you have in storage or to schedule a pickup within a few hours, that's actually a cool technology problem, and we hope to be one New York's fastest growing tech startups."
In January 2013, Rosen joined Upfront Ventures in Los Angeles, California, as a first entrepreneur in residence while working on the concept for MakeSpace.
"I clearly see this as an urbanization in micro-living problem," Rosen said. "Anyone living in small apartments or even big apartments, but in a rapidly growing dense urban environment. We've seen customers from college students to literally multi-million dollar mansions on Central Park West."
The Manhattan-based startup closed an $8 million Series A funding round led by Upfront Ventures in early May 2014, with participation from Founders Fund, OATV, and existing seed investments from Lowercase Capital, High Peaks Venture Partners and Collaborative Fund.
The startup has raised a total of $10.1 million in venture capital so far.
"As a real homegrown New Yorker from Brooklyn, I really believe that if we can make it here, we can make it anywhere," Rosen said. "As a result, you'll see us really try to win the New York market before we expand to other cities."
© Copyright IBTimes 2023. All rights reserved.