YouTuber Jake Paul Knocks Out Nate Robinson, Reveals He's Fighting With Broken Nose
KEY POINTS
Jake Paul got the second win of his boxing career Saturday
Paul vowed to continue his pursuit of a boxing career and prove himself
Paul is already taking aim at the next names on his target list of opponents
YouTuber Jake Paul registered the second win of his budding boxing career Saturday, knocking out former NBA player Nate Robinson in the second round at the Staples Center in Los Angeles.
Paul had an impressive performance and revealed in a post-fight interview that he entered the ring with a broken nose. The 23-year-old bared that he incurred it while he was meditating a couple of weeks ago when he passed out and fell face-first onto a concrete floor.
"Just four weeks ago, I was meditating and fell flat on my face, broke my nose. And were not able to spar until a couple of days ago. So I had to come into this fight with a broken nose," Paul said.
Paul and Robinson started with an explosive first round in a fierce exchange. But the fight was a whole lot different in the second round, with Paul unloading on the former NBA cager.
In the first knockout, Robinson stayed down for a while before getting back up. Aware that he had the advantage, Paul went in for the kill. After another exchange, the YouTube star ended a punching combo with a big overhead right punch that hit Robinson on the left side of his head.
Robinson dropped like a log and was immediately given medical attention. The former NBA cager eventually got back on his feet and was able to leave the ring on his own, Boxingscene reported.
"For me, my whole life has been a fight. Being from Ohio, a small town and making my way out to Los Angeles, the fame and success and just fighting for it and everything. People never believing in me, people hating me, being one of the most hated in the world I have to fight through that. It's not easy," Paul said after the fight.
With a second win under his belt, Paul plans to move forward with his boxing career. He knows that he is still young and will look at his list of future targets. Among the notable personalities in that list are Conor McGregor and Dillon Danis.
"A 100%, I'm willing to be patient. I'm only 23 years old. Deontay Wilder started boxing when he was 21. So I have a long future ahead and I'm just getting started. And I talk a lot of s--t but I backed it up. Actions speak louder than words," Paul concluded.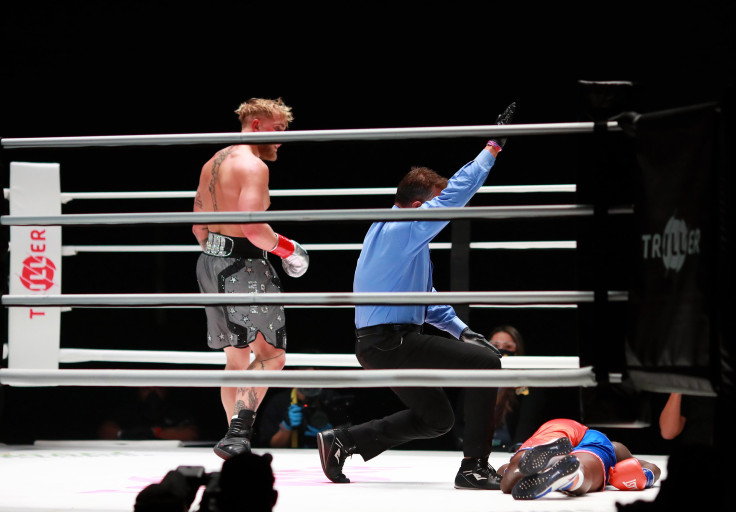 © Copyright IBTimes 2023. All rights reserved.