Yulin Dog Meat Festival: Vendors Cover Signs Amid Opposition From Chinese Animal Rights Activists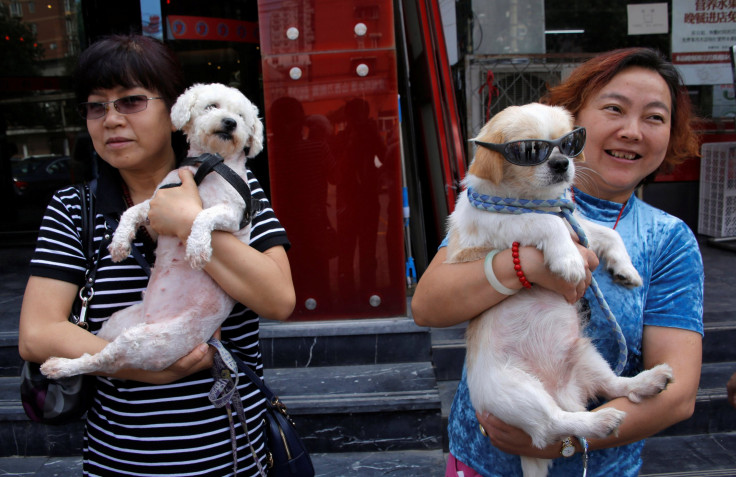 SHANGHAI — An annual dog meat festival in southwestern China's Guangxi region is due to begin Tuesday, despite opposition from animal rights activists both in China and abroad — who say they have raised a petition with 11 million signatures calling for the event to be scrapped. But as criticism grows, and with protests by activists expected on the spot, some restaurant owners and meat vendors in the city of Yulin, home to the festival, are reported to have begun covering up the word "dog" on signs outside their establishments, in order to avoid trouble.
Local authorities have also stepped up checks of the licenses and hygiene permits of businesses selling dog meat, according to Chinese media.
The controversy reflects a tension between traditional attitudes, and the increasingly liberal values of many members of China's affluent middle class, many of whom now keep dogs as pets, something rare in China's cities just a few decades ago. But some observers say the issue has also become caught up in controversy over the influence of Western values in China, with top officials unwilling to be seen to be caving in to foreign pressure to ban the festival.
Locals in Guangxi say eating dog is an age-old tradition, in line with Chinese medicine concepts that dog meat, cooked together with lychees, will help combat humidity during the summer months. However, the Yulin festival, held around the summer solstice every year, only dates back to the late 1990s, and some reports say it was dreamed up the local catering industry.
It has grown bigger in scale in recent years as domestic tourism has expanded in China, and is particularly attractive to people from parts of the country where dog has traditionally been eaten, including Guangdong in the southeast, and Jilin in the northeast, according to Chinese media.
However Chinese animal rights activists, who have also grown significantly in number in recent years, denounce the festival as brutal and greedy:
"This is all about money, this is nothing to do with local tradition or any values," Zheng Zhishan, a project officer at the International Fund for Animal Welfare (IFAW) in Beijing, told International Business Times during last year's festival. China's traditional culture also promotes "concepts of mercy and being at one with the universe," Zheng added. "Even if this is a tradition, why should we promote cruel traditions and not the kind ones?"
Activists also say that festivals like this encourage the kidnapping of dogs in China. A study published last year by Hong Kong based charity Animals Asia found that China had very few farms specializing in dog meat, and some had closed down amid opposition to the trade. As a result, it said, most of the dogs sold for meat were stolen: in a survey of 700 rural villages, where dogs are used to guard property and livestock, it found that 70 per cent had suffered "mysterious dog losses."
Activists also say that dogs are often caught by being drugged with poison-tipped darts, making their meat dangerous to eat, while those transported alive are usually kept in tiny cages, adding to the risk of the spread of rabies. And an investigation by a group of Chinese lawyers and experts in Yulin in 2014 found dog meat being processed in unlicensed workshops, though authorities say they have now tightened controls.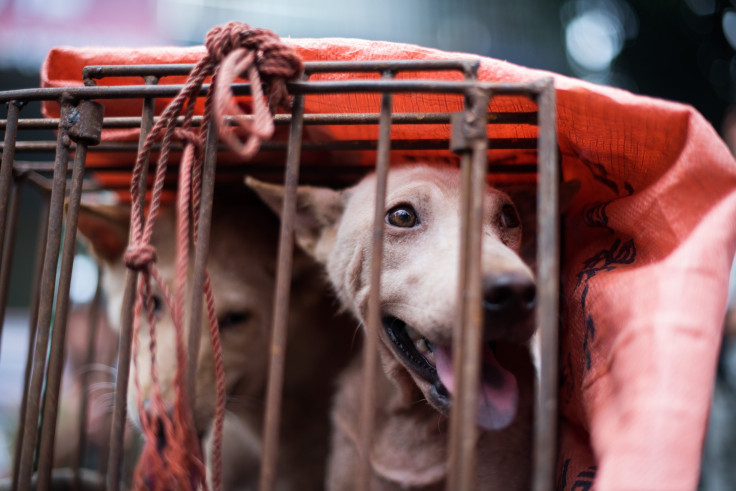 But in the face of criticism from international animal rights groups and celebrities – including British actor and comedian Ricky Gervais, who has tweeted against the festival – some analysts say the Chinese leadership, which has criticized the influence of Western values in China in recent years, does not want to look weak by appearing to bow to foreign pressure over events like Yulin.
Nevertheless, local governments in some parts of China have cracked down on the consumption of dog meat. In 2011, another dog meat festival, in Jinhua in eastern Zhejiang province, was closed down by the authorities. And food safety officials in the southern city of Guangzhou, a traditional dog meat heartland, recently warned the public of "the potential risks in eating unconventional meat," while one of the city's most famous dog meat restaurants closed last year after more than half a century, after being targeted by activists.
And Jiang Hong, head of an animal protection group in the central city of Xian, told China's Global Times that the government ought to be "capable of telling the public that this kind of tradition is improper and should be banned.
There's no doubt that opposition to the Yulin festival is growing domestically. Last year vigils against the festival were held in several cities across China. And some dog restaurant owners were reported to have received so many critical text messages that they had to turn off their phones. Chinese state TV recently also announced the results of a survey showing that 56 percent of respondents would back a law to ban the consumption of dog meat – though 40 percent would oppose this.
One activist, 66 year-old retired teacher Yang Xiaoyun, has become famous in China for spending tens of thousands of dollars of her savings to rescue dogs from the festival. However she said last year she had begun receiving phone calls from vendors asking how much she would pay to save their dogs, adding that some now saw her activism as "good business."
Activists have also tried to block vehicles carrying dogs on roads into Yulin in the past, a tactic that has been successfully used around China by activists on a number of occasions in recent years. In one high-profile case in 2011, an internet flash-mob saved some 600 dogs being transported to a restaurant in northeastern China by blocking the truck on the highway, and eventually persuading the driver to sell them the dogs.
FOR FREE to continue reading
✔️ Unlock the full content of International Business Times UK for free
offer available for a limited time only
✔️ Easily manage your Newsletters subscriptions and save your favourite articles
✔️ No payment method required
Already have an account? Log in
© Copyright IBTimes 2023. All rights reserved.