Yulin Dog Meat Festival 2015: China's Animal Activists Buy Dogs, Target Restaurant Owners In Fight Against Festival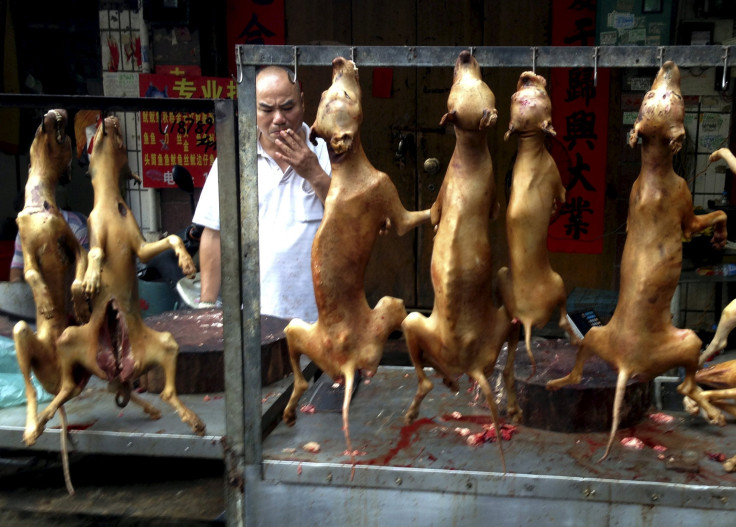 SHANGHAI -- Chinese animal rights activists have converged on the small town of Yulin in an attempt to sabotage its annual dog meat festival. Controversy over the event has grown in recent years -- with international campaigns to end it attracting hundreds of thousands of supporters -- including British actor Ricky Gervais, who recently tweeted his opposition to the festival, and singer Duffy. Yet some defenders of the event say China should not cave in to what they say are western concepts of animal welfare.
Chinese activists, including members of NGO the China Small Animal Protection Association, held vigils against the festival in several cities across China last week -- and some of their members are also reported to have tried to block vehicles carrying dogs to the festival on roads toward Yulin, Chinese newspaper the Global Times reported. Some dog restaurant owners, meanwhile, have received so many critical texts that they have had to turn off their phones.
One animal welfare campaigner, 65-year-old Yang Xiaoyun, spent more than $1,000 dollars to save around 100 dogs at the weekend, according to local media. Yang, who traveled more than a thousand miles from her home in Tianjin, northern China, to Yulin, is one of a growing number of Chinese people who believe eating dog meat is wrong.
As the festival, in the southwestern region of Guangxi, got under way to mark the summer solstice, an online poll on Chinese social media site Sina Weibo showed that around 88 percent of 4,600 respondents wanted a new law to prevent abuse of animals, according to China's Xinhua news agency.
"A lot more people are paying attention to this issue -- they know about this and they talk about this. That's a sign of change," Zheng Zhishan, a Beijing-based project officer for the International Fund for Animal Welfare (IFAW), told International Business Times. One reason for the change, she said, was that "more people have pet dogs and cats now. Our surveys show that 20 or 30 percent of families in Beijing have dogs, and 70 percent have had close contacts with dogs or cats. And no-one wants to see life tortured."
Supporters of the festival say that eating dog is part of traditional Chinese medical concepts -- the combination of dog meat and lychees served at the festival is supposed to combat the effects of hot and humid weather.
Yet while dog has traditionally been eaten in northeastern China, and in the southern province of Guangdong, particularly in winter, the Yulin festival only dates back to the late 1990s, and is reported to have been the brainchild of the local catering industry.
"This is all about money, this is nothing to do with local tradition or any values," IFAW's Zheng said, adding that China's traditional culture also promoted "concepts of mercy and being at one with the universe. Even if this were a tradition, why should we promote the cruel traditions and not the kind ones?"
And while its defenders say that eating dog is no worse than eating beef, pork or chicken, one of the main criticisms of the festival is that it is based on an illegal -- and potentially dangerous -- trade in dog meat. A recent study by Hong Kong-based charity Animals Asia found that China had few dog-meat rearing farms, and some had closed in recent years because the trade was not viable. As a result, the study suggested, most of the dogs sold in restaurants were stolen, particularly from rural villages, where they are used to guard property and livestock. Out of 700 villages it surveyed across China, Animals Asia said, 70 percent had suffered "mysterious dog losses," with almost three quarters of these disappearances taking place in winter "when the demand for dog meat is traditionally the highest," as the Global Times put it.
Zu Shuxian, a professor with the Anhui Medical University, added that dog meat was "not safe to be eaten because dogs were drugged when captured," according to the Global Times. Activists say dogs are shot with poison-tipped darts, and then transported across China to places like Yulin, crammed into tiny cages on the back of trucks, with no food or water. According to Professor Zu, this "increased the risk of diseases such as rabies, because around 38 percent of dogs in rural China receive no vaccinations." Indeed, Chinese media reports have said that Yulin has the highest incidence of rabies in China.
An investigation by a group of Chinese lawyers, legal academics and animal rights experts last year also found Yulin's four dog meat-processing workshops lacked business licenses or health certificates.
The concerted campaign against the Yulin festival has had some impact. At its peak, the festival sold 10,000 dogs a year -- but protests saw the number drop by at least 30 percent last year, according to the Global Times, while Animals Asia said trade had fallen by 80 percent.
Zhong Peihua, a restaurant owner in Yulin, told China's Xinhua news agency that five years ago he used to sell 30 dogs a day during the festival, but now would be lucky if he could sell five. "You can see people's minds are changing," he said, adding that his own children refused to eat dog meat.
Government attitudes to the festival appear to be ambivalent. On the one hand the authorities have, in theory, introduced tighter quarantine rules on transporting dogs and cats in China. And the local government in Yulin is reported to have tightened controls on restaurants, ordering them not to slaughter dogs in public, as used to be the case, and not to allow diners to eat outside.
The local tourism bureau has also stopped promoting the festival -- and the government now describes it as "just a gathering of locals on summer solstice."
At the same time, the festival may have been caught up in a political clash of values. "Some say that animal welfare is a western concept," acknowledged IFAW's Zheng. One op-ed piece in the official China Daily recently denounced animal protection groups in China's cities as "a product of the very industrial system that believes in making money from people's insatiable greed and love for certain things, including dogs."
And with the Chinese leadership currently criticizing western values, some analysts say it doesn't want to look weak in the eyes of its nationalist constituency by appearing to bow to foreign pressure over events like Yulin.
Yet that hasn't stopped local governments in some parts of China taking action against consumption of dog meat. In 2011, another dog meat festival, in Jinhua, in eastern Zhejiang province, was closed down by the authorities.
And the food safety administration in the southern city of Guangzhou "continually warns of the potential risks in eating unconventional meat," according to the China Daily -- not least because the city has experience of the risks of the spread of disease, as the 2003 SARS respiratory syndrome epidemic is thought to have spread to humans through consumption of civet cats sold in Guangzhou's markets.
And while eating dog meat definitely is a traditional custom in Guangzhou, one of the city's most famous dog meat restaurants recently closed down after 52 years, after being targeted by activists and seeing business slump.
Chinese animal welfare activists have grown increasingly outspoken in recent years, as the rise of the Internet and social media has provided a platform to share cases of abuses. In one recent case, a man who was filmed beating a dog in northwestern China was forced to make a public apology to an angry crowd of animal rights activists after being identified -- and denounced -- by Internet users.
Animal rights groups have sometimes succeeded in stopping the transport of dogs to restaurants across China, in some cases intercepting trucks carrying them and either alerting police to the illegal trade, or rescuing the dogs by buying them from the truck drivers.
Yet with the Chinese government currently cracking down on the use of social media for public activism, it remains to be seen how far such online organization will be tolerated in future.
And even as protests hit the sales of dog meat in places like Yulin, some people are seeing a fresh business opportunity. Tianjin-based activist Yang Xiaoyun, who traveled to Yulin to buy dogs to save them from being slaughtered, told Chinese media that since she hit headlines last year for spending some $24,000 to save dogs at the festival, she has received phone calls from dog dealers telling her that they have many dogs ready for her in Yulin and asking her how much she can pay for them.
"They think it is good business and they mock me for saving the animals' lives," Yang said, according to the Global Times.
However, undeterred, the 65-year-old is now reported to be planning to open a vegetarian restaurant in Yulin.
FOR FREE to continue reading
✔️ Unlock the full content of International Business Times UK for free
offer available for a limited time only
✔️ Easily manage your Newsletters subscriptions and save your favourite articles
✔️ No payment method required
Already have an account?
Log in
© Copyright IBTimes 2023. All rights reserved.